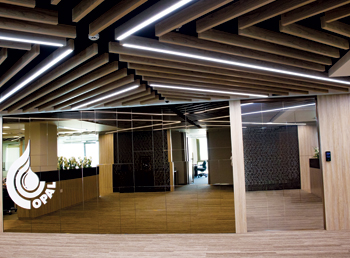 Opal's new offices
The industry's trust in Opal has grown manifold with the number of member companies having peaked a record high in its 24-year history, Abdulrahman Al-Yahyaei, CEO of Opal, tells OGN

The benefits of having sector associations far outweigh the downsides of not having any representation at all, something the Oman Society for Petroleum Services (Opal) has shown to be true when it lent support to oil and gas companies in the Sultanate of Oman at a time the world was reeling from a raging pandemic.
By sheer hard work, Opal has written an impressive history. Now other sectors in the country are approaching it to learn from its experience and initiate associations of their own.
The association, funded mostly by member companies and some support from the Ministries of Energy and Minerals, and Labour, has led the oil and gas industry in standardisation reforms, training and licensing, and industrial support. It's the oil and gas industry's strongest voice at all levels.
Opal's trust in the industry has grown manifold with the number of member companies having peaked a record high in its 24-year history.
Opal has announced it will soon be called the 'Oman Society for Energy and Minerals', representative of its growing scope that encompasses the mining sector. The name change is pending before the relevant authorities. However, the association has decided to keep the 'Opal' brand name.
Below are excerpts of a video interview, Abdulrahman Al-Yahyaei, CEO of Opal, gave Abdulaziz Khattak of OGN about the association's achievements and what lies ahead for it.

What are the milestones Opal achieved during the pandemic in its support for the oil and gas industry?
The year 2020 was a golden year for Opal. We saw how vital the role of professional associations is in societies, especially in times of crisis like this pandemic.
Al-Yahyaei ... guiding the oil and gas sector
During this course, we worked closely with the authorities and oil and gas companies to coordinate between each other, and initiate measures to ensure the safety of the workforce, while at the same ensuring the flow of oil and gas wasn't affected.
Last year, when international travel came to a standstill, we ran more than 133 chartered flights. On one hand, we repatriated more than 27,000 expat workforce back to their countries, while on the other, we managed to secure approval for the return of more than 11,000 critical employees to Oman to support their organisational operations.
This was done at a time when many projects had either stalled or were completed, leaving behind a large idle force. Keeping this huge number in the country could have cost the companies dearly while being a health risk at the same time.
Through Opal's efforts, we saved the industry close to $60 million had each operating company arranged their own charter flights. More than 200 companies benefited from the scheme.
Through the formation of two Covid-19 committees, Opal aimed to mitigate the spread of Covid-19 in the concession areas and in the fields.
We met almost every week with operating companies to relay feedback from the Ministry of Health and the Supreme Committee, and vice versa. A major requirement by the Supreme Committee in Oman was to have 25 per cent of the camp population quarantined. This meant building capacities for quarantine and a financial burden on the companies at a time when business was low.
Upon the requests of our member companies, Opal was able to convince the authorities to reduce that to 15 per cent.
Additionally, a number of guidelines were developed to educate the workforce, including for working from home, and returning back to work. This step saved the sector companies from having to develop their own guidelines, effectively saving them time, effort and money.
Another of Opal's key achievements was addressing the issues of employees facing layoff. A large number of the sector's workforce, including nationals and expats, was badly affected because of the downsizing of activities. The companies wanted to terminate their contracts.
But since the law bars the termination of national employees, we worked closely with the Ministry of Labour and asked them to give incentives to the private sector companies, including reducing the number of working hours and accordingly reducing salaries, and asking employees to consume their accumulated annual leaves, especially when there was no real work for them.
These measures saved many nationals from being terminated and it was a consolation for the companies as well. In fact, only a total of 7,000 Omani employees out of the 230,000 working in the private sector lost their jobs and which is really a small number considering the situation. For those terminated, we also helped in redeployment.
Furthermore, the Ministry of Labour last year established the Employment Security Fund for the Omani workforce to which employees and employers alike contribute 1 per cent of their salaries. In case of layoff, the individual gets 60 per cent of his average salary for several months.
• Covid-19 vaccination and testing: Opal is working closely with both the sector companies and the Ministry of Health to ensure there are enough testing capacities in the interior of the Sultanate. Many of Opal's member companies contributed financially or donated testing equipment to the ministry to mitigate the risk of the spread of the virus across the concession areas in the industry.
With regard to vaccination, we collected the demand of the number of doses required by the sector's workforce and their families and passed it on to the authorities.
The number of Opal member companies has reached a record high. How did you manage to gain the trust of companies in the industry?
A year back we were about 323 members; today we have 447 member companies. That's an increase of almost 35 per cent from last year.
We have hit a record high in terms of membership since the association's establishment 24 years ago. For the first time ever Opal reached 400. We have first-time members as well. Last year, 85 new members joined Opal for the first time. And since the beginning of this year, 38 new members have joined.
And I can assure you that this sudden increase in members is because of the trust they have in Opal.

Training is one of Opal's core businesses? What is the role of the Sector Skills Unit in this regard?
In late 2019, Opal was certified by the Ministry of Labour to establish the first Sector Skills Unit (SSU) in Oman. The role of such a unit is to develop national occupational standards and create training programmes revolving around the standards with the purpose of supplying the market with the right trained candidates.
There has always been a gap between graduates supplied and the market's requirements. National occupational standards will help a lot in closing this gap.
The ultimate goal of the SSU is to start skill certification and competency cards. So whether you are an Omani or an expat, if you want to pursue a certain job in the oil and gas, you will need a competency card or you can't work there.
So 2019 was the foundation year for the unit. We have worked hard building the unit, and were able to develop eight national occupational standards. We also formed the governance board in addition to four advisory committees, including:
• Operator companies HR committee.
• Contractors HR committee.
• National occupational standards (NOS) committee.
• Training providers committee.
The unit is fully staffed. It has a manager and heads of research and developments, technical training, and NOS departments.
We will be kicking off activities, including skill certification and competency cards, before the yearend.

What are Opal's achievements for standardisation?
An important milestone we achieved last year was the implementation of the road safety standard.
In the past, every operating company in oil and gas had its own defensive driving (DD) permit, own DD training, and their own approved In-Vehicle Monitoring System (IVMS) devices. It was just a waste of money.
And despite Opal having developed an industry standard several years ago, it never went into effect. However, we were determined and in the beginning of 2020, we successfully implemented the road safety standard.
Now, there is only one DD permit, one DD driving programme, one roadworthiness assurance standard (RAS) inspection sticker – Opal – and a list of Opal-approved IVMS vendors and devices in Oman. All operating companies adhere to this guideline and standard.
This alone will save the country OR6 million ($15.6 million) every year

Does Opal have initiatives in renewable energy?
Yes we do. We are actually supporting a big forum in September this year on hydrogen.
We are also working closely with Ejaad on renewables and energy development – hydrogen in particular. We opened special account a couple of months ago to facilitate the R&D in the hydrogen sector.

Do you have annual themes?
We have a theme every year. Last year, it was 'Energy Efficiency'; this year, our theme is 'Duty of Care'.
Through this theme, we hope to create awareness in the workforce about one's responsibilities towards his colleagues, company, customers, country, and the environment.
We are doing this in collaboration with a number of our member companies, such as Shaleem Petroleum, Halliburton, Schlumberger and Abraj Energy Services.

What is the level of Omanisation in the oil and gas industry? Are Omani women showing interest in joining the industry?
We have 60,000 Omanis working in the oil and gas industry in various categories. So, for example, 17,000 Omanis work for the operating companies. That's close to 90 per cent Omanisation.
In the oilfield service companies, the total number of Omanis is about 8,000 with an Omanisation rate close to 90 per cent.
In the lead contractors' segment, the Omanisation percentage is between 40 to 50 per cent.
And similarly, we have locals working in other categories in oil and gas, such as construction, logistics, catering, supplies, etc.
With regard to Omani women, we are proud to say that we have many women on the technical side, including Omani women drillers, and senior well design engineers.
Opal is itself 51 per cent females and 100 per cent Omani.

Other industrial sectors want to replicate Opal's success story by having associations of their own. How is Opal helping in that regard?
We are supporting other sectors to establish their own associations. In this regard, we worked closely with the logistics association, for example, to support them throughout last year.
We also had a delegation from one of the ministries that wants to replicate Opal in its sector. They want to learn how Opal has been able to sustain for the last 24 years.
Our goal this year is to help establish, at least, one association for one of other economic sectors in the country.
Separately, we signed a number of MoUs last year and this year with various sectors, including one with the SMEs Development Authority to support the development of small and medium enterprises in the country. They found it crucial to have Opal on board for their programme's success.
We also signed MoUs with the Ministry of Higher Education, Research and Innovation, to collaborate on vocational training, and support their vocational training initiatives; and another to fund Covid-19 testing for students.
We funded that programme through one of our member companies that had a budget for corporate social responsibility activities.
Opal has gone beyond its scope to help other sectors wherever possible. We feel Opal has the experience and knowledge others sectors can benefit from, and the reason is that this association is the strongest and well established in the country.
From time to time, authorities ask us to support them because of the return on investment on our programmes, which is the highest in the country. The ROI on all our programmes is more than 80 per cent.
Throughout the years, Opal has trained and employed more than 10,000 Omanis. Some 70 per cent of these were for oil and gas, and 30 per cent non-oil and gas.
Last month, we graduated 22 Omani English teachers after a 15-month programme. All of them are employed in various non-oil sectors.