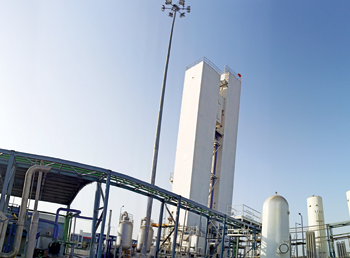 Linde's unit in Oman
The company has been engaged in a number of new investment opportunities in Oman including for the production and supply of green hydrogen, Martin Dworak of Linde Engineering Middle East, tells OGN

Realising the need in Oman for high value industrial gases and applications, Linde – the world's largest industrial gases firm in terms of market share and revenue – has built a solid base to serve the Sultanate.
In November 2020, Linde established and started a new operating company in Oman, Linde Gulf Industrial Gases, for the acquisition of air separation assets from Moon Steel Company (MISCO) and the supply of industrial gases to MISCO and the overall market.
"From then onwards, the company has been engaged in a number of new investment opportunities in Oman including for the production and supply of green hydrogen," Martin Dworak, Director Region MENA, Business Development Technology-EPC, Linde Engineering Middle East, tells OGN.
Linde produces and supply gases to refineries, petrochemical and chemical facilities, steel manufacturing, glass manufacturing, electronic fab, etc. Pretty much most of the manufacturing processes requires some industrial gases in one form or another, which Linde typically makes available to the market. Linde also produces and supplies oxygen, a very critical resource in the current Covid-19 pandemic, and associated applications to hospitals.
HYDROGEN
Linde is a global leader when it comes to technologies and solutions for the production of blue and green hydrogen. Dworak cites hydrogen's key role in decarbonisation and industrial activities including in oil and gas. Additionally, hydrogen is also an excellent gas for energy storage, he adds.
"In general, technologies and applications in industrial gases, including hydrogen, nitrogen and carbon dioxide have a key role to play in optimising processes and lowering the carbon footprint of the related activities."
To help businesses achieve a continuous, safe and reliable source hydrogen, Linde offers the full range of cost-effective and low-emission on-site hydrogen generators.
Offered at every scale, these generators include solutions on basis of steam reforming, partial oxidation, autothermal reforming for the production of green and, associated with carbon capture, blue hydrogen, as well as electrolysis for green hydrogen.
"Each technology has specific advantages and needs to be assessed with the market and specific project," Dworak says.
With regard to decarbonisation, Dworak says the region is committed and is seeing initiatives, partnerships and projects. He finds the Sultanate an excellent location for the development of green hydrogen projects.

COLLABORATION
Although gifted with many technologies along the value chain, Dworak believes in collaboration as the way forward in helping the world meet its net-zero goals.
"Partnerships are key as no one has 100 per cent knowhow along the full value chain. Also, financing of pilot and pre-commercial projects can be challenging," he says.
Linde has made public a number of key partnerships, especially in the area of technologies with other global companies, with the view to offer to the market best-in-class solutions to optimise efficiency and accelerate decarbonisation of the petrochemical industry.
Dworak says such partnerships, initiatives and specific projects, will lead to significant improvement for both existing plants (after refitting) and new projects.