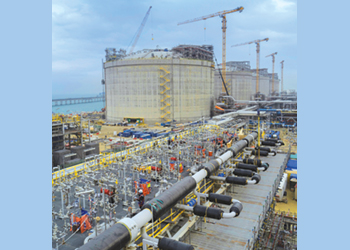 The LNG Import Facility ... meeting Kuwait's need for clean fuel
The country has embarked on several oil and gas projects, which aim to drastically increase production capacity, bring revenues and help reduce a growing fiscal deficit that is leaving many anxious

It will be an arduous task for Kuwait to reach its targeted production goal of 4 million barrels per day (mbpd) up from the 2.43 million bpd it currently pumps by 2040.
As a country that relies heavily on oil to meet its expenses, it will have to expedite projects considerably if it is to meet this target, and offset its growing fiscal imbalances.
Kuwait is already underway with major projects to increase production and processing.
Last month, it revealed investment plans worth $6.1 billion for exploration over the next five years. This includes drilling 700 wells.
Kuwait's budget deficit is widening, having increased by 175 per cent in 2020-21 to KD10.8 billion ($35.8 billion). This is while revenues dropped by 38.9 per cent and expenditure increased by 0.7 per cent. Of its expenses, salaries and subsidies account for a whopping 71 per cent. In 2020, Kuwait sold oil worth $36 billion, which was not enough.
It's incredible to see one of the richest countries facing an unprecedented financial crunch, all of which is because of the market vulnerability of oil.
Kuwait holds nearly 7 per cent of global oil reserves. Oil accounts for nearly half of Kuwait's GDP, around 95 per cent of exports, and 90 per cent of government revenue.
In 2018, under an Opec pact, Kuwait agreed to reduce its production from a little over 3 mbpd to 2.809 mbpd. This will be raised to 2.959 mbpd from May2022.
Kuwait Petroleum Corp (KPC), the national oil company, is in a bit of a fix itself. In March, the company said it required $20 billion over the next five years to maintain crude-production levels, when it fell short of money after transferring nearly $25 billion to the state coffers.
This has led KPC to slash capex projections by more than 30 per cent for the period, and plans to merge eight subsidiaries into four to streamline operations.
To cover the any leftover shortfall, KPC said it would issue debt, including on global markets.
The situation is dire and threatens the country's ability to fulfill its financial and international obligations.
But relying on a single income source (oil) has consequences, and the fallout of this was even more evident in the ongoing pandemic that saw oil prices plummet leaving economies heavily dependent on oil, like Kuwait, to look for other funding sources including borrowing from the international markets.
Kuwait has been talking of diversification for long but nothing concrete has been done in this regard yet. The country needs radical economic and financial reforms to reduce expenditures and increase non-oil revenues.
The country is also hoping oil prices would improve, and although they have, that doesn't much help Kuwait, which requires a breakeven price of $90 per barrel, the Minister of Finance and Minister of State for Economic Affairs and Investment, Khalifa Hamadeh, said.

DISCOVERIES & PROJECTS
In January, Kuwait announced three oil discoveries by Kuwait Oil Company (KOC). Two were for light oil: one in the Houma oilfield in northwestern Kuwait, with production capacity of 1,452 bpd; and the second in the Al-Qashaniya Field in north Kuwait for 1,819 bpd and 2.78 million cu ft of associated gas.
A new conventional oil field was also discovered in the north of the Great Burgan field — Kuwait's largest oilfield — with a daily production of over more than 2,000 barrels.
A promising turn of events was when Kuwait and Saudi Arabia signed a memorandum of understanding (MOU) over the disputed Neutral Zone on December 24, 2019.
Covering an area of 5,770 sq km, the zone hold 0.5 per cent of global oil output, and can produce 500,000 bpd from the two jointly run fields of Khafji and Wafra – and hold 5 billion barrels in reserve capacity.
Separately, the construction of the heavy oil plant project in the South Ratqa field is also progressing with around 93 per cent of the construction completed. The field currently has an output of 60,000 bpd
Additionally, three new fields are being developed in the western region, namely Umm Rass, Kara'a Al Marw, and Kabd.

• Refinery projects: Kuwait is expanding two main refineries in Mina Al-Ahmadi and Mina Abdullah for over $15 billion under the Clean Fuel Project (CFP). Once complete, their combined output will increase by 264,000 bpd to a total of 800,000 bpd.
Kuwait National Petroleum Company (KNPC), KPC's downstream arm, said products produced at these refineries would meet global-environmental standards Euro-4 and Euro-5 for reducing emissions.
Work is also underway the 615,000-bpd Al Zour refinery in Southern Kuwait. Late last year, it started test runs. More units will go into operation around Q4 and production of a full range of products by the year end.
The project is due for completion in 2023, with start-up expected in 2024.
Once complete, the mega-sized Al-Zour Refinery project will be one of the largest in the world.
All these projects will boost Kuwait's total refining production to nearly 1.6 mbpd in 2025.
Additionally, KOC has added a new gathering centre. The GC-31 will process 100,000 bpd of crude along with 62.5 million cu ft per day of gas and 240,000 bpd of treated water.
The GC-31 is the last of three similar centres built at a cost of $2.3 billion. The other two centers, GC-29 and GC-30, have already been completed.
These units are part of KOC's long-term plan to develop and integrate output from Kuwait's northern oil fields.
KOC is currently planning three more gathering centers.
Separately, the GC-32 project is the first sour crude gathering center to be developed at Burgan and will process 120,000 bpd of crude and associated gas from the Arifjan, Marat, Minagish Oolite and Burgan Wara high hydrogen sulphide fields.

• Gas: The rising gas demand in the region has prompted national oil companies to focus on gas field development. Kuwait is set to see gas demand rise 5.0 per cent this year.
Gas production is expected to average 5.2 per cent growth year-on-year to reach 28.9 bcm in 2030, from an estimated 18.9 bcm in 2020.
KOC is planning to build and operate two new Jurassic production units, which will enable Kuwait to reach a free gas production capacity of 850 million cu ft per day, and the production of approximately 250,000 bpd of light crude.
Bids for the projects known as JPF-4 and JPF-5 were submitted by five contractors in April, with Kuwaiti contractor Spetco being confirmed as the lowest bidder.
The two main contracts for the JPF-4 and JPF-5 projects are estimated to have a total value of more than $1 billion.
JPF-4 will be located close to the Sabriyah field in the north of Kuwait and JPF-5 will be located less than 10 km east of JPF-4.
KOC has also started operations of the Khafji 100 km gas pipeline, which has is currently operating with a capacity of 11 million cu ft of gas per day, 29 million cu ft of acid gas and 6,000 barrels per day of condensate.
A tender was also floated in Q1 2021 for Khafji New Gas Transit pipeline (phase 2) from KJO to MAA Refinery.
Separately, the Kuwait Gulf Oil Company is said to be working in full swing to deliver the existing gas from the Wafra Operations, estimated at 40 million cu ft to Kuwait, by linking it with the Kuwait Oil Company's operations area in the West.
Work is also in progress in to build the Middle East's largest LNG terminal in Kuwait at a cost of $2.9 billion. The project, which fell a year behind schedule due to the pandemic, is expected to be completed by March 2022.
The 22 million tonnes per annum (mtpa) terminal has eight storage tanks with a capacity of about 225,000 cu m — making it one of the world's largest by storage capacity — and a regasification facility with a capacity of 3 billion cu m of gas per day.

By Abdulaziz Khattak