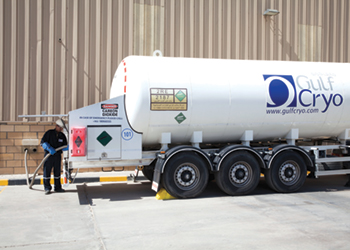 More than 1,000 metric tons of liquid CO2 was mobilised
More than 1,000 metric tons of liquid CO2 was pumped into KOC reservoirs to dissolve calcium carbonate masses and release natural gas entrapped in the rock layers using groundbreaking fracking pilots

Gulf Cryo, a leading provider of industrial gas solutions, has completed two groundbreaking energised CO2 foam acid fracking pilots at Kuwait Oil Company's (KOC) Raudhatain oilfield, marking a new era of the company's contribution towards reducing carbon emissions and enhancing gas recovery.
The company, which is also a key CO2 (green) manufacturer in the region, teamed up with two global oilfield service providers Halliburton and Schlumberger, and mobilised more than 1,000 metric tons of liquid CO2 into the KOC oilfield.
Each reservoir consumed more than 400 metric tons within a few hours, which in return dissolved the calcium carbonate masses and released the natural gas entrapped in the rock layers.
Part of the CO2 injected into the KOC reservoirs will remain safely and securely stored within the geologic formation. This process of capturing the CO2 and utilising it in the oilfield reinforces the perception of carbon capturing and utilisation storage (CCUS) and enhanced oil recovery (EOR).
These unprecedented pilots paved the way for a mitigating global carbon emissions and sustainable development of the oilfields.
Gulf Cryo's operational excellence in handling and mobilising the energised CO2 into the oilfield lies in the distinct planning for production, logistical practices and mobilisation of special assets and equipment, and its highly trained personnel.
Part of the CO2 injected will remain stored in the reservoirs
The collaboration with KOC, Halliburton and Schlumberger fits perfectly with Gulf Cryo's long history of immense achievements and commitment towards introducing innovative technologies.
According to Abdallah Dalab, General Manager at Gulf Cryo Kuwait: 'The energised CO2 fracking is a key solution globally for reducing CO2 emissions and increasing oil and gas productivity. We are proud to build on our deep-rooted experience and be able to offer such solutions that help reduce the global carbon footprint and thus contribute to the environment overall.'
With industrial gas solutions as its core business, Gulf Cryo manufactures and supplies industrial, medical and specialty gases to a wide range of industries and end markets including healthcare, food and beverage, manufacturing and primary metals, oil and gas, refineries, and many others.
The company's industrial gases are used in countless applications from oxygen for hospitals to specialty gases for electronics manufacturing, and hydrogen for clean fuels.
Gulf Cryo is headquartered in Dubai, UAE, and operates in over 10 countries across the Middle East and the Gulf region.