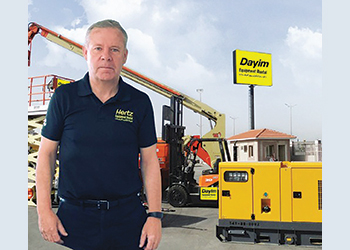 Carter ... eyes expansion
Leading full-service equipment rental firm, Dayim Equipment Rental Company, has been working through a multimillion dollar expansion plan across the region as it sees a strong potential in the rental market, especially in the oil and gas sector.
With fully operational hubs in Saudi Arabia, Bahrain, Qatar, Kuwait, the company is planning to expand into the UAE in Q2 2022 as well as Oman.
Outside the GCC, it is looking to expand its operational network into Iraq and India.
Dayim saw a record year in 2021 in terms of revenue and profitability, Andy Carter, General Manager – Mena, tells OGN.
"We invested heavily during 2021, and are now expanding our depot network in Saudi Arabia while adding an additional operational hub in the UAE," he says.
For 2022, Dayim Rentals will continue the fleet growth and renewals throughout the year.

EXTENSIVE FLEET
Dayim has in its fleet over 5,000 units for rental, with power generation making up 56 per cent of its fleet. The average age of its fleet is three years which places Dayim Rentals in the top spot in the list of similar sized rental suppliers.
Dayim represents major global brands
It represents several major brands, including Atlas Copco, KAESER, Generac, JLG and Genie, and has additionally acquired the dealership for Manitou products and now offer these units for rental, leasing and sale.
Manitou is also its most popular machine.
Furthermore, Dayim Rentals recently added a number of environment-friendly product lines, including lithium powered generators and solar tower lights.
"We are currently demonstrating a full solar driven power pack to run our remote sites," says Carter.
To cater to the needs of the oil and gas industry, Dayim is going to invest in specialist oil and gas equipment, nitrogen boosters, etc. It is also in discussion with a number of major EPCs companies for a fully outsourced equipment rental and managed service arrangement to help them optimize their productivity.
Dayim supplies equipment to all the major oil and gas, operation, well service companies, including Aramco.
In fact, it was recently awarded an eight-year supply contract for equipment rental for Aramco.
To support its customers, Dayim offers a full implant technical help desk, through which it places a technical team in the facilities of oil and gas clients and manage all equipment via its GPS mobile help desk. It measures equipment performance against optimization targets using its telemetric solution.
The help desk assists in measuring productivity and equipment usage, such as idle time, load range, engine temperature and fuel usage, to drive optimisation of assets with the goal of reduce clients' operational costs while the clients having full access to this information.
To further meet customer needs, Dayim can customise solutions as per client requirements irrespective of the region they operate in.
It also carries out full onsite project inspection to ensure safe working and that it is supplying the correct equipment for the clients' application.
A bespoke ERP system linked to a central GPS help desk covers the full region.
Commenting on the outlook for the rental market, Carter says: "Equipment rental is still in its infancy in the Middle East when you compare it to the European rental sector. Clients are now realising it does not make financial sense, or it isn't the best use of capital, in owning large fleets of equipment."
Considering that the global Covid-19 pandemic compounded further the clients' needs to conserve capital, rental gives them a flexibility, he says, adding "the rental sector will continue to grow."