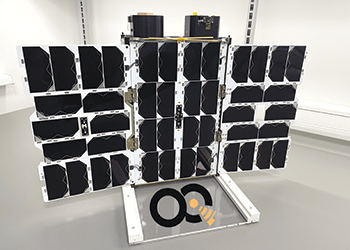 OQ Technology's 5G IoT Tiger-2 nanosatellite built by NanoAvionics
OQ Technology can offer 5G IoT and M2M communication through its growing satellite constellation to help oil companies detect hazardous gases or leaks in oil pipes that need to be communicated quickly, Omar Qaisy tells OGN
Many oil companies employ autonomous aircraft to get visual and thermal images to detect potential problems in pipelines enabling them to carry out predictive maintenance.
With the use of 5G, connectivity can be significantly improved for sharing data between vehicles and coordinating fleets in real time.
OQ Technology, the world's first global satellite 5G operator, claims it can offer 5G Internet of Things (IoT) and machine-to-machine (M2M) communication through its growing satellite constellation, to help companies detect hazardous gases or leaks in oil pipes that need to be communicated quickly.
Over the next few years, the company is planning to launch a constellation of 72 satellites,
In this excerpted interview with Abdulaziz Khattak of OGN, Omar Qaisy, the CEO of OQ, gives an overview of 5G IoT satellite technology, and explains the implications and applications of the company's technology and services for oil and gas, and in particular the region.

You claim to be the world's first global satellite 5G IoT operator. How did the idea come about?
I saw a market need for the IoT and machine-to-machine communication via affordable satellite connectivity when I was selling satellite services in oil and gas and logistics sectors in the Europe, Middle East and Africa region.
I realised that existing solutions were not adequate for narrow-band (NB-IoT) communication. In fact, most were, and still rather are, for broadband services, requiring huge data capacity.
At the same time, predictions for connected smart devices went through the roof. That is why I created OQ Technology and began operations in 2016 to provide 5G IoT and machine to machine communication through 'cell towers in space'.
Our constellation of nanosatellites in low earth orbit (LEO) will connect the 70-80 per cent of the world that is still without internet access.
Qaiser ... bringing connectivity to the world
Since OQ Technology's inception, we have crossed several milestones. We created the world's first universal plug and play IoT device that can provide connectivity leveraging LEO satellite infrastructure; tested the technology in orbit using our Tiger-1 mission in 2019, which was a first in the world; opened offices in Dubai (UAE) and Kigali (Rwanda); launched our first commercial satellite Tiger-2 in June 2021; and won multiple contracts with ESA under the Luxembourg Space Agency national programme, LuxImpulse.
We also successfully carried out a comprehensive test of 5G narrowband IoT (NB-IoT) technology in orbit.
And using our Tiger-2 satellite, we successfully tested our hybrid satellite-cellular user terminal in harsh desert conditions.
OQ Technology is looking to add further satellites to our constellation in 2022. We are also planning an expansion into the US and other countries. Eventually we are hoping to have a base in every continent.

How does your technology differ from other satellite technology in use?
OQ Technology's terminal device can withstand harsh environments
OQ Technology is providing unrestricted cellular coverage for assets and machines anywhere on the planet.
The company is taking advantage of market and technology gaps not covered by existing satellite communication, particularly for low-power, low-cost, small messaging IoT devices.
There are real benefits for combining satellite and terrestrial networks and a range of possibilities that aren't feasible with standard M2M communications.
Only about 10 per cent of the Earth's surface has access to terrestrial connectivity services.
Building custom-engineered communications via satellites is the only way to ensure device connectivity on a large scale and in regions that are difficult and expensive to reach via terrestrial networks.
By following the global standard of 3GPP for NB-IoT, OQ can provide a cost-effective and highly scalable system as well as access to a large ecosystem of cellular chip vendors and operators.
OQ's 'cell-tower inside the satellite' technology aims to provide real-time global connectivity with ultra-reliable low latency communication (URLLC) and massive machine type communications (mMTC) for applications in rural and remote areas.
For applications requiring real-time data processing via satellite, including drone control and smart cars, the latency has to be below 10 milliseconds (ms). This can't be provided by satellites in geosynchronous equatorial orbit (GEO), with a latency of up to 250 ms.
Our nanosatellites in LEO can. Through our test centre in Luxembourg, we can demonstrate to customers, struggling with connectivity around the world, how this works in line with their requirements and how it integrates into their systems.

How can 5G satellite technology improve the general connectivity in the world?
5G is an important new development because unlike technologies that rely on cables and cell towers, satellite-based 5G can be ubiquitous and even reach remote areas.
It will enable unprecedented levels of connectivity providing five critical benefits: superfast broadband, ultra-reliable low latency communication, massive machine-type communications, high reliability/availability and efficient energy usage.
Combined with the potential of other technologies such as the IoT, AI or big data, 5G will help us transform and improve health, transport, education and other sectors. It is capable of creating social value in 11 of the 17 UN Sustainable Development Goals (SDGs).
According to a report, 'The Impact of 5G: Creating Value Across Industries and Society', by the World Economic Forum (WEF) and PwC, the technology enables the speed and smart connectivity to generate approximately $3.6 trillion in revenue and 22.3 million jobs by 2035 worldwide in the technology value chain alone.
How useful is this technology in the context of achieving net-zero goals?
While the ICT sector only accounts for only 3-4 per cent of global greenhouse gas (GHG) emissions, 5G technology with IoT will be able to increase energy efficiency, reduce GHG emissions and enable more use of renewable energy.
5G could also break the historic cycle where energy usage increases drastically with each generation (2G, 3G, 4G).
City governments and businesses are looking to 5G, AI and IoT technology to create smart cities to become more efficient and sustainable.
Advanced satellite technology together with IoT devices such as smart sensors can detect, identify and relay the sources of greenhouse gas emissions at a global scale and in real-time, so that leak repairs or mitigation solutions can be deployed rapidly.
5G IoT will also enable more people to work remotely, avoiding unnecessary site visits, which will save energy and reduce GHG emissions from vehicles.
International standards require that 5G use much less power than 4G. This means that less power is used while more data is transferred.
Northern Sky Research (NSR), a global space market research and consulting firm, in its latest Space Traffic Study report estimates that the amount of data to/from space will reach more than 500 exabytes of information by 2030.
For example, 1 kWh of electricity is spent downloading 300 high-definition movies in 4G. With 5G, 1 kWh can download 5,000 ultra-high-definition films. That's one order of magnitude.
Combined with IoT, 5G will also reduce the energy consumption of devices, allowing them to automatically switch off when they are not needed.

What can your 5G satellite technology offer the oil and gas industry?
To connect billions of sensors and devices, the infrastructure of the IoT will have to evolve, and satellite capability in LEO is the only cost-effective way that can push the network beyond what terrestrial providers can offer.
IoT as a technology has already started to penetrate the oil and gas sector. One of its key benefits is remote monitoring of plants and assets.
Through IoT connectivity and devices linked to various systems and networks, we monitor and relay information to help oil and gas workers to better understand how their systems are performing.
Wellhead monitoring is another example. Many wells today are either non-connected or use old obsolete UHF networks or expensive satellite solutions.
IoT also helps improve predictive maintenance standards and overall management efficiency.
Other uses of IoT in the oil and gas sector include real-time event-driven messaging, such as sending alerts to other connected devices should they begin to fail.
Pipeline monitoring is another key advantage offered by satellite-based IoT technology as it enables oil and gas companies to effortlessly monitor and inspect remote pipelines for hazardous gases and leaks.
With pipelines running across several countries and mostly away from terrestrial networks, satellite-based connectivity is the only viable option for that.
We have products that we are ready to deploy to the market. For example, we have a satellite 5G IoT modem and tracker that can monitor asset location wherever they might be on the planet.
During tests with them and the Tiger-2 satellite in LEO, we were able to collect data from customer assets, connected smart meters to the satellite, tracked mobile assets, and even managed to achieve indoor connectivity and localisation of the device while buried in the sand with no external antennas.
We also have a solution that first collects data from satellites through wired or wireless means, it then concentrates the data and sends it out either through cellular, satellite link or a hybrid model.

With regard to safety at oil and gas installations, can you help us visualise a scenario where this technology can help avert disasters?
Many wellheads are not monitored, which can cause serious and very expensive issues like leaks and blow ups both on land and at sea.
The same applies to oil and gas pipelines around the world, where many leaks and vandalism incidents happen each year.
They all require holistic monitoring and a control solution connected to a central SCADA system (supervisory control and data acquisition) across different geographic areas and countries.
Until now, these issues have been impossible to solve, but with our technology and services customers are now able to better monitor their assets with the potential to save millions every year.

Since oil and gas installations are generally restricted sites, will national and international policies be a challenge, and how will you overcome them?
Some countries still require a market access authorisation for foreign satellites to transmit signals over their territory.
To offer services in these countries, operators need to obtain and pay for this authorisation, also known as satellite landing rights, from national authorities.
This is where OQ's landing rights and industry channel relationships, as a result of the efforts by OQ's founding team and our close collaboration with partners, come into play.

What is your view of the satellite industry in the Middle East?
The Middle East countries remain a good and stable market for satellite operators like us with good opportunities to expand and business applications in demand.
It has already been an area of major success for DTH broadcasting and is increasingly becoming a major market for Internet via satellite and a long-term major market for military broadband and narrowband communications.
Countries in the region are all investing billions of dollars into research and development to expand to new industries, commercialise 5G, and are poised to become scientific powerhouses within the space sector — a perfect environment for our services.

Who are your partners in research and industry?
We have many international partners, including the Mohammed-Bin-Rashid Space Center (MBRSC) in Dubai, the Luxembourg Space Agency, the European Space Agency (ESA), Lux GovSat, and many more.
We are also in the process of building several African partnerships. We have already submitted our contributions to the African Telecommunication Union (ATU) as a guest company, especially on things related to the use of 5G in NTN in Africa and space projects.
Last year OQ also partnered with Brazilian company Neo Things IoT to address the satellite IoT market in Brazil, especially in the agribusiness field, which accounts for more than 25 per cent of the country's GDP. The partnership involves channelling IoT services and user terminals to end users, service trials and closing commercial deals.
We're now close to signing a memorandum of understanding (MoU) with a respected research institute to collaborate on satellite-based services in the Middle East and Africa region.

Where do you see this sector in the next 5-10 years?
5G via satellite is a game changer. NSR, in its '5G via Satellite 2nd Edition' report, estimates that direct satellite to mobile devices will attract 400 million subscribers and hundreds of millions of smartphones and IoT devices in the next decade.
This will have an impact on the whole value chain. Also, OQ is well positioned to scale up to broadband 5G because our technology is compatible and easier to integrate into an existing cellular IoT network.

What are the current and future challenges to 5G satellite technology?
There is a technological and a business challenge. Many customers are still unaware of the value of IoT data and how to implement IoT solutions in their enterprises, and what are the best practices.
Until a few years ago, satellite connectivity was seen as too costly for widespread use. However, with the emergence of LEO satellites, it has now become a valuable addition to fibre connectivity and in some cases even a viable alternative.
We are currently talking to a number of companies, including in oil and gas, about how to implement our services.
On the technical side we are looking at the difficulty of cellular communication over LEO satellites because cellular waveforms fail when the user is moving at high speeds.
On the ground, 300 kmph (a fast train) is the highest possible speed in LTE (Long-Term Evolution). Beyond that, there will be a noticeable offset in the signal's radio frequency, making it hard for the sender and the receiver to synchronise. In other words, the time delay is minimal between the sender and receiver since waves travel at light speed.
On the other hand, we have LEO satellites at a distance of 500 km to 600 km away, and moving at 7 km per second. The time delay of the signal between the sender and receiver is too long for cellular systems used today to synchronise and work.
By using the global standard of 3GPP for NB-IoT and standard mobile chips, costing about $5, instead of expensive satellite chips, or $150 and more, we are able to offer a cost-effective solution to provide 5G IoT connectivity via satellite.
This means users won't need to develop new hardware and can buy existing NB-IoT supported devices to get service in remote areas from OQ Technology.

It also enables us and our customers to make sure IoT devices seamlessly switch between terrestrial and satellite connectivity to overcome connectivity issues in remote locations without modifying the cellular standards.

Even new entrants like Swarm that sell the module for $89 and more can't offer the same capability and security as cellular communication.

As a result of our technological developments and modifications, we have published patents in Europe and the US on how to make NB-IoT work via satellites without changing the wireless waveform and standard or modifying the existing silicon of the chips and by using mobile compatible accessible frequencies.

Our main focus for the foreseeable future is accelerating the deployment of our constellation and expanding our landing rights footprint around the world.

Where is your technology employed currently?

We are working on our commercial access to multiple countries with a strong focus on the Middle East, Africa, the Americas and Oceania.

Who are some of the big names in this domain?

To understand the competition in the IoT-via-satellite market, it's important to point out that OQ Technology is the only company in the world addressing cellular to satellite narrowband communication.

The big four incumbents and operators of IoT via satellite are Orbcomm, Iridium, Globalstar and Inmarsat. However, their satellites are in MEO and GEO orbits with high latency that is unsuitable for many IoT applications.

In the LEO arena, there are newcomers, such as Astrocast, Fleet Space, Hiber, Kepler Communications, Myriota, and Swarm (now SpaceX).

One of the common issues I've seen with LEO operators is that they use rather expensive propriety technology and are lacking spectrum.

On the direct cellular to satellite side, you also have companies like AST Mobile, focused on broadband and mobile phones.

What were the various developments within the company over the past year? For example, added new services to your portfolio; expanded into a new area of activity; expanded your facilities or opened new branches, joint ventures, etc.?

The year 2021 has been very productive for us. In the beginning of 2021, we won another contract with ESA for the in-orbit pathfinder mission (MACSAT) advanced 5G IoT mission.

The mission is planned for launch in 2022 and will be a flagship for demonstrating advanced 5G IoT services in strategic satellite frequencies and for different end-users.

The MACSAT aims to foster Luxembourg and European space industry partnerships and is supported by the Luxembourg National Space program (LuxIMPULSE).

In addition, OQ Technology won a competitive pan-European tender with ESA under the ARTES programme to provide technical design and development of a system to address advanced 5G network configurations over LEO, MEO and GEO satellites.

To fulfil this fourth contract with ESA, OQ Technology will lead a consortium made of the SIGCOM research group in the Interdisciplinary Centre for Security, Reliability and Trust (SnT), University of Luxembourg, and Italian ground segment as-a-service company Leaf Space.

OQ Technology has already contracted satellite ground station provider Leaf Space to procure and install and connect a station to our newly established LEO Constellation Control Centre in Leudelange, Luxembourg.

In June 2021, we launched our first constellation satellite, the TIGER- 2 (6U nanosatellite), which will provide innovative solutions to our customers.

The next addition to our constellation will be Tiger-3, planned for launch aboard the SpaceX Transporter-4 mission in 2022.

Tiger-3 is a microsatellite built by NanoAvionics to provide better access, increased capacity and shorter revisit times for our customers. We will announce another mission soon.

Is there anything else which you would like to add about your organisation?

OQ Technology is the only company in the world that uses standardised 3GPP cellular technology for Narrowband IoT (NB-IoT) to connect devices to satellites. 3GPP introduced this new wireless technology in 2016, making our proposition unrivalled in the satellite world. Using that standard in our services will open the door for many new applications and improve existing ones such as real-time asset tracking. They will also accelerate its adoption in markets that have been capped before by expensive legacy satellite systems and solutions. We can even scale up to cellular broadband in record time. The potentials are huge and we have barely scratched the surface. We foresee not only thousands but millions of potential deployments in the next five years.