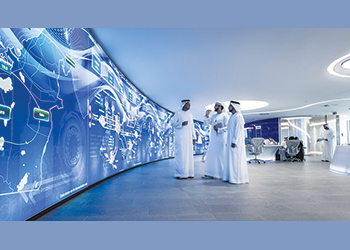 Adnoc's Panorama control centre is based on Aveva's technology
As the digital landscape of advanced engineering and operations becomes increasingly complex, industrial software companies are adapting their solutions to meet customer needs, Russell Herbert from Aveva tells OGN
There is no doubt that companies want to embrace digital technology, and the value it can offer, in far more sophisticated ways than ever before.
Speaking to OGN, Russell Herbert, Global Industry Principal – Oil and Gas, Aveva, says: "Customers want to link systems and data together in context and constantly run analytics against this big-picture information so that accurate predictions can be made and their operations can be safer and more productive than ever before."
This desire to do more has inevitably meant that the amount of software in industrial assets and the complexities of interconnecting everything has grown.
Companies like Aveva are recognising that to meet the demands of customers, what is now required is a far broader digital offering that encompasses advanced applications and layers of advanced analytics alongside critical data management platforms that can help operators bind everything together and get the very most from their investment in technology.

OPTIMISING O&G OPS THROUGH SOFTWARE
Herbert ... optimising operations through software
The portfolio at Aveva is broadly split into two areas. The first area covers engineering, industrial asset design, information management and supporting the construction process, so that assets can be developed in the most efficient and optimal way possible.
Herbert says: "Our software allows companies to perfect a design and predict how an industrial plant will perform a long time before anything is built hence greatly reducing the risk of costly issues developing in the future."
The second half of Aveva's portfolio is centred on operations, including running assets, monitoring them in real-time, optimising their performance and predicting problems before they cause an impact.
"Being able to support this entire end to end story means we can offer significant value to operators across the entire asset lifecycle. Information from the engineering phase can flow into operations and be the basis for understanding and improving how the asset will perform day to day," explains Herbert.
He says taking this holistic view puts Aveva's customers in the best position to be able to operate sustainably by maximising their production, optimising their maintenance all whilst reducing their energy consumption and lowering their costs.
Speaking about technologies such as advanced analytics, AI and machine learning (ML), Herbert says these are obviously really important, and for certain types of problems, there is simply nothing that comes close to the value they can deliver.
"And what is really exciting now with AI and ML is that the expertise and experience around all this technology has grown significantly across the industry in recent years," he adds.
Herbert says many companies have run their own projects and have often even built their own internal groups of experts. "In doing so, a significant amount of real-world experience has been gained allowing operators a far better understanding around the real benefits of advanced analytics and where best to fit it into a broader company digital strategy."
Some problems require very advanced analytic capabilities that look at the complex interrelationships between data and help operators predict future events.
AI and machine learning are perfect for these. Other problems can be solved with far simpler real time streaming analytics in cheaper and more straightforward ways.
The industry is maturing around their understanding of all this and those leading the way are recognising they must embrace a variety of different types of analytics and ways of looking at information whilst also ensuring the data strategies that underpin all their analytics need to be a good as possible.

LESSONS FROM TRADITIONAL INDUSTRIES
There are many opportunities for those involved with the energy transition to learn from traditional industries, such as oil and gas, power, metals and mining.
Although the new assets that will be built will look quite different, when these are broken down to their constituent parts, they will often still contain many types of familiar equipment that have been deployed and operated for many years.
Most of the industrial world has now been using digital technology in their operations for over 20 years and in doing so have gained a huge amount of experience and expertise, including in recent years with new technology such as predictive analytics and digital twin.
Companies have learnt how to properly collect and manage all their industrial information, how to make it available to their entire organisations and how to design, monitor and optimise their assets to get the very best performance from them.
Together these lessons provide the digital building blocks for success that will be so critical when it comes to the energy transition.
"There are going to be a lot of familiar challenges that this industry will need to face, but there are also going to be a lot of new ones where technology will play a significant role. The expertise and experiences people have gained to date will be critical in adapting to these," says Herbert.
A lot of the commercial viability of new energy transition projects will be very dependent on technology that still needs to be developed and there's going to be a lot of a lot of pressure on optimising these assets and ensuring their performance and energy consumption is well managed.

DIGITISATION OF FUTURE ENGINEERING/OPS
No one type of software tool is going to solve every operator's problem, says Herbert. "What operators will increasingly need is different systems and tools from different vendors working together in an optimal way."
He says over the next 5 to 10 years, there will be a groundswell of support from software vendors, like Aveva, to improve this situation.
"Technology companies will increasingly recognise that they need to offer their customers a holistic view that encompasses open data standards alongside advanced data management, analytics, and application strategies.
"These changes will help customers to further embrace digital technology and truly start achieving the levels of operational performance that digital transformation has been promising for some time but has sometimes been harder to achieve," he adds.

AVEVA-ADNOC COLLABORATION
Adnoc is a significant user of Aveva technology. For over 10 years most of the Adnoc operating companies have used Aveva's PI system for collecting, analysing, and monitoring all their operational data.
These companies include Adnoc Onshore, Offshore, Gas Processing and Refining.
Herbert says each one of these has hundreds of thousands of industrial sensors covering every part of their operation and all this information is managed for Adnoc through PI.
"Adnoc has built many world-class solutions that rely on all this data, none more impressive than their recent Panorama Control Centre based around Aveva's Unified Operations Centre technology," he says.
Panorama takes all of Adnoc's operational data from PI and combines it with many other sources of information to present a fully integrated view of all oil and gas operations in Abu Dhabi.
Once all this information is brought together, it is fed through Aveva's Value Chain Optimisation suite of tools enabling Adnoc to continuously ensure their entire supply chain is running in the most optimal way possible.
"Adnoc has reported that the Panorama project alone has delivered hundreds of millions of dollars in value and greatly improved the way they operate," Herbert concludes.