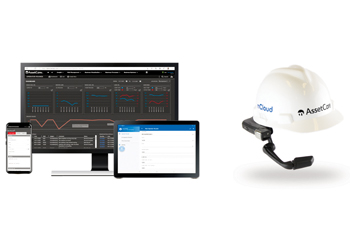 AssetCare Mobile integrates seamlessly with existing IT, OT, and enterprise systems
MCLOUD Technologies Corp, a leading provider of AI-powered asset management and environmental, social, and governance (ESG) solutions, has announced AssetCare Mobile, the first all-in-one connected worker solution enabling the 'digital oilfield' and enhancing the productivity and safety of field workers across the energy industry, ready for deployment 'out of the box'.
Delivered in partnership with Moziware, the creators of the world's first pocket-sized, voice-activated, hands-free head-worn display, AssetCare Mobile provides everything, including all the hardware, software and support industrial workers need to get straight to work.
With AssetCare Mobile, connected workers in the field can instantly access critical asset information in real-time; communicate and collaborate with experts and other co-workers remotely; easily share photos and videos of equipment requiring repair; digitize processes and workflows such as operator rounds and field inspections; and work more safely in hazardous environments.
Based on field trials with AssetCare Mobile customers in live field settings, mCloud estimates companies can expect to see up to 30 per cent faster work order and task completion; 98 per cent reduction in back-office turnaround; 96 per cent in jobs completed accurately the first time; and 15 per cent improvement in wrench time.
AssetCare Mobile integrates seamlessly with existing IT, OT, and enterprise systems. It also works on any device, including tablets, smartphones and other headsets, enabling organisations to implement the solution immediately.
mCloud offers future-proofing with select AssetCare Mobile subscriptions, enabling customers to receive upgrades to mobile hardware, ensuring access to the latest mobile devices on the market.
"AssetCare Mobile is the only connected worker solution that's ready for the digital oilfield, giving workers all the tools they need to complete complex tasks in the field efficiently and safely," said Vincent Higgins, mCloud's President, Oil and Gas Digitization.
"We are incredibly excited to be first-to-market and already deploying to digital oilfield customers in the US with the world's first connected worker solution," Higgins added.