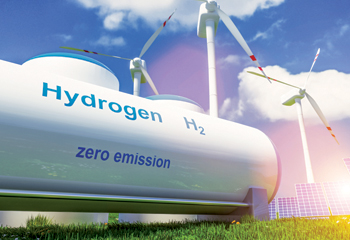 Bosch is collaborating with partners to create a smart electrolyser module for hydrogen
Bosch will invest up to 500 million euros ($535 million) towards the development of hydrogen electrolyzer components under its Mobility Solutions business sector by the end of the decade.
In the interest of effective climate action, the company is planning not only to use hydrogen fuel, but also to be one of the companies producing it by leveraging its know-how in fuel-cell technology.
"We cannot afford to delay climate action any longer, so we aim to use Bosch technology to support the rapid expansion of hydrogen production in Europe," said Dr Stefan Hartung, chairman of the board of management of Robert Bosch.
The key component of an electrolyser in the fuel cell is a stack, which comprises several hundred individual cells connected in series.
In each of these cells, electricity is used to split water into hydrogen and oxygen. This is the reverse of what takes place in a fuel cell, where electricity is generated by combining hydrogen and oxygen.
In both cases, the chemical reaction is facilitated by means of a proton-exchange membrane (PEM).
Bosch is collaborating with a number of partners to develop a way of combining the electrolyser stack with a control unit, power electronics, and various sensors to create a "smart module".
With pilot plants scheduled to commence operation in the coming year, the company plans to supply these smart modules to manufacturers of electrolysis plants and industrial service providers from 2025 onward.
Unlike many of the electrolyser components currently on the market, the Bosch smart modules will be mass produced. As such, the manufacturing operation will generate economies of scale. Bosch is planning to start volume production as quickly as possible at a number of European locations. Bosch forecasts the global market for electrolyser components to increase to 14 billion euros by 2050.
A PwC report said demand for green hydrogen across the GCC is expected to reach about 530 million tons over the same period.