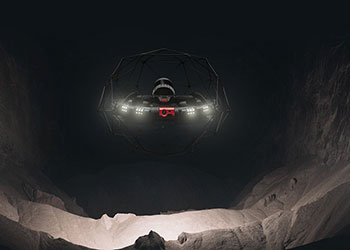 Elios 3 is a powerful data harvesting tool
Flyability, a Swiss company developing safe drones for indoors, in complex spaces, and in contact with people, announced that its Elios 3 drone technology is now available in KSA.
Elios 3 is mapping and inspection indoor drone, offering combination of intelligence, versatility and stability.
The Elios 3 is an advanced mapping and inspection indoor drone, offering combination of intelligence, versatility and stability that builds upon the successful Elios 2. It provides full protection for personnel, process equipment and buildings.
Relying on the power of computer vision and LiDAR mapping, Elios 3 is a versatile indoor drone opening doors to a world where performing systematic inspections does not require months of training, reporting is done intuitively on a 3D model of your asset, and situational awareness is built into the piloting app.
Elios 3's LiDAR data can be processed to build survey-grade 3D models of your asset enabling surveyors to map the truly inaccessible due its integration with GeoSLAMs software suite.
Flyability Elios 3 drone is powered by FlyAware SLAM engine. FlyAware is combination of computer vision, LiDAR technology, and NVidia graphic engine. Acting as a centimeter-accurate indoor GPS, it builds real-time 3D maps enabling the drone to sense its surroundings instantaneously.
With Elios 3, pilots from all skill levels will succeed at performing complex missions with close to no training as the a SLAM-based stabilisation algorithm catches the tiniest unpredictable movements of the drone and instructs the flight controller to compensate for it. This allows for the drone to float in the air still as a stone even in the toughest conditions.
In addition, Elios 3 provides 3D live map as the embedded LiDAR constantly scans the surroundings to build a high-density point cloud map. This map is displayed instantly in the Cockpit App, empowering pilots with exceptional locational awareness.
The modular payload bay features two ports. One dedicated to the LiDAR and one for auxiliary payloads. This integrated design provides aerial capabilities for a range of upcoming indoor applications. It turns Elios 3 into a versatile, future-proof tool, configured to fit mission needs.
This superior performance, combined with cost-efficiency and ease of use, makes it an industry leader for the protection of workers, process equipment, and critical facilities.