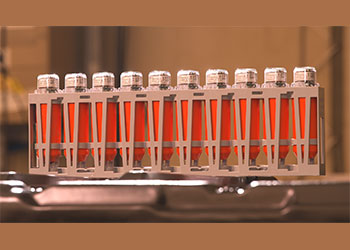 10,000 STRYDE Nodes prepared to be deployed in Nigeria
Stryde, has been awarded a contract worth over $1 million for the supply of 10,000 seismic receiver nodes and its Nimble node receiver system in Nigeria.
Stryde's seismic sensor technology will be utilised on an upcoming 3D seismic survey conducted by Nigerian geoscience solutions provider, ATO Geophysical as part of an onshore oil and gas exploration project in the region.
The seismic survey is due to begin in Q2 2023 and will be the first commercial deployment of Stryde's Nimble System in the country as it continues to dominate the nodal sensor market with its international expansion within the energy sector.
Stryde, who are the creators of the world's smallest and lightest seismic node, will enable ATO to deliver high-density seismic data for the exploration of new reservoir locations in the grasslands and marshlands of Nigeria, for a local oil and gas operator.
Until recently, the region has typically relied on bulky, expensive, and complex cabled geophone receiver systems to acquire seismic data which traditionally incurs significantly high capital expenditure (CAPEX) and operational expenditure (OPEX) costs, more exposure to health and safety executive (HSE) risk, higher technical downtime, and inefficiencies in the seismic acquisition program.
With the introduction of cable-less receiver technology like Stryde's miniature sensor, geophysical providers and operators can now acquire high-quality data much more efficiently and with less cost, risk, and environmental footprint.
The supply of its node management solution, the Nimble System will enable further efficiencies on the survey to be unlocked by allowing ATO to rotate up to 2,160 nodes per day, enabled by the system's unique capability to simultaneously charge and harvest data from 360 nodes in under four hours.
This system is also equipped with Stryde's state-of-the-art software for efficient seismic survey field operations, data harvesting, and quality assurance, allowing ATO to produce processing-ready seismic data fast than ever before.
Sam Moharir, Head of Business Development (MENA), at Stryde, said: "It was imperative for ATO Geophysical Limited to have access to cost-effective technology that could also overcome challenges associated with the terrain they were due to operate in. With cabled systems traditionally being more physically challenging to deploy in remote, large, and complex terrain, Stryde Nodes™ offer a more efficient and practical solution for improving seismic survey efficiencies through the elimination of restrictive and heavy cabled geophones."
Thomas Ajewole, Managing Director of ATO Geophysical Limited,said: "As a leading seismic data acquisition expert in Nigeria, we look forward to partnering on our first project with Stryde and capitalising on the benefits of its technology by providing our customers with a more efficient and cost-effective solution to onshore seismic data acquisition.
"As we continue to support the exploration of new oil and gas projects in the region, Stryde Nodes present an exciting opportunity to acquire high-resolution seismic data required to image the subsurface and pinpoint new reservoir development opportunities for our customers."
Stryde's CEO, Mike Popham, said: "Stryde is excited to be enabling our first seismic surveys in Nigeria with ATO. This builds upon our successful history of seismic projects across Africa, including Zimbabwe, Namibia, and Kenya.
"We're proud to see our nodes increasingly being utilised around the world for a range of industrial applications, replacing expensive, cumbersome, and impractical alternative systems with our dynamic technology."
In addition to providing seismic solutions in the oil and gas market, Stryde also supports new energy industries including Geothermal, CCUS, Hydrogen, and Mining, providing an affordable solution to a typically expensive phase of any exploration project.
This contract follows a series of geothermal, oil and gas, civil engineering, mining, and CCUS projects already secured by Stryde in 2023.