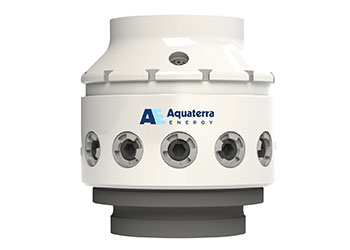 The completions and workover system will support CCS
Aquaterra Energy, a leader in global offshore energy engineering solutions, is bolstering its riser and connector portfolio with the addition of a completions and workover system that will specifically support carbon capture and storage (CCS) developments.
The end-to-end solution will allow operators to safely perform workover and intervention operations in low temperature and high-pressure CCS subsea sites, without concerns of gas leakage.
The solution will support international net-zero ambitions as the IEA estimates annual CCS capacity will need to reach 1,286 Mt CO2 every year by 2030 to meet net-zero by 2050.
The patent pending technology is designed to address the distinct issues and complexities that can occur when working with stored and pressurised CO2, for example sweet corrosion and ultra-low temperatures that standard low-alloy carbon steels can't safely deal with.
The solution is based upon Aquaterra Energy's unique and proven ISO13628-7 completion and workover riser system which incorporates the company's proprietary AQC-CW connectors to reduce operational time and ensures complete system integrity. Aquaterra is extending this system design to provide the industry with a completion and workover riser that supports the CCS industry.
James Larnder, Managing Director at Aquaterra Energy comments: "CCS is a critical energy transition technology, expected to scale up rapidly in the run up to 2030, so it's imperative we continue to advance our solutions for this market. We are proud to play our part in supporting these energy transition goals and through intelligent engineering our expert team is always looking at ways to identify what our customers need today and for the future."
Ben Cannell, Innovation Director at Aquaterra Energy said: "I'm delighted to be developing yet another CCS solution for the offshore market that will provide confidence and peace of mind to operators. As with our carbon monitoring tool, we are always innovating to provide the essential and most advanced technology that will benefit our customers and support the energy transition. Our experience of supporting oil and gas operations allows us to transfer those skills to benefit the CCS market and this solution is a testament to the depth of knowledge and experience our global team has."