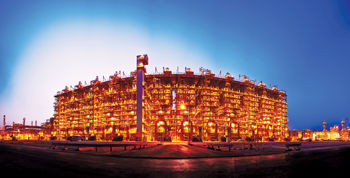 Sadara is a game changer
Fourteen of the 26 manufacturing units located in Sadara's large industrial complex in Jubail Industrial City II – which also houses the Gulf Cooperation Council's (GCC) only mixed-feed cracker – will produce speciality chemicals and plastics products

Sadara Chemical Company, a joint venture between The Dow Chemical Company and Saudi Arabian Oil Company (Saudi Aramco), which was inaugurated recently by the King of Saudi Arabia, represents the strategic significance of the joint venture to the country's growth and economic diversification strategy under the Saudi Vision 2030.
Comprising 26 manufacturing units, Sadara is one of the world's largest integrated chemical facilities and the largest ever built in a single phase. The complex possesses flexible cracking capabilities and will produce more than 3 million tonnes of high-value performance plastics and speciality chemical products, capitalising on rapidly growing markets such as transportation, infrastructure, packaging and consumer products. The performance-focused products will add new value chains to the kingdom's vast petroleum reserves, resulting in the diversification of the economy and region.
Ziad Al-Labban, CEO of Sadara highlights how Sadara's business model is a game changer which capitalises on Saudi Arabia's unique competitive advantages to enable downstream investments and job opportunities for the local skilled workforce.
Al-Labban identifies four key competitive advantages enjoyed by Saudi Arabia during a presentation entitled 'Downstream Manufacturing Opportunities in Saudi Arabia'. These include the kingdom's abundant natural resources, skilled human capital, proximity to growth markets, and access to finances.
'Sadara's range of differentiated, high value products, enabled by the cracking of naphtha as well as ethane, makes us a true game changer. By capitalising on Saudi Arabia's unique competitive advantages, Sadara is positioned to become a key enabler for downstream investments and value added job opportunities for Saudis, which in turn will accelerate the kingdom's economic diversification, and create a nurturing environment for 'Made in KSA' to truly take shape,' he notes.
Al Labban ... Sadara unit commissioning on track
In addition to its vast natural resources, which include 20 per cent of the world's proven oil reserves and the 6th largest proven natural gas reserves, Saudi Arabia also offers competitive corporate taxes, a range of funding sources, a growing Islamic bond (sukuk) market, the largest stock exchange in the Mena region, and a large number of locally-based companies and investors.
Al-Labban further explains that the country's close proximity to Asia, Africa, and Europe affords investors easy access to the growing markets within those continents.
In terms of skilled human capital, investors are able to tap into a substantial pool of qualified and skilled young Saudis, including over 1 million students currently enrolled in higher education programs, a number which is slated to grow in the coming years.
To take advantage of these attributes, Sadara has integrated state-of-the-art technologies into its 26 manufacturing plants to address the regional supply gap in differentiated speciality chemicals.
The 6-square-kilometre mega-complex started producing the first of its speciality products – Solution Polyethylene – in December 2015.
Sadara will employ thousands of talented Saudis and foreign nationals, and will help diversify the economy by adding value to the kingdom's vast petroleum reserves and making chemical products not produced before in the Middle East. Dow has estimated that the project will create 14,000 new jobs in Saudi Arabia, nearly 4,000 of which are from direct employment and the rest indirectly.
The complex has started its mixed feed cracker and commissioned three polyethylene trains, qualifying 25 products to date and shipping polyethylene to nearly 100 customers in more than 25 countries. Sadara remains on schedule for a sequenced start-up process, continuing with the polyethylene and polyolefins envelope, the propylene oxide/isocyanates/polyurethanes envelope, and finally the ethylene oxide/propylene oxide/speciality chemicals units.
Along with the 1.5 million tonne per year mixed-feed cracker, the company had started up its third polyethylene (PE) train.
The cracker is part of the $20 billion chemical complex at the Jubail Industrial City II, and is the only facility that cracks naphtha in Saudi Arabia.
The mixed-feed cracker has 12 furnaces, seven of which will be used to crack ethane (gas), while the remaining five will be used to crack naphtha (liquid), and three of the five liquid furnaces can switch between gas and liquid feedstock.
'Our game-changing vision will unlock opportunities that will support a more competitive and robust downstream manufacturing and conversion industry for Saudi Arabia that will have positive ripple effects on the region as a whole,' says Sadara Value Park director Mohammad AlAzzaz.
'This vision is underpinned by Saudi Arabia's significant competitive advantages that enable it to strive towards being the region's leading supplier of speciality chemical and plastics products, including its vast hydrocarbon reserves, relatively low production costs, modern industrial infrastructure, strategic geographic position near emerging markets, and young and skilled force,' AlAzzaz adds.
Fourteen of the 26 manufacturing units located in Sadara's large industrial complex in Jubail Industrial City II – which also houses the Gulf Cooperation Council's (GCC) only mixed-feed cracker – will produce speciality chemicals and plastics products previously only available through imports to the Gulf region from other markets.
This suite of speciality products will help transform a regional chemical industry overwhelmingly dominated by commodity products – with less than 1 per cent of the region's petrochemical products currently classified as speciality chemicals.
Speciality plastics and chemicals are building blocks for a wide range of manufacturing industries and applications with high demand and value-added potential, including oil and gas chemicals, consumer products, construction materials, automobile parts, speciality packaging, and many others.
Sadara is planning to start up the rest of its downstream derivative plants at the firm's mega complex in a phased manner, week after week, in early 2017, Saudi Aramco vice president for chemicals Warren Wilder says.
'We will be starting up one major unit every week through the early part of the next year. It is an incredibly integrated complex facility. And any one of these plants by itself could be a mega project, and again we are starting up one a week over the next six months or so,' Wilder says. He was speaking on the sidelines of GPCA.
The Sadara complex has derivative units that include PE, elastomers, isocyanates, polyether polyols, amines, glycol ethers, propylene oxide and propylene glycol.
Fourteen of the 26 units at the complex will have products that are completely new to being produced in Saudi Arabia, the company had said earlier but without providing further details.
Sadara's products will also be utilised by downstream plants in the adjacent PlasChem Park, which is a collaborative effort between Sadara and the Royal Commission for Jubail and Yanbu. The successful start-up of the first Solution Polyethylene facility in the Middle East by Sadara Chemical Company (Sadara) is expected to set new paradigms in both Saudi Arabia's and the region's downstream industry.
The Sadara chemical complex, housed in Jubail Industrial City II, is currently more than 98 per cent complete. Following the launch of its first product, Linear Low Density Polyethylene (LLDPE), Sadara is continuing with its commissioning and start-up efforts to bring the remaining 25 units on stream safely and efficiently.
The company, which sponsored and participated in the GPCA PlastiCon 2016 under the theme 'Evolving GCC Plastic Conversion: Technology meets Business', showcased how its differentiated suite of performance chemicals and plastics products will add value to its customers and how the adjacent PlasChem Park will support Saudi Arabia's downstream manufacturing growth and economic diversification.
'Sadara's product slate fills a significant gap in the regional chemical industry, where only 0.3 per cent of the chemicals produced are considered speciality chemicals. Commodity products form the vast majority of the kingdom's annual chemical and petrochemical production capacity.
Using the advanced and state-of-the-art technologies that we have, and the unique knowledge and know how our employees have gained through the intensive on-the-job training programmes in both Saudi Aramco and Dow facilities around the world, Sadara will begin filling that gap,' says Alazzaz.
'This will help encourage further development of the downstream manufacturing industry and support the kingdom's vision for diversifying the economy and job creation,' he adds. Sadara's efforts to catalyse the development of the downstream industry go deeper than just producing needed speciality chemicals.