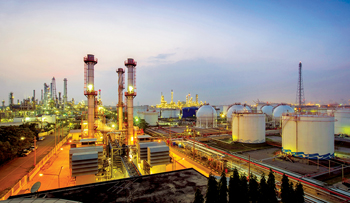 Sadara is well aware of its environmental responsibilities
Over 440 million man hours of work have been put into the mega-project to date, with a Total Recordable Incident Rate of 0.034, thereby setting a new world record


Sadara Chemical Company (Sadara) highlighted its environmental protection and sustainability practices at the 8th Symposium and Exhibition on Environmental Progress in the Petroleum and Petrochemical Industry (PetroEnvironment) 2016 in Dammam, Saudi Arabia under the patronage of Prince Saud bin Nayef bin Abdulaziz Al-Saud, Governor of the Eastern Province.
Ziad Al-Labban, CEO of Sadara, the world's largest plastics and chemicals complex ever built in a single phase, gave the opening remarks to the upstream and downstream industry leaders at the event's opening ceremony, and discussed how the company's sustainability strategy is embedded in all facets of operation and business plans.
'When complete, we'll be the fourth largest company in the Kingdom of Saudi Arabia in terms of assets. As a company of our size and scale, we are well aware that we have obligations and roles to play as a responsible corporate citizen. We also recognise that without an enabling sustainability culture, any gains that we have are going to be temporary,' Al-Labban says.
'Our mantra of being a 'game-changer' is embedded in literally all facets of operations and business plans. Our sustainability strategy supports our aim to produce differentiated, value-added chemicals and plastics products in the region, and ultimately contribute to the kingdom's move towards downstream manufacturing and further economic diversification,' Al-Labban adds.
Al-Labban went on to note that over 440 million man hours of work have been put into the $20 billion project to date, with a Total Recordable Incident Rate (TRIR) of 0.034, thereby setting a new world standard in safety.
An active participant and signatory in Gulf Petrochemicals and Chemicals Association's (GPCA) Responsible Care® Committee, Sadara went beyond the legal and regulatory requirements minimums in everything from design and engineering to construction of the six square kilometer 26-unit manufacturing complex and the adjacent PlasChem Park.