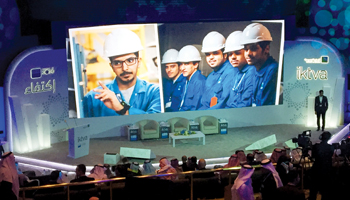 The IKTVA session in progress
Overall, the value of local manufacturing had reached SR10 billion ($2.6 billion), or 43 per cent

It is just over one year since Saudi Aramco launched its In Kingdom Total Value Add (IKTVA) programme with the aim of significantly increasing the percentage of locally-produced energy-related goods and services in Saudi Arabia, boosting exports from the kingdom and creating high quality jobs for Saudis.
Much has happened at national level in the 12 months since the launch, not least the April 2016 release of Vision 2030 and the National Transformation Programme, with the aim of further diversifying the oil-reliant economy. Riyadh has projected a budget deficit of $87 billion in 2016.
At the first IKTVA Forum in Dammam in mid-December, top Aramco executives outlined to its key suppliers some of the programme's achievements and Aramco's long-term plans for IKTVA.
Amin Al Nasser, President and CEO, underscored the challenging environment for the industry.
'The oil market remains weak and volatile, causing further project deferments or cancellations with near and long-term consequences,' he noted. 'Second the long-term trend of cost for the industry continues despite the recent drop resulting from reduced activity. And third, the launch of Vision 2030 has made maximising shareholder value crystal clear for us.'
Al Nasser explained that, in response to market challenges Aramco had, with IKTVA as a key driver, enhanced the efficiency and the reliability of supply chain and procurement mechanisms.
'Diversifying the economy, growing the private sector, increasing energy sector efficiency, localisation and privatising major state enterprises are integral to Vision 2030. In turn, these strategic goals will drive exports and create employment for our youth.
'These priorities are fundamental to anchoring projects like Fadhili Gas Project, the Energy Industrial City, and King Salman International Complex for Maritime Industries and Services. These are massive investments which, in some cases, will create completely new industries here, and will create completely new localised supply chains. So the short term challenges for IKTVA have increased, but the opportunity to make IKTVA a long-term win-win have undoubtedly increased as well,' he added.
Saudi Minister of Energy, Industry and Mineral Resources Khalid Al Falih told Forum delegates that private and public sector localisation of the Saudi economy had reached 35 per cent by 2015 and is expected to reach 50 per cent by 2021, 59 per cent by 2025, and 70 per cent by 2030. Through IKTVA, Aramco also aims to export 30 per cent of the energy products made in the kingdom by 2021.
'These ambitious targets will be pursued through an integrated programme to encourage suppliers to procure their goods and services locally,' he explained.
Reflecting on IKTVA's achievements to date, Nasser said, overall, the value of local manufacturing had reached SR10 billion ($2.6 billion), or 43 per cent. That's 16 per cent up on 2015 and is the highest level of local content in the company's history.
He also explained that, to date, IKTVA has been embedded in more than SR60 billion-worth of contracts.
'Furthermore, Aramco has completed 'Third Party Certification' of the IKTVA baseline for the top 100 suppliers, which includes key metrics for local value creation,' the CEO added.
Al Nasser called on suppliers not to limit their presence to final assembly operations in Saudi Arabia but instead establish and develop their manufacturing supplier base, and regionalise their research and development (R&D) functions alongside their operations in the kingdom. 'We are after true value addition, not numbers that hide the true position,' he said, adding: 'If we can do this – driven by the high and growing demand for your products and services in the kingdom and the region – we will all have a much more responsive, efficient and reliable holistic system.'
Al Nasser outlined to delegates the potential opportunities ahead for Aramco's partners. 'We know that the market is challenging but a significant growth in our oil and gas activity means we also remain committed to procuring goods and services worth SR1 trillion over the next decade.
'So there are vast opportunities for all of our partners. But there is an even more powerful incentive to get IKTVA right – talented Saudi men and women are passionate about making a difference to their country in tough times,' he added.