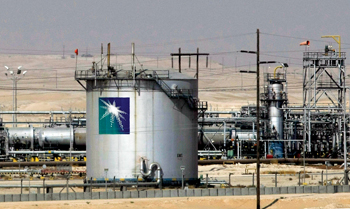 Aramco ... expanding downstream aggressively
Aramco would be involved in building infrastructure to help attract secondary manufacturers and other industries to its refining and petrochemicals complexes and in setting up training programmes to develop local technical talent

Saudi Arabia's national oil company will play a major role in driving economic diversification and the growth of private-sector industry in the country, mainly through initiatives linked to downstream petroleum development, its top executive says.
The planned initial public offering of Aramco shares would also be important as an initial step toward privatising a number of Saudi Arabia's key industrial sectors, company President and CEO Amin Nasser indicated in a keynote address at Middle East Refining and Petrochemicals Conference in Bahrain.
'Listing Saudi Aramco, privatising Saudi Aramco, is advertising that you are starting with your crown jewel,' he says. 'Other sectors will be privatised in the future.'
Nasser told delegates at the Society of Petroleum Engineers Annual Technical Conference in Dubai that Aramco would be listed on the Saudi Stock Exchange, Tadawul, and potentially on one or more exchanges outside the kingdom, with a current listing target of 2018.
Saudi Arabia Vision 2030, the economic plan unveiled in late April by Saudi Deputy Crown Prince Mohammed bin Salman Al-Saud, was 'game-changing' for the kingdom, Nasser says. It would create sustainable growth while reducing dependence on a single commodity–crude oil–and Aramco was an 'essential element,' he elaborates.
'We need to diversify by building a significant petrochemicals sector in the kingdom,' Nasser says. 'We look at integration, also at industrial parks adjacent to these plants to create complementary industry.'
Aramco would be involved in building infrastructure to help attract secondary manufacturers and other secondary industry to its refining and petrochemicals complexes and in setting up training programmes to develop local technical talent for the industries it sought to attract, he adds.
The global petrochemicals industry currently represented a $4 trillion market which was set to expand by about 3 per cent annually through 2050, Nasser projects.
'Our region's petrochemicals revenue is less than 2.5 per cent of the world total and when it comes to jobs, the record is even worse,' Nasser says. 'Considering the Gulf region's endowment of oil and gas and its proximity to major markets in Asia, these figures should be much higher. There is no question that petrochemicals must play a major role in our economies.'
Aramco's key strategies for creating enduring wealth from petrochemicals, Nasser says. These include increasing the complexity of existing Saudi petrochemicals assets in order to produce more higher-value chemicals and derivatives; extending the local value chain from commodity petrochemicals to manufacturing secondary products; increasing Saudi Arabia's share of the global market for speciality chemicals, which he characterized as 'clearly the richest, sweetest slice of the pie; and building manufacturing and conversion businesses as Aramco had already done through its Sadara and PetroRabigh joint ventures.
Stressing the importance of Sadara, an expanding petrochemicals joint venture between Aramco and Dow Chemical based in Jubail industrial city, near Aramco's 400,000 bpd Jubail refinery, Nasser says 52 projects had already been approved for the five-year-old enterprise. Nasser also cited the importance of developing more indigenous technologies and processes for the Saudi and regional petrochemicals sector. Top of the list was technology for the direct conversion of crude to chemicals, which he viewed as another potential 'game changer' for Saudi Arabia.
In June, Aramco announced a joint project with state-owned Saudi Basic Industries Co, or Sabic, to develop such technology, which Nasser says was urgently needed to increase the efficiency and profitability of existing processes for producing petrochemicals from liquid feedstock. Nasser further stresses the 'vital importance' of liquid feedstock for the Gulf region's petrochemicals sector, given its roughly 800 billion barrels of oil reserves against a regional shortage of ethane, the major petrochemicals feedstock derived from natural gas.
Kuwait Petroleum Corp CEO Nizar Al-Adsani says that the current low oil-price environment provided a unique opportunity for downstream petroleum-sector revenue growth by capitalizing on lower costs for feedstock. 'Many upstream projects have been delayed, cancelled, and this will price volatility,' he says. 'I think we move ahead into extracting more value from the barrels we produce.'
KPC was currently developing its long-term strategic plan for the period up to 2040 but still expected to increase crude production capacity to 4 million bpd by 2020 from the current 3 million bpd while expanding refining capacity, Adsani says. Asia would remain the major market for Kuwait's crude exports, he adds.
Expansion options for KPC's downstream business included diversifying the company's petrochemicals derivatives and speciality chemicals portfolio through partnership alliances and further development of its overseas refining and petrochemicals complexes in Vietnam and Italy, Adsani says.
Unlike Aramco, KPC was aiming to replace liquids feedstock with gas and to this end was incorporating an LNG import terminal into its major Al-Zour refinery and petrochemicals project, he indicated.