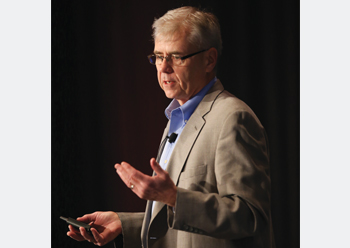 Lewis ... focus on what customers need now
In this region alone, just applying the capabilities Honeywell has already commercialised can unleash $1 billion per year, reports SREE BHAT

Honeywell UOP, a leading international supplier and licensor of process technology, catalysts, adsorbents, equipment, and consulting services to the petroleum refining, petrochemical, and gas processing industries, showcased its latest technologies for the oil and gas sector, including the Honeywell Connected Plant, at the recent Middle East Process Engineering Conference & Exhibition (Mepec) in Bahrain.
OGN caught up with Guy Lewis, vice president, Strategic Marketing and Commercial Excellence, Honeywell UOP, at the event, to talk about the company's new innovations and plans for the region. Lewis was one of the plenary speakers at the Mepec.
Technology providers to industries have to be flexible in terms of business models and technologies since demands of the industry are ever changing and nobody can predict perfectly what the demands of tomorrow will be, he says in the interview.

Excerpts from the interview:
Honeywell has been a leader in technology. What is your innovation roadmap for the oil and gas industry from a technology perspective?
We always want to focus on what customers need now and, at the same time, also think about innovations to come. We have a legacy from a technology perspective, helping our customers practice 'molecule management,' so they can make the most out of every molecule of oil or gas.
Today there are multiple priorities: We need more transportation fuels, particularly gasoline and jet fuels; and we also need more petrochemicals. We are looking at new ways, novel ways, to get the right molecules into transportation fuels and into petrochemicals.
The Honeywell Connected Plant
You have to be flexible in terms of business models and technologies because today you may be making gasoline, but tomorrow you may need to make petrochemicals. Nobody in the industry can predict perfectly what the demands of tomorrow will be, and hence customers want solutions that can be adapted over time for changes in the marketplace. We continue to enhance our technologies so our customers can keep up with the challenges of a competitive marketplace.

Tell us more about the Honeywell Connected Plant…
Everyone talks about Internet of Things (IoT) these days and it is very important to us. Working with other parts of Honeywell, we have developed the Honeywell Connected Plant, a portfolio of solutions that enable our customers to operate plants safely, have secure data flows, and then use those capabilities in real time to enhance their performance. We can capture data in real time; analyse it and quickly provide insights to operators to help them to avoid downtime and get more out of every asset, which is absolutely critical in the competitive environment today.
Honeywell Connected Plant has the potential to reduce energy consumption by 10 per cent or more in the applications where it is applied. The solutions are also reinforced by cybersecurity capabilities.

How many plants in the region have adopted Honeywell Connected Plants?
Half a dozen plants will soon be using the technology and more are in the pipeline to use it. We have a strong dedication to the region and these solutions provide the capability to handle the data analytics locally, part of our efforts to support the diversification of the economies in the region.

How is IOT changing the industry?
I think it is a profound change. We have estimated that in this region alone, just applying the capabilities we have already commercialised can unleash $1 billion per year of incremental value through higher yields and uptime and lower energy consumption. We have partnered with Honeywell
Process Solutions and other parts of Honeywell to link the world of the physical – in which Honeywell UOP has been a leader for over a century – with the world of the digital, which is a core competency of Honeywell Process Solutions, to provide integrated software enabled solutions for pretty much every petrochemical, refining and natural gas
processing process that we provide.

How big is your team in the region?
Honeywell now has 600 employees in Saudi Arabia and we have our regional office in Dubai. This is a high-growth region and, consistent with our focus here, UOP has been operating in the region for six decades. We have hundreds of applications of our solutions in the region and a strong service and support team to make sure that we are there for our customers.
What is your investment in regional R&D?
It is very extensive. We are involved in the Dhahran Technology Valley (DTV) and are also in King Fahd University's joint programmes. We have joint technology programmes with Aramco and collaborations with Sabic. It's been a commitment for a long time, and we are redoubling those efforts to make sure people understand what we are doing. And in the spirit of Saudi Vision 2030, we are looking at what more we can do.

Please comment on your participation at Mepec …
I have come to this event a couple of times, each time it's more exciting. The conversation here has more material and become more specific about the diversification of the economies and is exactly what needs to happen. Support from policies and infrastructure are absolutely critical to create a level playing field so that the best in the world can come here and show what they can do and add value into this region.
The collaborations that occur at Mepec are great. We have been committed to this event for some time and will continue to do so. It brings everybody together in one place to share ideas. It's much better for customers than going around and having conversations one at a time.