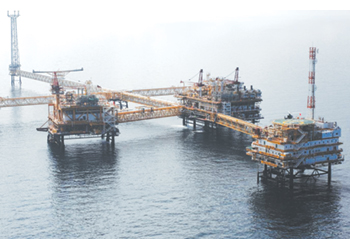 Name of client : Total
Estimated Budget : $200,000,000
Facility Type : Pipeline
Sector : Oil
Status : Construction
Location : Halul Island
Main Contractor : Sapura Energy
Award Date : Q4-2020

Background
Total operates Al Khalij offshore oilfield, which is located on Block 6. The field lies 110 km east off the mainland Qatari coast and around 40 km north-east of Halul Island. The field was discovered in 1991 and production from the asset started in 1997. Its central region was developed first, while production from the eastern and northern areas started in 2001 and 2002 respectively. The offshore platforms at Al Khalij are unmanned and are monitored and controlled from the onshore facilities on Halul Island. Around 22,000 bpd of oil is sent via two subsea pipelines from Al Khalij to a treatment facility located on Halul Island. The shallow-water field lies in an average water depth of 59 m. Total plans to replace subsea pipeline segments from some of the associated offshore platforms, aimed at maintaining the production profile of the offshore field.

Project Status
As of April 2021, the construction work of the project is ongoing as per the schedule.

Project Scope
The project scope includes a 16-inch-diameter welded production fluid pipeline between offshore platforms DP4 to DP3, along with associated connection spools to existing risers; a 16-inch production fluid pipeline segment from the DP3 to DP2 platforms; flow-lines and inter-connection; installation of connection spools to existing risers; and construction of associated facilities.

Project Finance
Total is the project client.
Project Schedules

Project Announced: 2Q-2020
EPC ITB: 2Q-2020
E&P: 4Q-2020
Construction: 1Q-2021
Completion: 1Q-2025