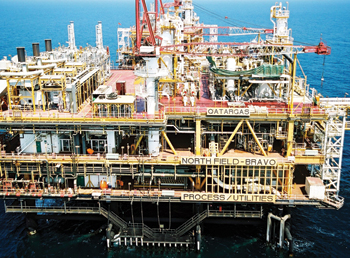 The North Field Bravo living quarters ... expanded this year to accommodate an additional 90 persons
Qatar, long a dominant force in the global gas market, has made a series of announcements to solidify its role in the future of LNG, including the North Field East project, the largest LNG development in history, writes Abdulaziz Khattak

Qatar is taking on enormous projects to secure its dominance in the gas sector as it bets on a bright future for the fuel resource in a world that's transitioning toward cleaner and less carbon-intensive fuels. The tiny gulf state is currently the world's largest LNG exporter.
Pre-Covid, the international Energy Agency (IEA) forecast LNG trade to more than double by 2040. Global gas demand is expected to rise by 3.6 per cent in 2021 after a 4 per cent drop in 2020, it said.
Qatar is aptly reading the situation and has already started the first of its ambitious projects: the North Field expansion, done in two phases, will solidify Qatar's leading role in the LNG industry as well as in the energy transition. State-owned Qatar Petroleum (QP) has been charged with carrying out the project along with Qatargas.
Seen as the largest LNG development in history, the North Field will avalanche the country's LNG production by 64 per cent, from the current 77 million million tonnes per year (mt/year) to 126 million mt/year by 2027, when both phases will be complete and commissioned. The project is steadily progressing with the first of many contracts already awarded.
Qatar produces oil and gas from several onshore and offshore fields, which are operated by QP and joint venture partners. The offshore fields include North gas field, Maydan Mahzam, Bul Hanine, Idd El-Shargi (North and South Domes), Al-Khalij, Al Karkara and A-Structure fields, Al Shaheen, Al Rayyan, Najwat Najem, and El Bunduq.
Onshore Dukhan is the largest oil and gas field extending over an area of about 640 sq km. Its three sectors – Khatiyah, Fahahil and Jaleha/ Diyab – produce crude oil, associated gas, condensate and non-associated gas from over 600 wells.
QP is expanding production from the Al-Shaheen field, the country's largest oil field with 33 platforms and more than 300 wells. The field is operated by North Oil, a joint venture between Total and QP.
In June, North Oil awarded a three-year contract to Japan Drilling Company to supply an offshore rig for the Al Shaheen oilfield. The rig, named Hakuryu-10, will start in Q2 2022 and is expected to be completed by H2 2023. Japan Drilling already has another drilling rig, Hakuryu-12, working for North Oil.
Separately, South Korea's Daewoo Shipbuilding & Marine Engineering (DSME) will build a fixed offshore platform at Al-Shaheen field in a contract that's worth $635 million.
Qatar last year produced 1.3 mbpd of oil. It has two refineries with a combined crude oil refining capacity of 338,700 bpd, more than enough to meet Qatar's domestic demand.
A concept of the new LNG carriers
But the jewel in the crown is the North Gas Field. The largest single non-associated gas reservoir in the world covers 9,700 sq km and is shared by both Qatar and Iran. The field on the Qatari side covers 6,000 sq km and has a total recoverable gas of more than 900 trillion standard cubic feet (tscf). The North Field expansion projects are on this field.

NORTH FIELD EAST
Global investor confidence in the North Field expansion project remains high. Saad Sherida Al Kaabi, Qatar's Minister of State for Energy Affairs, President and CEO of QP, said they had received offers for double the equity available to potential partners in the bidding process for the North Field East (NFE) project.
Last month, QP raised $12.5 billion in a multi-tranche bond offering, the largest US dollar fixed rate oil and gas offering. Money raised will be used to support Qatar Petroleum's ambitious growth plans and particularly the North Field expansion projects over the coming few years.
The NFE worth nearly $30 billion is the first phase in the North Field expansion. This will boost Qatar's LNG production to 110 mt/year by Q4 2025. This will be followed by the second phase, referred to as the North Field South Project (NFS), and which will further increase production to 126 million mt/year by 2027.
In addition to LNG, the NFE project will produce condensate, LPG, ethane, sulfur and helium. It is expected to start production in Q4 2025 and its total production will reach about 1.4 million barrels oil equivalent per day.
The NFE project is unique in the LNG world because of its advanced environmental characters, including significant carbon capture and sequestration capacity.
Energy giants including Exxon Mobil, Royal Dutch Shell, Total Energies and ConocoPhillips, Chevron and Italy's Eni are among those who have submitted bids for the expansion project.
International companies selected to be partners on the project will be announced within the next six months, Al Kaabi said, adding that international partners will participate in about 30 per cent of the development.
QP has offered international bidders returns of around 8-10 per cent on their investment, down from around 15-20 per cent seen from early LNG facilities.
In February, QP awarded a $1.9-billion EPC contract to the construction of four LNG mega-trains with associated facilities to the Chiyoda Technip Joint Venture.
This contract represents the culmination of front-end engineering and design (FEED) work, which started on the NFE expansion in March 2018, Qatargas said.
The mega train contract closely follows the successful installation of the NFE project's final four offshore jackets in late 2020. The engineering, procurement, construction and installation (EPCI) contract for the offshore jacket installation was awarded to McDermott Engineering Middle East in April 2019, Qatargas added.
McDermott was also awarded the FEED contract for the eight associated topsides and pipelines in May 2019.
'The completion of the offshore jacket installations is a critical part of the overall expansion project and has been delivered in a timely manner with an excellent performance on safety and quality,' Al Kaabi said.
Anchored directly onto the seabed, the steel jackets will be used to support the deck and the topsides for the NFE Project. The installation follows the earlier installation of four other jackets, bringing the number of jacket installations in the project to a total of eight.
Drilling at NFE started in April 2020, with the first of 80 development wells spudded late March the same year by the GulfDrill Lovanda drilling jack-up rig, and operated by GulfDrill, a joint venture between Gulf Drilling International and Seadrill. QP had earlier awarded a number of contracts for jack-up drilling rigs to be utilised for the drilling of 80 development wells for the NFE.

LNG VESSELS
Along with the massive expansion in production, Qatar is preparing to increase its logistics and management capacity for LNG as well.
In March this year, QP invited ship owners for the chartering of LNG carriers for its future LNG shipping requirements at its offshore North Field expansion and the Golden Pass LNG export project in the US.
This will be managed by Qatargas, the world's largest LNG company. Qatargas operates a fleet of 45 Q-Flex and Q-Max LNG carriers, the world's largest LNG carriers, which constitute the backbone of Qatar's LNG carrier fleet today. This is in addition to a fleet of 25 purpose-built conventional vessels, each with a capacity of between 135,000 and 152,000 cu m currently on long-term charter.
Qatar has also reserved 60 per cent of the global LNG shipbuilding capacity through 2027 to ensure it can serve the North Field expansion.
In what is seen as the largest shipbuilding agreement in history, QP has signed agreements with shipbuilders in both China and South Korea to meet is demand for LNG carriers.
In June last year, three shipbuilding yards in South Korea: Hyundai Heavy Industries (HHI), Samsung Heavy Industries (SHI), and Daewoo Shipbuilding and Marine Engineering (DSME) were tasked with building more than 100 vessels by 2027.
Earlier, in April that year, QP signed a $3-billion agreement with China's Hudong-Zhonghua Shipbuilding Group to reserve a significant portion of the company's LNG ship construction capacity through 2027.
Additionally, QP has partnered with other leading international LNG players and shipping organisations to collaborate on the development of new medium and large LNG carrier designs.
The multiparty agreement with LNT Marine, the American Bureau of Shipping (ABS), and Shanghai Waigaoqiao Shipbuilding (SWS) paves the way for the establishment of a Joint Industry Project (JIP) that targets the development of new LNG carrier designs utilizing the LNT A-BOX LNG cargo containment system. Other signatories to the agreement include Qatargas and affiliates of ConocoPhillips, ExxonMobil, Shell and Total.
The LNT A-BOX LNG cargo containment system is a new design that was deployed on the 45,000 cu m new built ABS-classed vessel Saga Dawn in 2020.
The LNG shipping industry saw landmark technological breakthroughs with the Q-Max and Q-Flex vessels, both types being part of Qatargas' fleet. The development has increased the maximum vessel cargo capacity to 266, 000 cu m (on the Q-Max).
To put this in perspective, one full cargo of a Q-Max can provide enough energy to heat 26 million UK homes (approximately 41 per cent of total population) for one entire day.

INTERNATIONAL EXPLORATION
Following its ambitions to become a global player on the energy scene, Qatar is pushing ahead with oil and gas exploration in different parts of the world.
In July, QP entered into agreements with Total Energies to acquire working interests in three offshore exploration blocks in South Africa, including the South Outeniqua, DWOB, and OBD blocks, which altogether cover a total area of over 102,000 sq km.
The South Outeniqua is located south of the 11B/12B block where QP and its partners discovered significant gas condensate discoveries in October last year, its second in the block.
In June 2021, a consortium including QP was awarded two offshore blocks in the southern part of offshore Suriname. The adjacent Blocks 6 and 8 are in shallow waters, with depths between 30 and 65 m, and cover a combined area of 2,750 sq km.
QP also became partners in two exploration blocks offshore Namibia in April this year, its second licence in the country. The The PEL 39 blocks (2913B and 2912) are located in ultra-deep-water depths of about 2,500 m and cover 12,300 sq km.
GREEN GOALS
Aware of the global trend of lowering carbon emissions, Qatar has committed to employing a high-efficiency design and applying the best in industry technologies to reduce gas and effluents emissions.
Al Kaabi clearly stated that 'the environment is front and centre of our strategies in the energy sector in Qatar'.
As opposed to calls for stopping investment in oil and gas, which he said would lead to big spikes in oil and gas prices and thus deprive developing nations from fuel and byproducts, he stressed to rather produce responsibly in a more environmentally sensitive way.
'We (in Qatar) are using the best available emissions abatement technology, we are monitoring methane emissions to arrest it, and we are using carbon capture and sequestration,' Al Kaabi said.
QP says it's already implementing a series of projects and initiatives to reduce emissions and to capture and sequester more than 9 million tons of CO2 per annum by 2030, placing it firmly on the road to become a leader in the decarbonisation of the LNG value chain. QP is also targeting to reduce 25 per cent emissions from its LNG plants by 2030.
At its North Field LNG expansion project, QP intends to spend $200 million on emissions reduction technology. In addition to CCS, the NFE will have a number of elements that provide this project with a unique positive environmental proposition, such as:
• A significant portion of the project's electrical power needs will be provided from Qatar's national power grid, and QP is in the process of procuring such power from the 800-MW solar power plant currently under construction in Al Kharsaah, in addition to a further 800 MW of solar power which QP will construct in the near future as part of its plans to have a solar power portfolio of more than 4,000 megawatts by 2030.
• A 'jetty boil-off gas' recovery system, which will help reduce greenhouse gas emissions (GHG) by approximately a further 1 MMTPA of CO2 equivalent.
• NFE will conserve 10.7 million cu m of water per year by recovering 75 per cent of the plant's tertiary water.
• Nitrous oxide (NOx) emissions will be reduced by 40 per cent through the application of enhanced Dry Low NOx technology.
Furthermore, QP will reduce emissions from its upstream operations by 15 per cent, and flaring intensity will be reduced by 75 per cent, from the 2013 level. The company is also committed to limiting methane emissions in its gas value-chain by setting a methane intensity target of 0.2 per cent by 2025.
The company has already included environmental considerations in some of its supply contracts.
In April 2021, Qatar co-created a 'Net-Zero Producers Forum' dedicated to developing long-term strategies to reach global net-zero emissions.
And in March this year, QP joined the World Bank-led Global Gas Flaring Reduction Partnership (GGFR) Multi-Donor Trust Fund for stronger collaborations in the global effort to reduce flaring or burning of natural gas associated with oil/gas exploration, production and processing operations.
In 2019, QP achieved 68 per cent reduction in flaring compared to 2012 when it first started its flare reduction programme. The ongoing flare reduction initiative contributed to a 7.5 per cent reduction in greenhouse emissions in 2019.
On its part, Qatargas has been successful in co-processing spent molecular sieves at a local cement plant as supplemental feed material, for the partial replacement of bauxite, to produce 'green clinker'.
Molecular sieves are engineered ceramic balls with a large surface area designed to trap moisture and contaminants from the feed gas, and are used in large quantities in LNG production process. Once saturated and exhausted, the molecular sieves are usually disposed of in hazardous waste landfills mixed with other waste streams taking up limited and expensive landfill space.
The method has proved to be far more cost-efficient than conventional disposal. Qatargas has to date recycled more than 5,000 tonnes of molecular sieves.
This is in line with Qatargas' Integrated Waste Management Approach (IWMA) which incorporates the 4R principles of: Reducing waste at source, internal Reuse within Qatargas, external Recycling and/or coprocessing, and Responsible disposal.
Meanwhile, work is progressing at the country's 800-MW Al Kharsaah solar plant located 80 km west of Doha. A consortium consisting of Total and Marubeni are building the project.
Siraj Solar, a joint venture Qatar Electricity & Water Company (QEWC) and QP, is a majority shareholder in the plant
In May, Oman Cables was awarded a contract to supply 3,000 km of photovoltaic (PV) prysun cables for the project.
The first 350MW is due to be operational in 2021, with the full 800MW scheduled to be connected to the grid in 2022. The project will reduce the CO2 emissions in Qatar by 26 million tonnes during the life of the project.