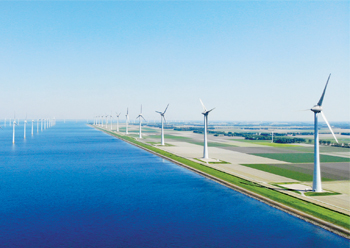 Faccin's wind tower production facility ... the group has done hundreds of installations globally
Preparation, readiness and investment are keys to staying ahead of the competition in the wind energy industry, which expects to see exponential growth in both onshore and offshore projects, Javier Lanfranchi, Faccin Group Senior Sales Area Manager, tells OGN

According to Global Wind Energy Council's (GWEC) Global Wind 2021 Report, developing markets in Africa and the Middle East reported 8.2 GW onshore installations last year, while new installations in this region will double in 2021 and then triple in 2022 compared with 2020.
Faccin's wind tower foundation production facility
'Such growth drive is improbable to halt during the rest of the forecast period with 3.2 GW of new capacity projected to be added each year in Africa/Middle East in the next five years (2021-2025), which is principally driven by developments from South Africa, Egypt and Morocco in Africa and Saudi Arabia in the Middle East,' says Javier Lanfranchi, Faccin Group Senior Sales Area Manager.
Although relatively low installation capacity compared to other regions, the future of wind power in the Middle East is bright.
The sector is led by the Kingdom of Saudi Arabia through its Renewable Energy Project Development Office (REPDO) within the Ministry of Energy, with new wind energy projects like the 400-megawatt (MW) Dumat al-Jandal, the Middle East's largest wind farm, which in April 2021 has reached the halfway mark with regard to construction. Commercial operations at the farm are expected to start in Q1 2022.
Using Vestas V150 4.2 wind turbine generators (99 x 4 MW), Dumat al-Jandal will be the most cost-efficient wind energy project in the world.
And REPDO does not stop there. It has announced plans for an 850-MW wind farm in Yanbu, as part of the National Renewable Energy Programme's (NREP) fourth round, and plans to build 35 more wind farms by 2030.
Faccin has extensive expertise in offshore wind projects
The Saudi National Grid Company's CEO recently stated that KSA expects to attract more than $20 billion in renewables investments by 2030.
However, there are challenges ahead. According to Ben Backwell, GWEC CEO, for Africa and the Middle East to reap the full benefits of wind power, they will have to address challenges such as 'policy and power market frameworks, transmission infrastructure bottlenecks, and off-taker risk'.
The establishment of policy, regulatory, technical, and economic frameworks, enabling the scaled-up deployment of renewables will be indispensable together with efforts from both private and public sectors, is a must to obtain important results in terms of obtaining affordable and clean energy in the Middle East.
Faccin Group is well aware of these challenges and as part of the private sector, continues with its policy of creating, sharing and distributing relevant and valuable content for its customers and public in general.
A webinar (https://www.youtube.com/watch?v=ZO_G-rYd0Zk) it held on April 8, 2021, focused on the wind energy industry and the challenges laying ahead. The event has been watched by hundreds looking at understanding how the industry will cope with the monumental growth of the sector and the hype that has been created around this renewable source of energy for the future.
MEA reported 8.2 GW onshore installations last year
During the event, hosted by Javier Lanfranchi, key players of the industry together with members from Faccin Group's Wind Energy Division, Andrea Comparin, Diego Morbini and Rafael Soto, shared their views on the future of the market, particularly on the challenges related to the construction of ever bigger, taller and heavier towers, the extreme tolerances required, the diameters of the monopiles, the thicknesses to be rolled and the solutions provided by the manufacturers of machinery and how the tower producers should prepare for it.
The conclusion was that preparation, readiness and investment were keys to staying ahead of the competition in this industry, which is expected to see exponential growth not only in onshore wind power but also offshore, with the expansion of the Asian and the US markets.
Rolling hundreds of steel cans of bigger diameters and thicker walls with very strict tolerances, was an important point highlighted during the webinar. In this regard, Faccin Group contributed with its expertise based on hundreds of wind tower automation systems installed around the world and covering a wide range of solutions for the rolling of monopiles, especially offshore wind projects, automation systems to produce hundreds of cans for sections and onshore towers and innovative machinery for the serial fabrication of door frames and flanges.
Faccin, through its Wind Towers Division, is well-prepared to assist wind tower section and foundation manufacturers to get the most of their operations.