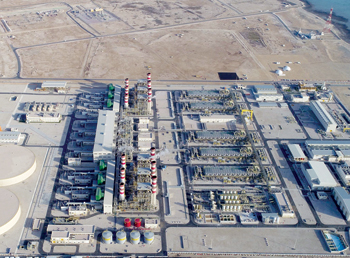 The Umm Al Houl IWPP ... optimisation through digitalisation
In the region's highly competitive utilities sector, Umm Al Houl Power demonstrates the power of digitalisation by using real-time solutions to optimise its resources and supply chain and delivering unprecedented analytics, efficiency, and productivity

The Umm Al Houl Power plant in its quest for digitalisation has deployed a wide range of real-time business solutions to increase efficiency and improve resource utilisation in line with Qatar National Vision 2030 goals of power and water security.
Umm Al Houl Power is a state-of-the-art independent water and power plants (IWPP) and one of the largest in Qatar and the Middle East. With an installed capacity of 2.52 GW of electricity and 198 million gallons of desalinated potable water per day, it supplies 30 per cent of the country's power needs and 40 per cent of its water needs, respectively.
The plant wanted full visibility of its utilities operations and resources in line with its goals of providing a secure power and water supply.
"We took the very important decision very early on to digitally transform our company across the board, from human resources, operations, maintenance, material resources, financial accounting to cost management," says Khaled Al Siddiqi, Business Manager, who leads the digital transformation initiative at Umm Al Houl Power.
He says the initiative has allowed them to give employees advanced technological tools that ensure right actions at the right time and at the right cost. It has also led the plant to achieve an annual revenue-to-employee ratio of more than $3 million per employee - which is one of the highest in the world for any sector.
The project was undertaken with channel partner Kaar Technologies and global technology company SAP
The digital transformation initiative seamlessly integrates data from the plant OT into SAP MII to provide real time KPIs and dashboards for effective management oversight. Data from the DCS and field operators and technicians is routed directly to the concerned engineers for real-time decision-making. This has led to new levels of employee productivity.
"Umm Al Houl Power now has granular data on one real-time platform, delivering unprecedented analytics, efficiency, and productivity," says Al Siddiqi.
Through digital planning, board engineers can now assign the right resources at the right price and right time. Technicians can access assigned job orders, technical documents, permits, check, and call in physical inventory through SAP MM module on their mobile devices to quickly diagnose and fix any issues without any administrative delays.
Also, the implementation of ESS and MSS with SAP Fiori on mobile has substantially reduced lag time by enabling requests and approvals on the go.
Furthermore, the company has less asset downtime, and spends less time and effort on routine administrative tasks with more time used for strategic planning.
The plant is currently implementing SAP Ariba, digitally enabling the complete procure-to-pay cycle, which is expected to further optimise capex.
In the future, Umm Al Houl plans to use real-time solutions like field-based equipment integrated with mobile devices, artificial intelligence, machine learning, and robotic process automation for predictive maintenance of its assets, which could further optimise costs and efficiency.
"With continuous collaboration with SAP and our policy to leverage innovative technologies, I am confident Umm Al Houl Power can keep our operations running at maximum efficiency into the future," concludes Al Siddiqi.
Umm Al Houl Power is a Joint Venture Company with the Qatar Electricity and Water Company, Qatar Petroleum, Qatar Foundation, and Japan's K1 Energy that is comprised of Mitsubishi and Jera.