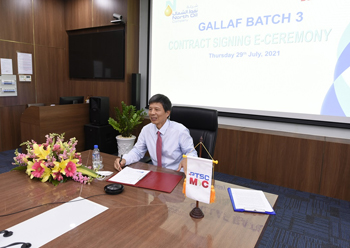 The North Field Bravo living quarters
PTSC Mechanical & Construction (PTSC M&C) has signed a contract for Gallaf Batch 3 Project – EPCI05 (Package 5) with North Oil Company, a joint-venture between Qatar Petroleum and Total Energies.
The contract signing ceremony was held online due to Covid-19 restrictions with the participation of senior representatives from all sides.
Gallaf Batch 3 is the next developmental phase of the Al Shaheen oil field, Qatar's largest offshore oil field and one of the largest offshore oil fields in the world. The oil field is operated by North Oil Company.
The EPCI05 package is part of the Gallaf Batch 3 Project including two wellhead platforms with a total weight up to 19,000 tonnes.
PTSC M&C has been awarded the main EPCIC contract for Package 5, which involves detailed design, procurement, construction, pre-commissioning, commissioning, load-out, sea-fastening, transportation and installation, hook-up and offshore commissioning.
All onshore works will be carried out at PTSC M&C's fabrication yard in Vung Tau City, southern of Vietnam.
This contract will take three years to complete.
"Securing Package 5 is a proud achievement of PTSC M&C in its expanding strategies to overseas markets, especially in the context of the global oil and gas industry, which has been going through the double crisis of the Covid-19 pandemic and the drop in oil prices," says a PTSC M&C spokesman.
PTSC M&C is also the main contractor for Gallaf Batch 1 and has successfully delivered three wellhead platform topsides to North Oil Company in mid-2020.