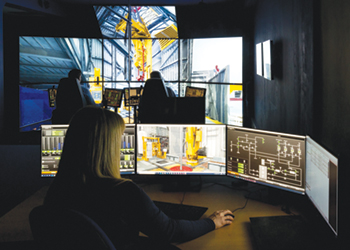 At multiple global locations, from training centres in the US to offshore sites in Asia, RelyOn Nutec simulation's state-of-the art simulator systems are being used to practice complex operations in a safe and controlled training environment.
Utilising simulation can reduce operational risk by testing procedures and identifying potential issues in a safe environment prior to complex operations.
It can increase competence levels and minimise the risk of human error in critical situations. It is also an effective tool for reducing non-productive time when drilling operations are in process as the team can be fully prepared in advance for any challenges that may arise.
The full-sized simulator models, ADS3-Drill and ADS4-Drill, deliver unique functionality for drilling training with an innovative and realistic, dynamic drilling simulation experience.
Depending on the client's needs, the required level of customisation is developed and a simulation solution applied to one of the multiple applications available.
Simulation for complex wells can be an invaluable tool at the planning stage. Working with an in-house programming team, simulation can bring well plans to life, by inputting specific well data. It allows the creation of a realistic 3D replica of the well in an immersive simulated environment.
Third party software can be integrated into the simulator systems so that employees can gain valuable insights into how it functions.
With thanks to an extensive library of simulation snapshots and scenarios, there is the opportunity for role-specific training for drill crew members, ensuring that they can act swiftly, effectively, and safely in response to changes in the well.
By observing teams in an immersive simulated environment, insight is gained into their reactions and interactions. The aim is to positively influence the way teams respond to a challenging or stressful situation in future.
Human factors or Well Operations Crew Resource Management (WOCRM) training is designed to strengthen a team's working relationship, improve communication, and enhance performance.
When things don't go to plan during operations, independent advice and incident investigation services can help establish what happened and why.
Expert consultancy teams have the operational experience and simulation capabilities to recreate operational problems and incidents in order to aid understanding and facilitate root cause analysis for well problems - delivering swift, robust and reliable conclusions.
Services can be customised to a client's needs and delivered on a full-size simulator or on a portable desktop version which can be transported to the rig site. Client requests for customisation often lead to innovations and exciting developments within the drilling simulation field.