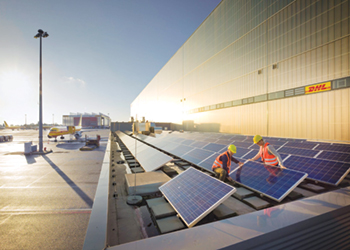 DHL Global Forwarding, a leading provider of air, ocean and road freight services, and TotalEnergies have signed a contract for a solar energy project in Dubai, as part of their Strategic Cooperation Agreement signed in 2019.
TotalEnergies will solarise eight of DHL's sites in Dubai to cover the equivalent of over 46,000 sq m of photovoltaic panels. The solar system will save more than 6,000 tons of CO2 the first year. The project complements Deutsche Post DHL Group's sustainability roadmap to achieve zero-emissions logistics from 2050 onwards.
The whole solar system will produce over 14,000 MWh per year, enough energy to power over 16,000 homes yearly in the UAE. In addition to supplying the sites with solar power eight electrical vehicle charging stations will also be installed. Thus, DHL Global Forwarding contributes to the Group's goal of electrifying 60% of its fleet by 2030.
Not only does the solar system produce more sustainable energy, but the program also includes that 85 per cent of the solar modules are recycled. Furthermore, they are produced exclusively in Landfill Free certified factories. All this contributes to making the entire product cycle more sustainable and saves more than 150,000 tons of CO2 over the contract duration.
In keeping with its policy of "burn less – burn clean", DHL Global Forwarding is consistently optimizing the carbon efficiency of its transport network, its fleet and its real estate.
In order to achieve its sustainability goals, Deutsche Post DHL Group is investing €7 billion ($8.5 billion) in climate-neutral logistics solutions through 2030, by which point at least 30 per cent of its fuel needs should be met by sustainable fuels.