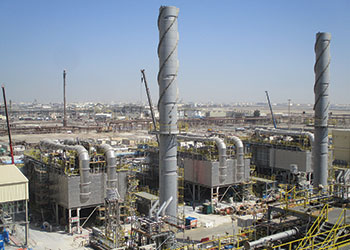 Name of Client : Bahrain Petroleum
Company (Bapco)
Estimated Budget : $800,000,000
Facility Type : Petroleum
Sector : Exploration & Upstream Production Refining
Location : Sitra, Bahrain
Main Contractor : Samsung Engineering Company TechnipFMC and Tecnicas Reunidas
Award Date : 2018-Q1

Background
The residue conversion unit (RCU) is a part of the Bapco Modernisation Programme (BMP), which aims to rehabilitate the refinery as well as increase capacity from 267,000 barrels a day (bpd) to 380,000 bpd. The RCU will be developed first because it is a primary unit in the process of converting heavier crude oil types into lighter-grade products.

Project Scope
The project scope includes a new ebullated bed residue hydrocracking unit with a capacity of 65,000 barrels per stream day (bpsd), LC-fining residue hydrocracking technology licensed by Chevron Lummus Global, mechanical work, civil work, and piping work.

Project Status
The construction work is expected to be completed in Q4 2023, while the commissioning will be started in Q1 2024.

Project Finance
Nogaholding, the investment and business development arm of Bahrain's National Oil and Gas Authority (Noga), is investing in the project. The Export-Import Bank of Korea (Korea Eximbank) and Korea Trade Insurance (K-sure) have agreed to provide $734 million of financing for the project. Bapco has also reached an agreement with the UK Export Finance (UKEF) for an ECA agreement.

Project Schedules
Project start: 2Q-2009
Feasibility Study: 2Q-2009
FEED ITB: 1Q-2014
FEED: 3Q-2014
EPC ITB: 2Q-2016
E&P: 1Q-2018
Construction: 1Q-2019
Commission: 1Q-2024
Completion: 3Q-2024