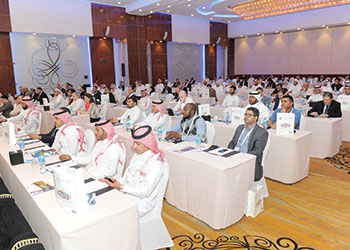 The Opex Mena conference for the past nine years has brought together downstream leaders committed to spearheading the operational excellence (OE) and health and safety standards in their organisations.
It continues to be a hub for valuable knowledge exchange and a meeting place for professionals, passionate about improving HSE and OE at their organisations and solution providers who can help them on the way to excellence.
Organised by Euro Petroleum Consulting (EPC), this year's edition will be held in Bahrain from February 28 to March 2. It is hosted by Bahrain's Ministry of Oil and Environment under the patronage of Dr Mohamed bin Mubarak Bin Daina, Minister of Oil and Environment, Special Envoy for Climate Affairs of the Kingdom of Bahrain, who will officially open the event.
The 2023 edition will see an expanded award ceremony to incorporate new categories to reflect the growing industry, including Safety, OE, Innovation, Woman of the Year and Young Professional of the Year.
Confirmed speakers include those from Solomon Associates, Sipchem, Krause Bell Group, Sabic, Aramco, Bapco, Procyon Group, Ibn Zahr (Sabic), ISN, GPIC, Arrazi Sabic, Voovio, Honeywell, and Arrazi (Sabic).
The event will explore seven case studies in detail as well as a number of other real industry situations and experiences.
The sharing of best practices and experiences in an interactive forum is one of the principal reasons the event attracts an audience of producers (70-80 per cent of attendees) and solution providers, eager to learn and share lessons learned on significant HSE, opex and asset optimisation related challenges.
In light of current global sustainability efforts, Opex Mena participants will have the chance to learn how Abqaiq plants have adopted circular economy at a 70-year-old facility, reduced costs and increased optimisation and how GPIC optimised its production units and implemented a CCU Solution.
Delegates will also be able to interact with industry leaders panel discussions on carefully selected topics that included 'Stumbling Blocks and Drivers on achieving Safety Excellence', 'Organisational Strategies Supporting Digital Transformation', 'Overcoming Asset Performance Difficulties and Optimising Maintenance Strategies', and 'Inclusive and Empowered Workforce'.
Opex Mena 2023 will feature an exclusive workshop hosted by Solomon Associates on 'Operational Excellence: Essentials for Success'.
This workshop will provide invaluable insight into the practices and methodologies applied by leading organisations to optimise their operational excellence strategies and generate value.
Opex Mena 2023 sponsors include nogaholding, Solomon Associates, Krause Bell and Procyon Group.