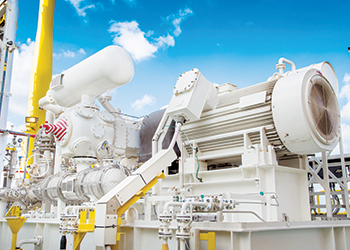 The global industrial air compressor market reached $ 33.3 billion in 2022
The oil and gas industry will continue to be a major growth driver for compressors and account for the majority of market sales, especially in the US, which has over 70 per cent share in North America sales

The global compressors market is set to grow from $122.57 billion in 2022 to $125.75billion in 2023 at a compound annual growth rate (CAGR) of 2.6 per cent, and to $140.49 billion in 2027 at a CAGR of 2.8 per cent.
A report by Reportlinker, titled 'Compressors Global Market Report 2023' cited the increasing applications of compressors in the power industry as one of the key drivers for the compressors market. This is mainly due to the rising global population which has led to an increase in the demand for power.
A compressor is a device that provides power by increasing the pressure of a substance and reducing the volume. They are used in various sectors, such as construction, power, industrial manufacturing, HVAC-R, chemical and cement, oil and gas, automotive, food and beverage, and textile.
The types of compressors in use in the market include rotary screw, centrifugal, reciprocating, axial, and rotary vane. They are further divided into air compressors and gas compressors.
Compressors are classified by positive displacement and centrifugal with different power ratings like 0-100 kW, 101-300 kW, 301-500 kW, and 500 kW.

AIR COMPRESSORS
Since their introduction, air compressors have become incredibly popular. And with the increasing demand from various industries as well as investments in oil and gas and power generation sectors, the demand for industrial air compressors is projected to grow at a CAGR of 3.8 per cent between 2022 and 2032, totaling around $46.6 billion by 2032.
In 2022, the global industrial air compressor market was valued at $ 33.3Billion.
The growth of the oil and gas industry will continue to be a major growth driver, and it will account for the majority of market sales, especially in the US, which accounts for over 70 per cent sales within North America.
Application across diverse sectors will drive growth in the industrial air compressor market in Germany and France, as will rising demand for power generation will push growth in Japan and China.
Moreover, manufacturers are emphasising on developing digitalised and customised products to meet customer demands for improved technology, long lifecycle, higher efficiency and less maintenance cost.
• Portable air compressor: This type provides compressed air to several industries, such as construction, automotive, and oil and gas. They are also utilised as backup compressors in several industries when the stationary compressors breakdown or require maintenance.
According to Reportlinker's 'Portable Air Compressors Market – Global Outlook & Forecast 2023-2028' report, the increasing adoption of variable-speed systems, low maintenance cost, effective operation, and retrofitting for existing methods are some factors propelling the global portable air compressor market among the end-use industries.
The segment is project to grow at an annual rate of 5.35 per cent from 2022 to2028.
Moreover, energy-efficient portable air compressors are witnessing a surge in demand owing to their cost-effective operations. Hence, air monitoring systems are widely installed for measuring air compressors' impact.
Additionally, the subsequent introduction of oil-free-based projects and continuous industry investments are driving the demand for oil-free portable air compressors.
Prominent manufacturers in the global portable air compressor market are developing eco-friendly and low-maintenance systems in their products to encourage users to opt for next-generation compressors.
Moreover, technology integration is the key approach companies select to refine the technologies utilised in their new products and services.
An effective technology-integration process starts in the earliest phases of an R&D project and provides a road map for all design, engineering, and manufacturing activities.
Various manufacturers provided IoT-connected air compressors, including Kaeser, Atlas Copco, Elgi, and Hitachi Sullair.
These compressors deliver more than 150 data measurements per second, including sharing the real-time status of internal parts, such as the motor, belt, etc.
Therefore, the advancement and development of new technologies have revolutionised the global portable air compressor market. Moreover, the constant efforts to develop new features and technology for compressors are expected to create new opportunities to expand the portable compressor market during the forecast period.
The manufacturers are emphasising manufacturing energy-efficient compressors by adopting VFD and VSD technologies, which enables them to save huge amounts of energy on their products in the portable air compressor market.
Further, according to a report by the Department of Business, Energy, and Industrial Strategies, compressed air systems are one of the large consumers of energy, consuming around 10 per cent of all industrial electrical consumption or 8.8 TWh each year, which results in CO2 emissions of 3,100 kt per year.
Hence, such factors are expected to encourage the adoption of energy-efficient electric portable air compressors during the forecast period.
In portable air compressors, the reciprocating type accounts for a revenue share of $623.18 million in the global market, owing to the high adoption of these compressors in manufacturing.
Further, these compressors are widely used in the oil and gas sector for operating pneumatic equipment for pipelines, oil extraction and refining, another processes.
In the end-user global portable air compressor market, the construction segment is growing at a high CAGR due to the increasing adoption of compressors to provide a power source to pneumatic tools such as sanders, grinders, and wrenches, among others, and is expected to cross $360.34 million by 2028.
• Next-gen air compressors: The emergence of next-gen air compressors is an important trend in the compressors market. The next-generation air compressors are highly energy-efficient and eco-friendly and emit relatively lesser carbon emissions than the traditional compressors.
For example, Kirloskar Pneumatic in association with Top Tag Trading Est (3T Group) launched a next-generation diesel portable compressor, which offers high power efficiency at a low cost of ownership. Similarly, Atlas Copco offers the GA VSD+ compressor which reduces energy consumption by 50 per cent.
Other companies in such as Hitachi and Ingersoll Rand are also working towards power-efficient and low-maintenance air compressors.

MARKET & PLAYERS
The major players in the compressors market overall are Atlas Copco, Bauer Ingersoll Rand, Siemens, Kaiser, Ebara, Sullair, ELGI Equipment, Gardner Denver, Kirloskar, Kobe Steel, Mitsubishi Heavy Industries, Sulzer, and MAN Turbo.
These companies are expanding their product portfolio to gain larger industry share. These players are using several organic and inorganic growth strategies, such as mergers and acquisitions, and collaborations, to bolster their positioning the global market.
The largest compressors market in 2022 was the Asia Pacific region followed by North America.

MAINTENANCE
The high maintenance cost of compressors is one of the major restraints on the compressors market. The maintenance of a compressor typically includes costs for repair including any leakages, changing the filter, and oiling.
For example, the cost of oil required to operate an oil-lubricated compressor is around $3,000-$6,000 per year. Similarly, the disposal of condensate generated by the compressor can cost around $50,000 per year.
Therefore, the maintenance costs involved in operating compressors continue to be an important restraint restricting the growth of the compressors market.

STANDARDS
The compressor machine manufacturers must comply with the standards set by the American Society of Mechanical Engineers (ASME) in the making and testing of compressors. One such example is the ASME Standard EA-4-2008.
This standard specifically focuses on the requirements of conducting and collecting the results of a compressed air system. The standard is set to avoid any kind of discrepancy in evaluating a compressor based on its energy assessments.
ASME Standard EA-4-2008 provides a detailed yet scalable process that can be molded for each compressor manufacturing facility. Hence, regulations such as these would keep a check on companies involved in manufacturing and testing compressors.