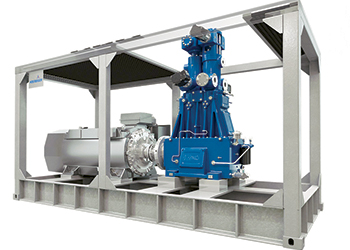 The hydrogen compressor package
Hoerbiger's eHydroCOM is a powerful and compact all-electric stepless capacity control system available for reciprocating compressors that can be applied in both the conventional and new energy to reduce energy-related emissions and save money.
The 'one size fits all' and easy to install solution is the ideal way to achieve stable control of dynamic processes.
Many reciprocating compressors need to deliver less than their rated capacity for much or all of the time. Traditionally, this requires excess compressed gas to be returned to the suction side via a recycle valve.
The energy used to compress this recycled gas is wasted, but eHydroCOM continuously adjusts the compressor's delivery rate to match the amount required by the downstream process.
Precise control of the suction valves eliminates the need for a bypass. This not only saves you energy and reduces CO2 emissions, but is a reliable, low-maintenance and easy to integrate electromechanical solution.
the eHydroCOM
Hoerbiger's XP and CP Profiled Plate Valve use PowerPEEK® plates that give extreme efficiency and excellent flow characteristics for high compressor uptime.
The aerodynamic "rings" produce a lower pressure drop than plate valves, giving small amounts of liquid and debris the ability to pass.
PowerPEEK plates also offer an optimised distribution of reinforcing fibers and, therefore, wear less in operation. This leads to an increase in MTBF and MTBM, leading to less losses from unplanned maintenance.
Further, the electric power and fuel consumption can be drastically decreased to reduce the related CO emissions when increasing the service life and up to 50 per cent the efficiency in parallel.
The valves are also designed for applications in the field of green hydrogen, synthetic fuels, Bio gas and hydrogen transport as well as LNG boil off.
Transport and storage of hydrogen will be a central issue of the future hydrogen economy. Independent from the type of production, transport and storage, there is a need for efficient compression solutions along the entire hydrogen value chain.
Hoerbiger's compressor package in combination with eHydroCOM can enable customers to compress Hydrogen from various kind of inlet sources to a wide range of hydrogen applications.