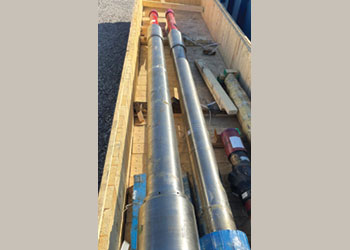 The SF Liner Hanger Packer system
The first 'Made in Saudi' Inconel Alloy Packers Plus products have enabled an international operator to complete saltwater disposal well by providing it with a long-lasting and effective sealing solution in extreme downhole conditions.
The operator working in the Middle East was able to safely and efficiently improve its ability to handle disposal water by drilling and completing a new well in a very short time using SF Liner Hanger Packer completion tools. These tools were manufactured and delivered in a very short time despite the material complexity, which requires precise manufacturing techniques.
Both customisation and rigorous quality control enabled the manufacturing of durable and reliable Liner Hanger Packers made from high performance nickel-chromium-based alloy, which is well known for its exceptional resistance to corrosion, high temperatures and mechanical stress ensuring efficient injection operations.
By manufacturing its products locally, Packers Plus Saudi Arabia Industries says it is not only contributing to the growth of the local economy but also creating job opportunities for Saudi nationals.
"The successful run of the recent Made in Saudi products in the Middle East is a testament to the quality and reliability of the company's manufacturing facilities in the Kingdom. Packers Plus Saudi Arabia Industries has invested heavily in its manufacturing capabilities in the country, and the recent success is a validation of its efforts," says a company spokesman.
According to the company, the localisation of its products and solutions in the Kingdom is part of its commitment to support the Saudi Vision 2030 plan.