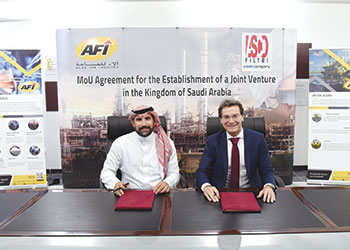 Al Rashoodi and Menini (right) at the agreement signing
ALAA for Industry (AFI) and ASCO Filtri (a Mott firm) have signed a memorandum of understanding (MoU) for the establishment of a joint venture to manufacture process filters in the Kingdom of Saudi Arabia.
The agreement was signed by Youseff Al Rashoodi, President of AFI, and Fulvio Menini, CEO of ASCO Filtri, at the AFI head office in Dammam. Also present were Mamoun AbdulKareem, CEO of AFI, Manoj Kadavan, GM of AFI Chemicals, and Anuraag Mehta, Regional Manager of ASCO Filtri.
ASCO Filtri is a filtration company with more than 40 years of specialised experience in process filtration for a range of industries, including oil and gas, petrochemicals, water treatment, fine chemicals and others. Meanwhile, AFI is a renowned Saudi-based company that offers quality industrial engineering products and services for several industrial applications across multiple industries from oil and gas, to chemicals, transportation, contracting, equipment and industrial solutions.
Both parties have expressed their keenness and commitment in supporting the Kingdom's Vision 2030 as the venture aims to aid in the economic and social transformation of the Kingdom through the establishment of a local manufacturing plant, which would increase the employment and development of Saudi nationals and ultimately boost the local economy.