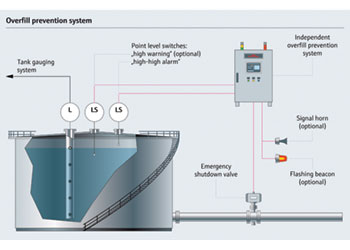 An automated overfill prevention system is isolated from other systems
Endress+Hauser's AOPS eliminates design costs, expedites project execution and brings about faster approval from local authorities, resulting in lower capex and opex and most importantly, increased safety for the end user
The role of chemical and petrochemical storage tanks is significant and complex. They serve as large containers for powerful and volatile fluids, which, if not monitored have the potential to cause immense damage to personnel, assets, the environment, and finally – the reputation of the tank farm operator.
It is worth noting that applications concerning tanks and overfill prevention are not limited to the oil and gas or chemical and petrochemical industries. In fact tanks are used in various production processes (process industry) and hazardous substances are stored in tanks across industries.
Even though safety standards, instrumentation, alarm systems, and various other protocols have existed for several years, tank overfilling incidents occur more frequently than one may assume.
The emphasis on reliability, safety, and accident prevention has never been greater than today.
Historical industry data indicates that there is 1 overfill for every 3,300 fillings.
The best solution to mitigating the damage and extent of spills is to prevent them from happening in the first place. With smart devices, the potential hazard is predictable and hence preventable.
To achieve this effectively, the proven best practice is to use overfill prevention systems in addition to standard tank gauging systems.
The clear message from regulatory organisations is that an independent, highly available safety system is required for overfill prevention.
Successful tank farm management involves using innovative instruments, solutions, and services to not only prevent hazards but also to increase efficiency, and safety, and gain high ROI. Hence, investing in a smart overfill prevention system is inevitable.

STANDARDS
Storage tank categories by the level of staffing present during receiving operations
As a result of landmark incidents like Buncefield, regular and systematic overhauls to overfill prevention systems have taken place, and industry best practice for managing storage tanks now combines the existing API 2350 prescriptive standards with the IEC 61511 functional safety standards.
Today, Safety Integrity Levels (SIL) are often used to achieve a legally binding level of risk reduction in an easily comprehensible process.​
One aspect operators need to keep in mind is the tank categories upon which overfill prevention methodologies are based. API 2350 categorises storage tanks by the level of staffing present during receiving operations:
• Tank Category 1 is a fully attended tank.
• Tank Category 2 is a semi-attended tank
• Tank Category 3 is an unattended tank.
To accommodate these three tank categories, two different safety functions exist according to API2350: AOPS, which stands for Automated Overfill Prevention System; and MOPS, which stands for Manual Overfill Prevention System.
• MOPS: If overfilling is imminent, the system automatically activates signaling in the control room and safety-oriented signaling in the field. The operating staff must then manually close or switch off the actuator (valve/pump).
• AOPS: If overfilling is imminent, the system automatically disables the corresponding safety relay. Any actuators connected (valve/pump) are closed/switched off automatically.
Risk reduction by safety instrumented systems (SIS)
An automated prevention overfill system is a pre-configured system that helps to detect, indicate, and prevent hazardous overflow levels in a storage tank.
Required primarily for chemical and petrochemical tanks, it complements the existing tank gauging and inventory management solutions.
The responsibility to determine the hazards and risks of a process always lies with the plant operator. The API 2350 standard prescribes methods by which an owner, operators, and operating personnel can prevent tank overfills.
The requirements of API 2350 can be fulfilled by using a safety instrumented system (SIS) designed in accordance with IEC61511. This ensures that the entire functional loop, not just the individual component is fit for safe use.
A vibronic tuning fork, which is an active device (better than a float switch), is used in AOPS. This technology is also specifically recommended in the Buncefield incident report.
In case of a malfunctioning device, the maintenance team receives information and can schedule a maintenance activity plan, for example, cleaning the sensor.
Endress+Hauser AOPS is designed as a complete safety system for overfill prevention that meets all safety requirements.

• Automated proof tests: According to IEC 61511 and API 2350, the safety function of a device must be tested at appropriate intervals by proof tests. These demonstrate the functionality of the safety instrumented system (SIS) in relation to the safety requirements.
The proof test procedure of the Endress+Hauser AOPS checks all safety-relevant devices such as the level switch, signal horn, and flashing beacon with a single push button.
This significantly reduces your effort for proof tests and brings substantial cost savings during the commissioning, operation, and maintenance of the system. For example, proof testing of 16 tanks takes less than 5 minutes.
• Independent Safety Instrumented System (SIS): To ensure safe functionality and meet the highest safety standards, every SIS must be independent of all other control systems controlling the equipment.
All control elements including level devices, controls, and alarming devices must be dedicated exclusively to SIS. Endress+Hauser AOPS is completely independent of all other process control systems and devices.
• Safety by choice, not by chance: Knowing and implementing these standards and recommendations is just the beginning.
One of the key aspects of an overfill prevention system is the selection of the correct measuring principle for the application at hand. End users need to partner with suppliers and/or safety consultants that are capable of selecting the correct safety sensor so that it fits the application and process.
In the market, many overfill prevention systems exist. Some are designed by the end user, some by engineering companies, and some by instrument and logic solver suppliers. Each site is unique.
With the increasing demand for compliance with standards like IEC 61511, it is becoming more and more important to demonstrate this, for example, through certification.
The benefits of the type approved and certified overfill prevention system are significant:
• The standardised application-specific solution package reduces the engineering and documentation efforts for the end user.
• The design is type approved and already certified according to IEC 61511.
• The design is ready for automated proof testing.
• The design can handle up to 16 tanks at once. If today only 1 or 2 tanks exist and in the future more tanks are added, the Overfill Prevention System is ready for it at no additional design cost and paperwork.
• The end user can choose to have the site design as well as the site installation certified as well.
• The end user can choose to have its own final elements included in the certification.
• The end user receives a solution packaged, which is already used by major international oil and gas companies.
All this ultimately results in eliminating design costs, faster project execution, faster approval from local authorities, and properly selected instrumentation resulting in lower capex and opex and most importantly increased safety for the end user.