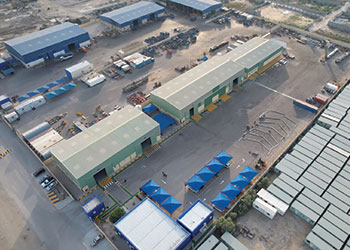 Canrig's facility to support manufacturing and repair in to the region
Canrig, a global supplier of rig technology, has opened its newly expanded manufacturing and repair facility in the Kingdom of Saudi Arabia boosting its local presence and strengthening the 'Made in Saudi' brand.
Located in Dammam, the 15,000 sq m facility provides regional value and support with new manufacturing builds and repair, recertification and rebuilding services for Canrig and third-party drilling equipment.
The rebuild process at the facility is comprehensive and involves inspection, dismantling, and rebuilding with new parts for all equipment.
Canrig's top drive dynamometer is the only one in-kingdom capable to accommodate multiple brands and models of top drives.
Produced at the facility is the Canrig Automated Power Catwalk. Automated power catwalks deliver casing to the drill floor, eliminating the need for additional specialised services at the wellsite.
This powerful combination of improved safety and increased efficiency is why automated catwalks are rapidly becoming standard equipment on drilling and well servicing rigs.
Built entirely in-kingdom using primarily locally manufactured parts, the catwalk virtually eliminates human interaction with tubulars during pickup and laydown operations. This prevents accidents during what has historically been a high-risk activity.
The Saudi facility is equipped to produce more than 30 catwalks per year.
The Canrig Automated Power Catwalk series includes PC 2000, PC 3000, PC 4000, PC 8000, wheeled desert mobility catwalk, and 3000/4000 models. Meanwhile the Tesco Hydraulic Catwalk range includes TAC 45, TAC 45M and TAC 23.
As an original equipment manufacturer (OEM), Canrig repairs, recertifies and upgrades a broad range of equipment types, including those produced by third party.
"Being an OEM expert gives us significant advantage in the market. This expertise enables us to establish testing methods that ensure equipment operates under original specifications and maintains optimal performance for an extended period," says a company statement.
Canrig's newest product line – Energy Transition Solutions – was purpose built to lower the carbon intensity of drilling operations.
The rapidly expanding portfolio features emissions reporting, fuel enhancers, smart engine management systems, energy storage technologies and highline power solutions.
Canrig's Energy Transition Solutions have been deployed in North America, South America and the Middle East.
Canrig recently announced another major industry milestone with installation and deployment of the Canrig RZR Rig Floor Automation Module.
RZR (Red Zone Robotics – pronounced 'razor') automates any AC rig's drill floor, removing crews from hazardous red zones and delivering consistent performance.
Combining machine and process automation helps reduce the variability of outcomes, delivers best-in-class performance on a repeatable basis, and removes crews from harm's way.
By reducing the need for manual pipe and tool handling, the new system redefines crew roles so they can focus on critical drilling tasks.
Through RIGLINE24/7™, skilled technical staff offer field-based and remote technical support every day, around the clock.
The company's highly skilled technicians and engineers have years of experience repairing and servicing a wide range of drilling equipment, including top drives, catwalks, automated floor wrenches, power control systems and other equipment.
Canrig equipment is installed specifically for each customer by its applications group and field service support staff and includes initial installation, commissioning and training.
Canrig is a global supplier of rig technology used to enable safe, efficient and responsible drilling operations. Founded in 1995, Canrig is vertically integrated with Nabors Industries, uniquely distinguishing its solutions as built for drillers by drillers.
Best known for its industry-leading top drives, drawworks, tubular handling systems, casing running tools and advanced robotics, Canrig offers customers an extensive line of rig equipment, rentals and parts that are supported onsite and remotely by Rigline 24/7 technicians.