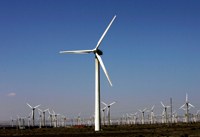 Wind is one of the largest renewable power source in the region
THE Middle East and North Africa (Mena) region is rapidly developing its abundant renewable energy resources due to strong demographic growth, rapid urbanisation, and an expanding economy, which had enabled the countries to experience a strong growth in demand for energy and electricity, the (Mena) Renewables Status Report by World Future Energy Summit, shows.
"Signs suggest a significant shift in the region's diversification efforts over the next decade, especially in the Gulf Cooperation Council (GCC) countries with new investment in renewables in the region totalling Dh10.6 billion ($2.9 billion) by end of 2012, an increase of almost 40 per cent over 2011 and a 650 per cent increase from 2004 with entrance of some of the world's largest energy players, especially national and international oil and gas companies, into the solar market," the report reveals.
The report shows there are over 100 projects under development, in the region which would witness a 450 per cent increase in non-hydro renewable energy generating capacity in the next few years.
"In fact, 18 Mena countries had enacted at least one renewable energy enabling policy by early 2013, such as feed-in tariffs (FITs), net metering, fiscal incentives, and public financing," the (Mena) Renewables Status Report states.
The report presented expectations that renewable energy will be a multi-billion dollar industry in the region because renewable energy production had grown at faster pace than fossil fuels since 2008 with 106 renewable energy projects in the pipeline.
The report forecasts that this trend will likely to continue based on enabling strong regulatory and institutional frameworks along with government support with broad recognition of renewable energy benefits at the macro level.
The report shows that though renewable energy had grown strongly in the Mena region, electrical production from non-hydro renewable energy sources had more than doubled from 2008-2011 but it "now accounts for just under 3 Terawatt per hour (TWh), gaining market share over fossil fuels despite strong growth in electricity demand in the region."
The report showed that by April 2013, more than 100 projects totalling over 7.5 GW of new renewable capacity were in the pipeline (excluding hydro), representing almost a 4.5 fold increase over existing non-hydro renewable capacity.
Wind is the largest renewable power source in the region after hydro with a total capacity of 1.1 GW by the end of 2012 across eight countries, according to the report.
"Solar power generation has been growing more rapidly through photovoltaic (PV), with an annual average growth rate of 112 per cent since 2008 and more recently with the commissioning of large concentrating solar power (CSP) plants in Algeria, Egypt, Iran, Morocco and the UAE," it demonstrates.
The report highlights some challenges which the countries of the region should address to reduce reliance on public and soft financing, and to foster greater private investments.
"The challenges entail regulations and market-based policies, energy pricing, public awareness, financial uncertainty and policy risks," according to the report.