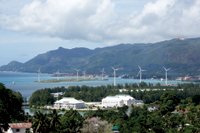 Masdar's wind farm in the Seychelles
MASDAR, Abu Dhabi's renewable energy company, and the Abu Dhabi Fund for Development (ADFD) have launched a 6-megawatt, eight-turbine wind farm in the Republic of Seychelles.
The Port Victoria Wind Farm accounts for 8 per cent of Mahé Island's energy capacity – the main island of Seychelles – which is home to 90 per cent of the country's population. The clean energy generated by this project – the first renewable energy project in the Seychelles – will displace 5,500 tonnes of carbon dioxide annually, power more than 2,100 homes and save 1.6 million litres of fuel per year. The project was developed by Masdar and funded by ADFD.
Seychelles currently relies on expensive diesel generators to meet its electricity demand. With fuel accounting for 25 per cent of the country's total net imports, Seychelles is committed to diversifying its energy mix and reducing its reliance on fuel imports. Being an island country, with limited options to produce electricity, wind power generation presents a viable solution to meet a national target of 15 per cent energy from renewable sources by 2030.
"Access to sustainable, clean sources of energy is vital to our long-term economic development," said James Michel, president of the Republic of Seychelles. "The addition of wind power is a major step toward meeting our clean energy targets and reducing our dependency on imported sources of power. We look forward to further opportunities to assess our wind power potential and continue to diversify our energy mix.
"We are grateful to the support from the United Arab Emirates to fund, develop and deliver this wind power project," added President Michel. "The 6-megawatt wind farm that has been successfully delivered by Masdar and the Abu Dhabi Fund for Development will help us meet our rising demand for energy and also liberates budget to invest in economic and social growth opportunities."
With the price of renewable energy technologies falling, wind and solar power are becoming economically viable solutions to improve energy security and access. Renewable energy is also a clean and sustainable alternative, which helps developing nations insulate themselves from volatile fuel prices.
"The Seychelles wind project is an example of how access to energy can serve as a pathway for economic development and social opportunity," said Dr Sultan Ahmed Al Jaber, UAE minister of state and CEO of Masdar. "In particular, for remote island nations, the integration of sustainable energy can deliver an immediate economic and tangible impact. Today, Seychelles can redirect fuel savings into investments in infrastructure development, social programs and to spurring economic growth.
"This project builds on Masdar's commitment to demonstrating the economic and environmental advantages of renewable energy," added Dr Al Jaber. "With prices falling and new advancements in technology, renewable energy is reaching grid parity in many parts of the world. With energy demand expected to double by 2030 – putting a further strain on our natural resources – renewable energy is a viable solution to power future growth."
The Port Victoria Wind Farm also represents an achievement in engineering. The project required Masdar to construct eight wind turbines, on two separate islands and connect the wind farm with 3 kilometers of subsea cables. In addition, Masdar used advanced turbines that can harness energy during low-to-medium wind speeds and which are resilient to corrosion from the salt and humidity of the ocean.
For more than 40 years, the United Arab Emirates has assisted developing countries promote economic development and social opportunity. Today, the acceleration and adoption of renewable energy is a core component of the UAE's efforts to help countries grow, alleviate poverty and deliver basic services.
"The UAE has been actively assisting developing countries to achieve economic growth and social opportunity through strategic aid and support programs," said Mohammed Saif Al Suwaidi, acting director general of Abu Dhabi Fund for Development. "ADFD aims to achieve the UAE government's policy by working with the international community to enhance economic growth in developing countries by financing development projects."