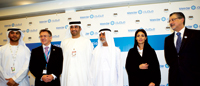 Dr Al Jaber (third from left) and Dr Sommariva (second from left)announce a pilot programme
MASDAR has launched a pilot programme to test and develop advanced energy-efficient seawater desalination technologies suitable to be powered by renewable energy sources.
The long-term goal of the programme is to implement renewable energy-powered desalination plants in the UAE and to have a facility at commercial scale by 2020.
The pilot programme is a direct result of a call to action to improve water security made by General Sheikh Mohammed bin Zayed Al Nahyan, Crown Prince of Abu Dhabi and Deputy Supreme Commander of the UAE Armed Forces, which will stimulate growth, promote investment and advance the desalination sector.
"The availability of potable water is one of the most pressing issues in the world, particularly in the Gulf region where water production is a costly and energy-intensive process," said Dr Sultan Ahmed Al Jaber, CEO of Masdar, Abu Dhabi's renewable energy company.
"With the UAE's growing economy and rising population, it is crucial that we identify a sustainable desalination solution to meet our long-term water needs," added Dr Al Jaber. "Connecting desalination technologies to renewable energy enables us to capitalise on our abundant resources, such as solar, as a solution to improve water security.
"As a global leader accelerating new energy and sustainable development, Masdar is taking serious action to tackle this problem directly. This programme is the critical first step in identifying viable technologies that will lead to water security for future generations," said Dr Al Jaber.
Working with technology partners and investors, the pilot programme includes three test sites in the UAE and will operate for 3.5 years. By pairing state-of-the-art energy efficient desalination technologies with renewable energy, the programme aims to significantly reduce energy consumption. The programme will bridge the gap between promising desalination technologies, which are being developed in universities and research centers worldwide, and large-scale industrial applications powered by renewable energy.
"The Middle East is in the process of addressing its long-term sustainable water access and security," said Dr Corrado Sommariva, president of the International Desalination Association. "Masdar is embarking on an important path of discovery by advancing industrial-scale, sustainable desalination technologies capable of meeting the region's future demand for fresh drinking water. By bridging the gap between research and development and commercialization, Masdar is providing an opportunity for scale-up of technologies that address water access, while also having economic, social and environmental benefits."
The Gulf region, an arid part of the world with scarce water resources, accounts for nearly 50 per cent of the world's desalinated water. In the UAE, seawater desalination requires about 10 times more energy than surface fresh water production, and its costs are projected to increase by 300 per cent. Masdar will coordinate the pilot programme with key Abu Dhabi stakeholders, such as the Abu Dhabi Water & Electricity Authority, the Regulation and Supervision Bureau, the Environment Agency – Abu Dhabi, and the Abu Dhabi Sewerage Services Company.
"In parallel to its own efforts, ADWEA looks forward to collaborating with Masdar on the development of desalination technologies with improved energy efficiency in line with our commitment to improving the sustainability of our operations," said Abdulla Saif Al Nuaimi, director general of the Abu Dhabi Water & Electricity Authority.
"We strongly support such collaboration and Masdar's efforts in this regard."
Masdar will be issuing a Request for Proposals for Technological Development inviting industrial players to submit co-development proposals to pilot in-house desalination technologies with Masdar. Partnerships will be co-financed by Masdar and benefit from technological expertise available from the Masdar Institute of Technology and Science – a graduate-level, research-oriented university focused on advanced energy and sustainability.