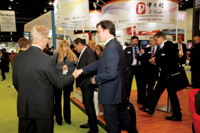 EcoWASTE will offer a number of business opportunities
WASTE generated in Abu Dhabi emirate will go up to 30 million tonnes per annum (mtpa) by 2030 from the current 6 mtpa, should the emirate maintain its current rate of urban and economic growth, officials say. Gulf States produce 120 million tonnes of solid waste every year.
Abu Dhabi has adopted the "reduce, reuse and recycle" strategy to deal with the increasing waste. The emirate is also exploring innovative ways for recycling and the conversion of waste material into power, officials say while launching an international exhibition to showcase related solutions.
With its productive output and efficient conversion rate, waste-to-energy is emerging as an attractive clean energy source, they say.
The UAE government is very supportive of developing a waste-to-energy strategy as a key green growth technology and recognises that these technologies have the ability to provide a renewable source of energy as well as minimise its landfill challenges. The government is conducting a federal-level review of waste-to-energy technology and policy which will guide the sector into the future, the officials say.
The Centre of Waste Management – Abu Dhabi (CWM) and Masdar, Abu Dhabi's renewable energy company, have launched the new international exhibition dedicated to waste management and recycling, to be held during Abu Dhabi Sustainability Week next January.
EcoWASTE2014 will be held from January 20 to 22, 2014 at Abu Dhabi National Exhibition Centre. Hosted by Masdar, together with the CWM, and organised by Reed Exhibitions, it will address the region's waste disposal challenges to further promote sustainable development and environmental conservation. Majid Al Mansouri, Board Member at the CWM and chairman of the Department of Municipal Affairs (DMA), officially launched the event in the presence of Mohammad J Al Ramahi, chief operating officer of Masdar, and Frederic Theux, president of Reed Exhibitions Middle East.
Mohammad Al Bawardi, chairman of CWM, says the issues of waste management and recycling affect the entire Middle East and are global in scale. EcoWASTE will be a valuable opportunity to address this issue, he says.
Dr Sultan Al Jaber, CEO of Masdar, says the addition of EcoWASTE to Abu Dhabi Sustainability Week alongside the World Future Energy Summit and International Water Summit underlines the continued emergence of Abu Dhabi as a global platform to promote the wider adoption of sustainable development.
"EcoWASTE will offer a number of business opportunities across the entire solid waste management services sector," says Frederic Theux, president of Reed Exhibitions Middle East.