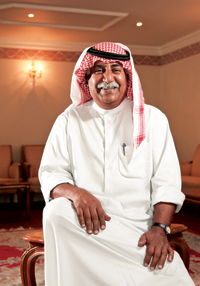 Al Khonaini ... leading industrialist
GLOBAL Pipe Company (GPC), the first manufacturer in the Middle East of line pipes up to 50.8 mm (2 inches) wall thickness, plans to ramp up production to 200,000 tonnes at its new state-of-the-art factory at Jubail Industrial City by the first quarter of 2014.
The factory, which started commissioning in January 2013, is a joint venture between Erndtebrucker Eisenwerk (EEW) of Germany and its Saudi partners Saudi Steel Pipe Company (SSP), Ahmed Hamed Al Khonaini, and Pan Gulf Holding Company (PGH) with a total investment of more than SR660 million ($176 million).
The sophisticated plant was set up with a view to manufacturing thick-walled steel pipes, targeting mainly the Saudi Arabian and GCC markets, which, until now, have had to import these products, says Ahmed Hamad Al Khonaini, managing director, GPC.
"Our strategic partner EEW is one of the most experienced manufacturers of thick-walled pipe in the world using the very latest equipment and machinery, and the company benefits from having a wide range of agents and distributors all over the world."
He continues: "Our other partners are also experienced in either pipe manufacturing or pipe trading: SSP has been recognised as Saudi Arabia's premier manufacturer of welded steel pipe since its inception in 1980, while PGH is a provider of quality products and efficient services to the oil and gas and construction sectors in the kingdom."
Al Khonaini himself is one of the leading industrialists and businessmen in Saudi Arabia's Eastern Province, with more than three decades of experience in the oil and gas and petrochemical industries.
Construction work on GPC's plant was completed in the last quarter of 2012 following which trial production took place in the first quarter of 2013. On March 11, 2013, GPC marked a milestone with the launch of first commercial production and delivery of 9.5-mm-thick longitudinal submerged-arc welded (LSAW) line pipe, 30 inches in diameter, for Al Samra Waste Water Treatment Plant in Jordan.
"During the second quarter of 2013 we successfully gained approvals from the American Petroleum Institute (API). On November 25 our facility received Saudi Aramco's approval," he says.
GPC is expected to play a key role in import substitution as it will help meet Saudi Arabia's domestic demand for LSAW pipes that have up till now been imported. Moreover, customers can benefit from reduced lead times for these large-diameter pipes for higher efficiency, Al Khonaini says.
"The local LSAW pipe sector relies heavily on demand from Saudi Aramco, which is constantly drilling and exploring new oil fields. So the demand for our products is ever present," he explains.
Commenting on the demand for GPC's products in the oil and gas sector, he says the World Energy Council estimates that the GCC needs to invest up to $100 billion over the next decade to meet the growing energy demand, with a significant portion of these investments focused towards expanding the pipe and tube networks that serve the oil and gas sector.
With latest industry figures indicating that the GCC accounts for 34 per cent of the global demand for pipes, the current and future market trend is certainly working in GPC's favour – a fact which Al Khonaini is well aware.
"When we carried out the necessary feasibility studies prior to establishing the GPC factory, and consulted with SIDF (Saudi Industrial Development Fund), which was the major supporter and financier of the project, we came to the conclusion that GPC would, to a certain extent, be immune to international market fluctuations in this industry," he comments.
"Our vision now is to become the leading manufacturing company for heavy wall thickness LSAW pipes in the Middle East and North Africa region, and to supply superior quality products in compliance with our customers' specifications and requirements. In addition, we want to contribute to the local economies of Saudi Arabia and the other GCC countries by localising production and utilising local resources as much as possible," Al Khonaini says.
GPC brings together the extensive global technical know-how of EEW Germany, which has 75 years of experience in the pipes business. "EEW is not only an investor in the GPC project it also provides essential technical support," he points out.
Moreover, GPC has many competitive advantages, one of them being its ability to produce a heavy wall thickness of material up to 2 inches (50.8 mm) for the oil and gas industry. Saudi Aramco has been importing its entire demand of more than 1 inch- thickness pipes from abroad since a long time.
Even though, GPC's capacity is limited, it can meet a large portion of local demand for heavy wall thickness of line pipes, he says.
Speaking of future plans, he says GPC might export and go for an expansion of the factory, which might be carried out in the next phase, depending on demand. "With regard to the business prospects in Saudi Arabia, we are very optimistic, because while the rest of the world is facing a financial crunch, Saudi Arabia has remained totally insulated from it. The Saudi government is focusing on infrastructure projects and highly supporting the national industrial manufacturers."
GPC is a specialist in producing large-diameter heavy wall thickness pipes in three major categories: LSAW line pipes and LSAW process pipes – both of which boast a diameter of up to 62 inches and wall thickness of up to 2 inches – and LSAW structural tubular pipes that are offered with diameters of up to 200 inches and heavy wall thickness of up to 130 mm. In addition, it enjoys proximity to a large local potential customer base that include Saudi Aramco, Saudi Basic Industries Corporation (Sabic), Abu Dhabi National Oil Company (Adnoc), Qatar Petroleum (QP), Kuwait Oil Company (KOC) and Petroleum Development Oman (PDO).
GPC's plant spreads over an area of approximately 120,000 sq m, of which more than 57,000 sq m is covered. It is equipped with advanced machinery procured from Germany, Austria and Holland.
"We have imported the best machinery and equipment in the world for our plant, and that explains why our capital investment is high," he states.
The plant is currently operating on a single shift, during which time it is staffed by 150 employees. "When the facility achieves maximum production, which we expect to reach in the first quarter of 2014, we will be working on two shifts and our manpower will increase to around 300 people," explains Al Khonaini.
The company has been carrying out extensive training for its staff – some of them receiving training at EEW's facilities in Erndtebrück, Germany and in Pasir Gudang, Malaysia – with others being trained in SSP's factories in Saudi Arabia.