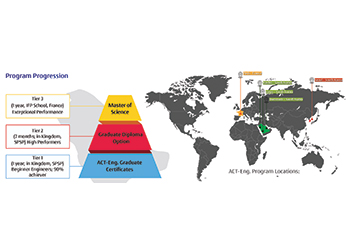 The ACT-Eng program progression
Saudi Petroleum Services Polytechnic (SPSP) has in cooperation with IFP Training, a French institution with expertise in engineering, developed the Accelerated Competency Transformation for Engineers (ACT-Eng) program that imparts fundamental skills to engineers working in the oil, gas and downstream industry.
The certified technical and behavioral based training program was launched in January 2019. SPSP and IFP Training have provided several programs to several companies operating in the Kingdom.
ACT-Eng is a three tiers certified downstream training and development program targeting engineers from all engineering disciplines with one-year minimum experience.
In the first tier, the program has 12 modules covered in 12 months. The training delivery consists of one week in class every month followed by two to three days of on the job training (OJT) on the company's premises during the engineer's normal duties.
The one-week classroom component consists of a quiz, class presentation of a mini-project, and an exam in addition to the OJT presentation. A final exam is conducted for each module at the end of the program. High achievers (with over 90 per cent score) in Tier 1 can progress to graduate diploma and then to MSc afterward.
The MSc program in Tier 3 is conducted at the IFP School in France and consists of a year of studies.
Furthermore, the ACT-Eng offers several benefits to engineers not to mention that it is a proven integrated and cohesive program and an international certification with gradual progression. It also teaches the students soft skills development, team working/networking, knowledge sharing between disciplines, strong and structure assessment, and structured coaching and mentoring. Engineers development solutions are based on Saudi Aramco and joint venture experiences.
To learn more about the ACT-Eng program, contact SPSP through email at [email protected] or through WhatsApp at +966554600720.