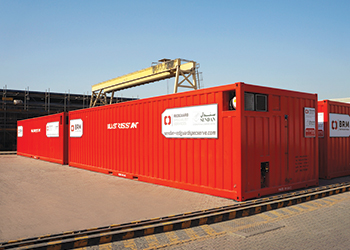 12 x 40 ft units in Jubail for lease
RedGuard Specialist Services, specialised in the design, engineering and manufacturing of blast- and ballistic-resistant modular buildings, and its partners SENDAN International Company are addressing the needs of customers in the downstream segments, security, and defence industries in Saudi Arabia from the Jubail Industrial City.
'With our product ranges supporting operations in oil and gas, energy, industry, and security, we also contribute to the National Industrial Development and Logistics Vision Realisation Program, part of the Saudi Vision 2030,' says Ian Rogers, Specialist Services Group CEO.
The blast-resistance industry in the downstream sector and oil and gas industry continues to progress in Saudi Arabia, but there are still gaps in the industry regarding regulation, certification, and blast testing requirements and guidelines.
According to Chris Ridley, Group Sales and Marketing Director at Specialist Services Group: 'During the last couple of years, our clients in the Saudi market started to recognise the importance of protecting personnel and equipment in hazardous areas, primarily in the downstream segment of the oil and gas industry.
Ridley ... committed to Vision 2030
'He says: 'In hazardous areas, where there is a risk of accidental explosions, our customers require modular building solutions of the highest quality to rely upon for protecting their people, equipment and critical operations. Thus, we have been providing them our blast-resistant modules over the past three years.
'During this time, the demand for our products has increased until this year, when the Covid-19 crisis hit hard the world economy, and the oil and gas industry in particular. However, due to social distancing, quarantine, and testing requirements, with our modular solutions we are supporting clients in Saudi Arabia and other markets with their temporary offices, laboratories and other facilities requirements.'
Now in its fourth year of operations, RedGuard Specialist Services was created as a joint venture between two of the industry's leading names, RedGuard from the US and Specialist Services from the UAE.
Based in Dubai, RedGuard Specialist Services specialises in the design, engineering, and manufacturing of highly certified blast-resistant and ballistic-resistant modular buildings. Within this partnership, RedGuard has extensive experience in providing field-tested, customised modules for blast and ballistic applications, as well having the world's largest fleet of blast-resistant buildings for rental in North America.
Rogers ... committed to Vision 2030
On the other hand, with its 38 years of experience in the oil and gas industry, Specialist Services, headquartered in Dubai with rental hubs in Saudi Arabia, Europe, Asia, and the US, has the largest fleet of Zone 1 offshore modular buildings and modular accommodation solutions, supported by extensive in-house design and engineering capabilities and manufacturing facilities.
The RedGuard Specialist Services product range includes LeaseFleet (blast-resistant modular buildings for rental), SafetySuite (blast-resistant modular buildings with bespoke designs), and CoverSix Shelters (blast- and ballistic-resistant modular buildings for the security and defence industry). These solutions are complemented by dedicated Service Teams based in the Dubai, Jubail, Aberdeen, Singapore, and Houston facilities.
Providing CoverSix products to the US military and defence clients for several years now, RedGuard, together with RedGuard Specialist Services, have taken this product range globally.
In line with this new strategy, earlier this year, they have launched a CoverSix Shelters dedicated website (www.coversix.com), to provide detailed information about these hardened structures for protection and security. The product line features modular buildings equipped with customised threat mitigation, such as blast resistance, ballistic resistance, and resistance to forced entry. CoverSix also includes modular training range facilities, custom-outfitted ISO containers for use as mobile office locations and portable storage units.
A CoverSix shooting range
With continuous commitment and investment into innovation, the company evolves their blast-resistant modules to ensure they protect people and assets. All modular buildings are engineered to industry-leading safety specifications, adhere to API RP 752 and 753 guidelines, and apply a proven, successfully blast-tested design.
The company also holds national and international certification, which verify that these products meet the highest quality and safety standards. Even their custom made units, which are designed in line with client specific requirements, can be certified by any of the major third party surveyors, such as DNV GL, Lloyd's, USCG, ABS, BV, Genesis Oil and Gas, or others.
RedGuard Specialist Services has strategically positioned distribution centres in the UAE, Saudi Arabia, Singapore, the UK, The Netherlands, and the US, to address the needs of customers worldwide. Its blast-resistant modules are specifically designed to maximise safety, apply a proven, successfully blast-tested design, and are fully compliant with international industry standards.