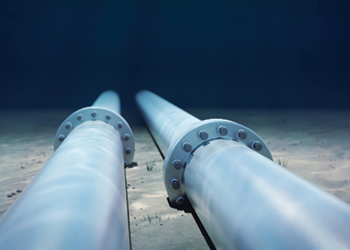 Long-term preservation of subsea pipelines was done using nitrogen andVpCI-706
Cortec's corrosion inhibiting products helps companies in the region's industry to comply with safety, health, and environmental policies asAQ well as reduce unplanned maintenance and deferment costs, says a company spokesman
Cortec Corporation, a world leader in corrosion protection technology, has been offering highly efficient and economical corrosion protection for the region's oil and gas applications.
A company spokesman says the total annual cost of corrosion in the oil and gas industry is estimated to be $1.372 billion, of which $589 million is in surface pipeline and facility, $463 million in downhole tubing, and $320 million in capital expenditures related to corrosion.
Cortec products have been developed using proprietary VpCI Technology, which is a safe, cost-effective method for preventing and diminishing the severe damage caused by corrosive process streams.
'Utilising Cortec's corrosion inhibiting products helps companies in the industry to comply with safety, health, and environmental policies as well as reduce unplanned maintenance and deferment costs. Solutions include Cortec's Corrologic engineered systems, corrosion inhibitors for production and process lines and equipment preservation,' the spokesman says.

SUBSEA PIPELINES PRESERVATION
Four land rigs were preserved using Cortec technology in Kuwait
A major offshore platform operator was working to develop two oilfields in the Gulf region. Once all topside activities had been completed on the platforms and jackets, the customer needed to preserve all the new topside and subsea pipeline systems until demand for production increased. The subsea pipelines are located in water 15-50 m deep, and are mainly used to carry crude oil and gas between platforms and then to the refinery.
While all piping systems were preserved (and some installations had already been commissioned), special focus was placed on a gas lift and water injection lines that would not be put into use until increasing demand and decreasing well pressure required an injection to bring the oil and gas to the surface.
Short-term preservation of the subsea crude oil and gas lift lines was done using EcoPouches. The lines were first inspected by caliper pigging to check the condition of the pipeline and pathway before intelligent pigging.
Cortec acted to preserve a jack-up rig in the UAE
Intelligent pigging followed to analyse wall thickness and provide a corrosion rating. Once the results were approved by the client, the pipeline was cleaned and dried until it reached a dewpoint of -20 deg C.
Then EcoPouches containing VpCI-609 were dosed according to pipeline volume and placed in a plenum box. The plenum was heated to 40-50 deg C, a medium-density pig was placed in the pig launcher, and dry air was blown through the plenum to mix with the VpCI-609 and blow the vapours through the pipeline. When the pig reached the receiving end, the workers began testing for the presence of VpCI and continued blowing the VpCI-enhanced air through the pipeline until VpCI was detected at the other end using a VpCI detection kit.
Following the temporary protective application, the long-term preservation of the subsea pipelines was performed using nitrogen and VpCI-706. Typically, nitrogen is sufficient, but since the offshore platforms were unmanned, it would have been extremely expensive and difficult to monitor and ensure that the pipeline systems were kept at the constant pressure required.
The use of VpCI-706 would ensure the pipeline had backup corrosion protection should the pressure fail and the nitrogen leak out. VpCI-706 was dosed based on pipeline volume, atomised, and injected using nitrogen.
Workers monitored oxygen at the receiving end until it dropped below 2 per cent and then tested for the presence of VpCI. When this was detected, they closed the end, pressurised the system until it reached the required holding pressure, and used calibrated gauges for recording.
All topside piping systems including water injection, gas, and crude oil lines were preserved using VpCI-649 BD.
Cortec Middle East was able to provide a preservation system that did not require constant monitoring but would protect the intricacies of the pipeline internals while awaiting use. This was especially important for the nitrogen pressurized system.
If the pressure were to fail, VpCI-706 would continue protecting the pipeline, offering the offshore operator peace of mind while eliminating the extra costs and difficulties associated with offshore monitoring on an unmanned platform. VpCI-649 BD was similar in that it did not require constant monitoring to ensure the preservation of the topside piping systems.

LAND RIG PRESERVATION
VpCI technology was selected for preservation of J-Tubes on offshore jackets in
Abu Dhabi, UAE
In Kuwait, four land rigs had finished contracts and needed preservation before everything was packed up and shipped back to the home base.
Cortec products were established with a solid track record of delivering effective component preservation. All products were airfreighted direct to the client's site within days of ordering due to Cortec's strategic hub in Jebel Ali, Dubai, being able to support the client on short notice. The client used its own drill team to stack the rig.
Amongst the various products uses, VmCI 307 was used for the internal protection of all major equipment; M-640 L for cooling system preservation; VpCI-309 was mixed with water and flushed through mud tanks; and VpCI-609 protected piping systems consisting of ferrous metals. Additionally, various exposed external metal surfaces on the rig were coated with VpCI-368; VpCI-369 was applied to rotating equipment; and electronics and electricals were preserved by placing VpCI-111 emitters inside the cabinets and wrapping the outsides with Cor-Pak VpCI Stretch Film.
'Immediate availability of trusted products and solutions ensured the client was satisfied with the solution provided,' the spokesman says.

JACK-UP RIG PRESERVATION
A UAE client's rig was expected to be idle for, at least, 12 months because of no new contract. It client decided to cold stack the rig.
Cortec was consulted to provide best-in-class products along with after-sales support for application and dosage requirements to preserve all systems on the rig. A particular focus was placed on ensuring oil-based additives were fully compatible with the original oils and that the rig could be returned to operation with minimal overhaul or work being conducted.
Cortec supported its client with immediately available stacking materials to effectively preserve the jack-up rig until a contract would be available for it to return to work.
Several products were specified for the project. M-531, VpCI-322, and VpCI-329 were added to the oil systems; VpCI-645 was used during the flushing of piping and tanks with seawater; VpCI-609 S was used for the internal protection of bulk tanks; and VpCI-337 was used for other internal equipment voids.
ElectriCorr VpCI-238 was used for cleaning, surface prep, and protection of electronic and electrical equipment; and VpCI-101 and VpCI-111 emitters were also placed inside electronics and electrical (for example, junction boxes) according to size.
MilCorr was shrink-wrapped around various on-deck equipment — everything from cranes and winches to junction boxes; VpCI-126 was applied similarly to equipment located indoors; VpCI- 137 was placed inside lifeboats and other equipment wrapped with VpCI film; VpCI-416 was used as needed for cleaning/degreasing throughout the rig; VpCI-368 was coated on unpainted surfaces of bolts, flanges, and other atmospherically exposed equipment outdoors; VpCI-369 and CorrLube VpCI Lithium EP Grease were applied as needed on surfaces of rotating or reciprocating equipment outdoors or indoors; and CorrVerter served as a rust converter for touchup of various painted surfaces.

J-TUBES PRESERVATION
A client in Abu Dhabi, the UAE, needed to preserve piping internals for JTubes on its jackets (support frames for offshore platforms) built for installation in an offshore field development project. The jackets were fabricated onshore and sailed offshore for the final fit-up, requiring a preservation period of up to three years.
'Cortec VpCI has a long track record with the national oil companies in the UAE. Cortec Middle East and Kanoo were happy to support them in achieving effective preservation in the harsh climatic conditions found in the Arabian Peninsula,' says the spokesman.
Cortec VpCI Technology was selected for its superior preservation abilities within closed and sealed environments such as J-Tubes, which are used for carrying subsea cables to topside structures.
VpCI-649 BD was identified in particular for the protection of the J-Tube internals. Upon completion of the float-over jacket to which the 400-mm-diameter, 30-m-long J-Tubes would be attached, and after subsequent offshore installation and placing of the 30,000 MT topsides, the tubes would remain sealed and preserved until the subsea cables were ready for installation.

LAND RIG PRESERVATION
Several land rigs in Algeria had finished contracts and needed preservation before being shipped back to home base.
Cortec products were established with a solid track record in delivering effective preservation of components. All products were airfreighted direct to the client site within days of ordering due to Cortec's strategic hub in Jebel Ali, Dubai, being able to support the client at short notice. The client used its own drill team to stack the rig.
'Immediately available trusted products and solution ensured the client was satisfied with the remedy provided,' says a company spokesman.
VpCI-389 was applied to various exposed metal surfaces; ElectriCorr VpCI-248 was used to clean electrical equipment, and VpCI-111 emitters were placed inside electronic/electrical cabinets for corrosion protection; M-640 L was used for cooling system preservation; M-529 was added to gearboxes; VpCI-705 was added to fuel tanks; and VmCI 307 was used for internal protection of all major equipment.