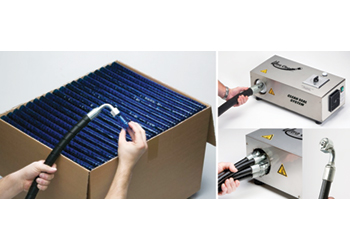 MH hydraulics, a leading hydraulic solutions provider in the Middle East, focuses on the importance of hose storage, testing, cleaning, and sealing in order to minimise costly hydraulic repairs
Proper storage, cleaning, sealing and testing of hose assemblies is key to avoiding oil contamination and achieving a safe, leakproof and durable hydraulic system.
Proper storage of hoses will maximise their shelf life. Hence, hoses should be stacked carefully to avoid crushing and stored in a cool and dry area in temperatures ranging between 0 and 35 degrees C, avoiding exposure to direct sunlight, rain, heaters and proximity to electrical equipment.
When assembling a hydraulic hose, the first step is to cut it to the correct length. While this is necessary, it is also the biggest contributor to contamination with abrasive wheeled chop saws being the worst offenders. Try switching to a metal blade – especially a "clean cut" saw or blade that is specifically designed such as one from Finn-power - whenever possible to reduce the amount of debris generated by the cutting process.
When a hydraulic hose is cut with metal-blade saws or abrasive wheels, tremendous heat is generated, causing rubber and metal particle and dust contaminants to stick to the hose or tube as they cool. It is, therefore, vitally important to clean the hose immediately after the cutting process to avoid this.
After crimping or swaging fittings, a projectile from hose cleaning and sealing solutions provider Ultra Clean Technology should be fired through the entire hose assembly to remove metal flash.
Use clean, dry air to fire the projective to avoid recontamination as water particles will adhere to the inner wall of the hose, capturing and retaining airborne dust particles and polluting the hydraulic oil. MH Hydraulics recommends installing a 5-micron filter at the point-of-use to reduce contamination. A compressed air dryer is even better to absorb oils and water and filter out solid air particles.
Once the hose assembly is ready, a clean seal system heat-shrink, should be applied to hose ends immediately to avoid recontamination, and to protect hose threads.
To conclude, following proper storage conditions improves the lifetime of hose assemblies and thus prevents unplanned downtime of your equipment.
It is also important that hose assemblies are tested for acceptable proof and burst pressure to ensure there is no leakage or failure. What are the standards to be met? The technical article in our online edition (https://ognnews.com/) provides the details.