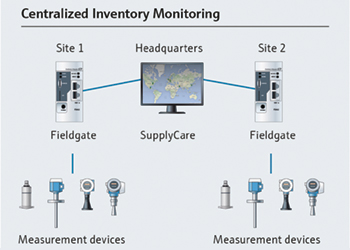 Centralised inventory monitoring reduces costs
Using IIoT solutions to create smart logistic chains leads to reduced logistics and storage costs and efficient management of transfer, storage, and distribution, says a spokesman for Endress+Hauser
Operators of tank farms and terminals face many challenges, including the need to handle highly valuable products safely and efficiently, track capacity and turnovers, monitor quality, prevent overfill, and reduce loading and unloading times.
To ensure long-term competitive advantage, processes need to be flexible and expandable to adapt to new or changing conditions easily. Furthermore, a high standard of safety is required to reliably protect people, the environment, and assets.
Mastering these day-to-day challenges in inventory management is important to reduce inventory costs, improve customer satisfaction, increase productivity, and optimise supply chain.
Effective decision making and real time monitoring becomes vital here. However, for effective decision-making, the availability of high quality online and up-to-date information is essential.
Here smart logistic chains offer a fast return on investment (ROI) and help reduce complexities that trouble a large number of companies across various industries.
And the use of Industrial Internet of Things (IIoT) technology is the perfect way to optimise logistics and keep plant operation simple and efficient at the same time.

In this regard, some common questions asked are:
• We operate various tanks and/or silos, can we have a consolidated view on my inventories?
• We supply products to my customers as a service. How can I optimise my logistics?
• Can I use modern technology to automate this and avoid human error?
To answer all these questions, Endress+Hauser brings to the table modular solutions for inventory monitoring at a global scale. These solutions offer complete inventory visibility 24/7, anywhere in the world, regardless of whether data is needed at the tankside or in the boardroom.
From easy monitoring of tank, silo, and container levels to highly accurate custody transfer tank gauging at tank farms and the automation of terminals, , Endress+Hauser inventory management solution has it all.
In addition to all the relevant measuring technologies, scalable software to monitor inventories is also part of the package.
Furthermore, Endress+Hauser helps to optimise the supply chain process with individual IT solutions for inventory management and the integration of this data into company processes and ERP system.
A particular system Endress+Hauser offers here is the SupplyCare series, which includes SupplyCare Hosting, a cloud-based inventory management platform; and SupplyCare Enterprise, a web-based, enterprise inventory management platform.
With SupplyCare, an organisation has a complete and clearly displayed overview over levels and product inventory in, for example, tanks and silos, spread all over the world, anytime and anywhere.
Based on the measuring and transmission technology installed on site, the current inventories are recorded and transmitted to SupplyCare.
SupplyCare gives a constant overview of all the current inventories, critical levels are clearly indicated, and operators can also receive active information on these levels if required.
Calculated prognosis gives additional security for replenishment planning. The operators and administrators operate the application via web browser from theirs desks.
SupplyCare is modular in design and its features make it ideal for inventory management even in remote locations. The features include:
 
• Indication of inventory data: The tank and silo inventories are regularly collected by SupplyCare. The current and previous inventory data can be indicated at any time.
• Management of master data: With SupplyCare you can create and manage master data of locations, companies, tanks, products and users.
• Reporting: With SupplyCare you can create flexible reports in formats like Excel, PDF, CSV and XML with the measured value history that can be reused by other systems.
• Event management: An event management is integrated into SupplyCare. It shows events like the fall below safety stocks or plan points. Additionally, notification e-mails can be sent to predetermined users. The monitoring of tanks by event management is comprehensively configurable. You can also set up to detect and notify distinctive level changes or the absence of level changes in defined time periods.
• Alarm messages: Whenever there is a technical problem (for example, connection problems) alarm messages are generated and alarm e-mails are sent to the system administrator and local system administrator.

SOLUTIONS TO FIT SPECIFIC NEEDS
 
• Simple visualisation of tanks and silos: For manufacturing companies, it is typical that stock values are not measured and displayed consistently. As a result, inventory data is usually handled manually. The consequences often include data errors as well as the duplication of labour. The upshot is often high stock levels, high inventory costs and decisions that are based on assumptions. Endress+Hauser solutions for inventory control guarantee simple monitoring and visualisation of tanks, silos and containers to solve cross industry challenges.
• Centralised inventory monitoring of multiple plants or sites from the headquarters: Nowadays businesses are exploring new areas due to the increasing needs to reduce costs and access to new business opportunities. If you can collect real time inventory information across the world, you have the best chance to use existing material stocks and to reduce locked-in inventory costs. Sensors, Fieldgates and the SupplyCare software provide reliable information needed for in-depth decision-making even across different locations and regions of a company.
• Vendor managed inventory: The automation and efficient management of business processes should not be confined to the company alone. By collaborating with business partners, more efficient business models can evolve. One model is a Vendor Managed Inventory (VMI), where the supplier is responsible for the replenishment and delivery of material to customers. The close collaboration involved in VMI requires a high level of trust and understanding between partners. VMI offers great potential for optimisation along the supply chain.
In the VIM, the supplier is responsible for material delivery
• Minimised stocks and still be able to deliver: While storage costs are a huge factor in our focus industries, the unavailability of product or resulting urgent deliveries are expensive or lead to complete production stoppage in the worst case scenario. SupplyCare can help minimise stocks and, at the same time, ensure you are always able to deliver. The system recognises the ideal point in time to re-order raw materials. If you drop below threshold limits and safety stocks, company staff will automatically receive notification messages from SupplyCare.
SupplyCare helps minimise stocks and timely delivery
• Zero loss with inventory control:
To ensure zero loss in a company, a transparent overview of the quantities of product 'in', 'used' and 'out' of the facility is needed. Endress+Hauser system provides full transparency of the inflow and outflow, supported by key performance indicators and reports. SupplyCare notices unauthorised withdrawals of products as well as leakages in tanks. If irregularities occur, the system sends alarm messages to defined staff.
• Integration of process variables: Inventory control is based on static level measurement. Nevertheless, SupplyCare is flexible to support other important process variables and measurement sources, for example, temperature, flow, battery status, density, etc. The system can visualise up to nine values per tank or silo. Depending on the inventory properties, some media are highly sensitive to environmental influences. Therefore, it is important to monitor certain parameters to ensure they stay within a specific range. This guarantees the quality of the product and the process in the supply chain
An inventory control architecture is quite simple. All that is needed is field devices, gateways, and the right software package. This software solution for inventory management allows to maximise and optimise inventories and supply chain and thereby reduce costs. It also:
• Enables business processes such as Vendor and Supplier Managed Inventory (VMI, SMI).
• Offers a complete solution from inventory measurement and data acquisition to integration in business processes.
• Offers complete inventory visibility 24/7 anywhere within the enterprise, even on mobile devices.
• Based on web server technology, end users can operate and visualise the inventory flow via a web browser independently of your operating system.
• Connectivity and data acquisition from a broad selection of Endress+Hauser Gateways as well as third party systems.
• Multi-language user interface with nine languages supported allows worldwide collaboration using the same platform. Furthermore, auto detection of language and settings based on the browser setting.
• Coordinates the material and information flow along the supply chain with suppliers and customers.
• Improves forecasting through complete visibility and plans the replenishments easily.
• Assesses the inventory management performance through analysis of the data to improved material flow and anti-theft protection.

CONCLUSION
There are several components in inventory management — from sensor to the boardroom, from simple monitoring and visualisation to complex supply chain systems.
Using IIoT solutions to create smart logistic chains leads to reduced logistics and storage costs and efficient management of transfer, storage, and distribution.