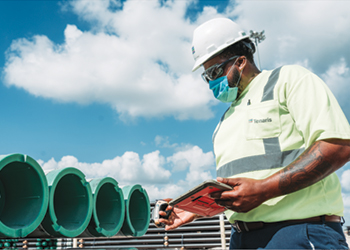 Analysing torque data in real-time improves critical on-site decisions
Tenaris's core philosophy of having boots on the ground has propelled its US team to find new ways to offer the best possible quality guidance in the field.
In January, a team of field service experts provided running and technical assistance for Ascent Resource, one of the largest privately-held exploration and production companies in the US.
The field service was deployed in the Marcellus shale region, a major natural gas rock formation on the country's eastern side, using torque turn monitoring services with real-time data to support well integrity.
Tenaris offers torque turn monitoring services to complement the company's Rig Direct service, which includes well planning, supply chain integration, and well integrity.
With the new development, Tenaris is now able to collect and analyse real-time torque data from rig operations improving critical on-site decisions and providing a higher quality running assistance.
"The benefits that come from this new service include: an improved collaboration, immediate data analytics and transparency, reduced personnel on the rig, and a leaner process for administrative relief," says Stan Cherry, Ascent Resources Lead Drilling Superintendent.
"With this added service component, Tenaris is further streamlining rig operations, creating greater value for its customers. In addition to the improved data analytics and tracking, Tenaris is also able to enhance safety with less crews onsite while increasing the synergies with other services such as RunReady and PipeTracer technology," explains Tenaris US Vice-President of Supply Chain, Wenceslao Pigretti.
Separately, Tenaris and Microsoft have inked a five-year alliance to identify possible actions that will accelerate the company's digital transformation, create greater efficiencies and synergies across its value chain, and advance its sustainability goals.
The key elements of the Digital Transformation Alliance include:
• Fast-track Tenaris's migration to the cloud environment leveraging a greater adoption of Microsoft's Azure computing solutions for scalability, accessibility and reliability of information
• Develop new digital tools to enhance service to customer using real-time data.
• Optimise performance across its industrial footprint and supply chain through improved management and control processes that will also contribute to the company's decarbonisation strategy, and evolve and enrich employees' experiences with digital resources.
"We aim to most efficiently collect, organise, digest and manage the data we generate and consume across our global business network, and ensure the various applications operate in a most streamlined, connected manner," says Alejandro Lammertyn, Tenaris Chief Digital Officer.
"By doing so, we will cast a wide net in our ability to make stronger connections among our employees, our customers and as a company, and in our agility to scale accordingly."
"The objective of this alliance is to deepen the work that we have been developing with Tenaris in order to contribute with our technology to generate a data platform that adds more intelligence to its business strategy and revolutionize Industry 4.0 together," says Fernando Lopez Iervasi, General Manager of Microsoft Argentina.
"Tenaris's vision of innovation is unique, and it is an honor for us to be strategic partners and reimagine together how to enhance data, gain efficiency, optimize processes, empower employees and promote environmentally sustainable projects with a positive impact on their business and how they operate in Argentina and other countries of the world."
Through its business partnership with Microsoft, Tenaris will be working on developing its digital capabilities to capture, map and analyse its entire value chain, to identify possible actions that will contribute to its decarbonisation targets of 30 per cent by 2030.