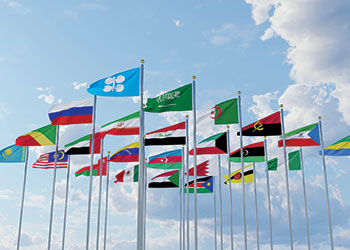 Opec+ ... 'cuts are meant to bring stability to the oil markets'
A report by Fitch Ratings has suggested that output cuts by Opec+ will be significantly lower than what the group had announced in October and, therefore, have limited impact on global supply.
A number of factors are likely to weigh in on ramifications of these cuts including imposition of sanctions on Russian oil, lifting of sanction on Iran, and the US's own production.
The report estimates that production will decrease by only about 1.15 mbpd (compared to August figures), which is lower than the 2 mbpd announced. It reasons that many countries are already producing significantly less than allowed by their previous and new quotas.
Amongst Opec+, Saudi Arabia and the UAE will have to make the largest actual cuts to production — about 500,000 barrels per day (kbpd) and 380 kbpd, respectively.
Meanwhile, some other countries will be able to increase production, for example Nigeria, whose production is about 800kbpd lower than its new quota.
"We assume that Opec+ will aim to keep the market broadly balanced, although reaching a consensus among its members may become increasingly difficult given Russia's declining production and uncertainties about future demand, affected by an economic recession," the report said.
These Opec+ production quota cuts may also increase geopolitical tensions as they go against the recent US requests to increase production from many of the alliance's participants to replace reducing Russian imports to the West.
After the new round of production cuts Opec+ spare capacity, excluding Iran and Russia, will reach about 4 mbpd, with Saudi Arabia and the UAE, whose production is scalable fairly quickly, accounting for 2.8 mbpd of spare capacity.
• Russian oil: Russian oil production and exports have remained broadly stable so far, according to the US Energy Information Administration (EIA).
The country re-routed its supplies lost to falling deliveries to Europe, the US and Japan as a result of its Ukraine invasion, mostly to China, Turkey and India. The country is also offering huge discounts compared to market prices.
EU embargos on seaborne crude imports and oil product imports from Russia come into effect in December 2022 and February 2023, respectively. In addition, G7 countries are planning to cap the price of Russian oil.
Russia's total exports are expected to fall by 1.5-2 mbpd by mid-2023. In August, Russia exported 2.8 mbpd of oil and oil products to Europe, down from 3.8 mbpd in January.
• Iran's market entry: Iran, which is currently producing about 2.5 mbpd, has the ability to increase output by up to 1.5 mbpd within several months. However, the likelihood depends on whether an agreement on reviving the nuclear deal is reached.
• US shale production: Oil output in the Permian in Texas and New Mexico, the biggest US shale oil basin, is forecast to rise by about 50,000 bpd to a record 5.453 mbpd in November, the EIA said.
Overall, US crude oil output in major US shale basins is due to rise by about 104,000 bpd to 9.105 mbpd in November, its highest since March 2020, the EIA projected. US shale will continue to contribute significantly to global energy markets.
Global oil demand has been recently boosted by switching from gas to oil in energy generation, driven by soaring natural gas prices. The International Energy Agency (IEA) expects Q4 2022 demand to be in line with Q4 2021 levels. Global GDP is expect to grow 2.4 per cent in 2022 and 1.7 per cent in 2023. This means that cumulative oil demand growth will fall by about 750 kbpd in 2022-2023, the Fitch Ratings report said.