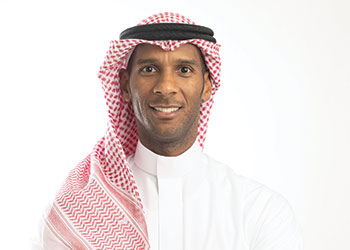 AlAyed ... embedding sustainability into the fabric of TAQA
Sustainability initiatives and ESG targets will be embedded in TAQA's commitment to its stakeholders and will be combined as a core strategy in how the company does business across all operations, Meshary AlAyed, Group Vice-President for QHSSE, tells OGN
We are witnessing a new reality of what constitutes a successful enterprise; doing 'good' and performing well are becoming increasingly intertwined as we usher in an era where priorities are understandably shifting towards a more sustainable way of doing business.
'The financial, quality, health, safety and environmental indicators are now viewed through a different lens to ensure that enterprises are yielding sustainable improvements to solve pressing objectives that will in turn contribute to long-term sustainable solutions to global issues,' Meshary AlAyed, Group Vice-President for Quality, Health, Safety, Security and Environment (QHSSE), TAQA, tells OGN energy magazine.
TAQA's people are its key assets
'These issues include climate change, environmental responsibility, social and corporate governance among others,' he adds.
At Taqa, sustainability initiatives, including the company's specific environmental, social and governance (ESG) targets, will be embedded in its commitment to its stakeholders and will be combined as an integral part of its strategy and how the company does business across all operations.
The building blocks of a culture of sustainability in summary requires:
• Strong leadership, which entails following national and international examples and commitments.
• Systemic approach, which involves embedding sustainability into the fabric of the organisation; and making sustainability part of every-day operations.
• Employee engagement, which requires taking individual responsibility for environmental protection and safeguarding; and inspiring families, friends and communities to take action together to create grass roots consistent impact.
As a company headquartered in the Kingdom of Saudi Arabia with a regional and international presence, TAQA's alignment with the national and regulatory initiatives where it operates guides its actions.
AlAyed says: 'The Saudi Green Initiative and its objectives for energy diversification, greenhouse gas reduction, and ambitious tree planting as a means to combat desertification are starting points for the initiatives that we are championing.'
TAQA promotes employee engagement for environmental protection and
safeguarding
TAQA's energy transition strategy is fully aligned with the Kingdom of Saudi Arabia's green initiative, which focuses on increasing reliance on clean energy, offsetting emissions, and protecting the environment.
As part of transitioning into a sustainable future, TAQA will leverage energy transition opportunities and address climate change risks.
'In addition to working consistently to reduce its carbon footprint and achieve net-zero emissions by 2060, we will lead the way in geothermal energy exploration and carbon capture, usage and storage (CCUS),' says AlAyed.

SUSTAINABILITY THROUGH TECHNOLOGY
Work across TAQA's global centres of excellence is focused on developing solutions to customers' challenges with a sustainable outlook.
Downhole completions components have been successfully engineered to reduce associated water produced which eliminates the requirement for its treatment, as well as reducing unwanted gas production to diminish flaring and thus emissions.
Furthermore, through supply chain partnerships, TAQA ensures it utilises the most optimised methods of transport, packing, and delivery to ensure a sustainable way of operating.
'Through the sustainability mindset that imbues all facets of our technological offerings, significant and consistent impact can be made,' says AlAyed.

SUSTAINABLE GOVERNANCE
TAQA promotes employee engagement for environmental protection and
safeguarding
As Taqa expands regionally and aligns various operating units, a strong governance and compliance framework will form the foundation of its operating model and enable consistent growth to unlock shareholder value, while meeting and exceeding customer expectations.

SUSTAINABLE HUMAN CAPITAL DEVELOPMENT
People and their engagement and development form a key pillar of the success of any enterprise. 'We at TAQA committed to maintaining a safe and healthy workplace where we operate, in addition to establishing a challenging and rewarding career development programme for our employees whether they're new hires or in the middle of their careers,' says AlAyed.
'This commitment contributes to our unwavering ambition to be the employer of choice in the industry,' he adds.
TAQA's vision is to build on its strengths over the coming years, continuing to foster and invest in solutions that address the biggest global challenges, and continue to work with partners to achieve real change.
'We strive to ensure exemplary governance by nurturing an accountable, ethical, and conscious business management system that best serves both our people and operations,' concludes AlAyed.