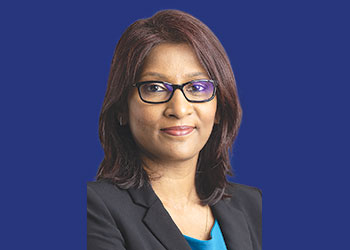 Partiban ... mitigating emissions is imperative
Climate risk is seen as a driver of business insecurity and is increasing stakeholder concerns, which means organisations that fail to mitigate their emissions are at risk of losing their reputation, Jeyapriya Partiban, Partner and Head of Advisory at KPMG in Bahrain, tells OGN

Adding its voice to the increasing calls for climate action, global accounting firm KPMG sees climate risk as a financial risk and has undertaken initiatives to help companies in the energy sector reach their goals of net-zero emissions.
Globally the number of net-zero pledges from cities, regions, and businesses has almost doubled since late 2019.
The Mena region too hasn't fallen behind. Governments here have pledged to mitigate global warming through the adoption of renewable energy and green technologies. Similarly, major oil producers in the Gulf have also committed to meeting climate targets.
Bahrain, for example, is committed to reaching net-zero by 2060 and has set a range of ambitious interim goals. By 2035, its plans to reduce emissions by 30 per cent through decarbonisation and efficiency initiatives and double the deployment of renewables from the targets we set at COP21.
Saudi Arabia plans to reach net-zero emissions by 2060, while for its part, the UAE — host of COP28 in 2023 — aims to achieve net-zero emissions by 2050. And in January 2022, Kuwait's cabinet instructed a review of ways to reduce the country's production of greenhouse gases.
Countries in the wider Mena region have also been praised for their innovative climate policies. Morocco, for instance, has become a leader in solar energy development. Meanwhile, Egypt hosted the UN Climate Change Conference, COP27, in November 2022 that reached an agreement on a funding mechanism for compensating climate-damaged nations for 'losses and damage'.
There is a need to increase investment in renewable energy projects
These actions are a testament to the fact that climate change is a pressing issue in this region as well.
According to the 2022 IPCC report, Asian countries are experiencing a hotter summer climate, resulting in an increase in energy demand for cooling, at a rapid rate, together with the population growth.
The decrease in precipitation influences energy demand as well as desalination, underground water pumping, and other energy intensive methods are increasingly used for water supply. More energy demands in summer seasons will exceed any energy savings from relatively lower heating demand due to milder winters.
Climate change poses monumental challenges as current debates and government-led negotiations have demonstrated. In equal measure, there is skepticism and optimism regarding the possibility of governments, nations and organisations embracing the necessary changes to reduce greenhouse gas (GHG) emissions and implementing adaptation measures necessary to manage the transition to a low carbon or carbon neutral society.
Nevertheless, government pledges will not prevent organisations from demonstrating real progress. Several stakeholders, including customers, investors, regulators, and employees, have called for decisive action to address the full spectrum of ESG issues, including climate change.
Simply put, the decisions made by leaders today will have a significant impact on the future of life on planet and commerce. However, many of these leaders find it difficult to define and implement a strategy that effectively meets objectives that often involve a variety of underlying factors.
Jeyapriya Partiban, Partner and Head of Advisory at KPMG in Bahrain, tells Abdulaziz Khattak from OGN energy magazine: 'The call to action on climate change has gained momentum over the past few years, with governments and organisations facing greater pressure to develop and implement a meaningful net-zero strategy. Investors are acutely aware of the correlation between corporate stewardship and financial performance. Regulations will be introduced soon, and companies will need to act to attain compliance.
'There is no doubt that climate risk is being viewed as a financial risk, a driver of business insecurity. As a result of increasing stakeholder concern, organisations that fail to mitigate their emissions are at risk of losing their reputation.'

SDG INDUSTRY MATRIX
Another key resource that KPMG has developed in partnership with the United Nations Global Compact is what it calls the SDG Industry Matrix, a framework that aims to inspire and inform greater private sector action to drive inclusive, sustainable prosperity. It provides industry-specific examples and ideas for corporate action related to the sustainable development goals (SDGs).
The framework will help convert the interest stimulated by the SDGs into strategic industry activities which grow in scale and impact. This could be through sparking new innovative approaches, prompting companies to replicate successful activities in new markets, catalysing new collaborations and increasing participation in existing collaborations.
Through the lens of 'shared value', the private sector can identify opportunities in addressing social and environmental challenges.
The SDG Industry Matrix builds on the recognition that all companies, regardless of their size, sector or geographic footprint, have a responsibility to comply with all relevant legislation, uphold internationally recognised minimum standards and to respect universal human rights.

PUBLIC-PRIVATE COLLABORATION
The SDG Industry Matrix sees energy and sustainable production as areas with the biggest opportunities for shared value.
It is here that market potential, societal demands and policy action can come together to drive progress towards universal access to affordable, reliable and sustainable energy, as a key enabler for multiple SDGs. The private sector can:
 
• Collaborate with governments and other stakeholders to extend electricity grids to underserved communities including fragile states.
• Provide off-grid communities with access to affordable renewable energy (through low-carbon micro-grids or lowcost community solar systems).
• Develop shared energy infrastructure to provide underserved communities around mining and production sites with access to affordable energy.
• Explore innovative financing and service models (such as rented or leased home solar systems) which extend affordable modern energy access.
• Share energy sector knowledge with local governments and other stakeholders to help them overcome barriers to universal energy access and contribute to the development of innovative solutions and industry frameworks.
The private sector can support the transition to net-zero carbon energy, which includes a higher share of renewable energy in the global energy mix and removal of fossil-fuel carbon emissions through carbon capture, storage and usage (CCUS). It can:
 
• Develop and scale breakthrough technologies to accelerate the transition to a substantially higher share of renewable energy (solar, wind, hydro, geothermal and biomass) in the global energy mix.
• Improve integration of renewables into grids and electricity markets (through adoption of smart grid technologies, improved forecasting and greater long distance transmission capability).
• Invest in non-renewable low carbon energy sources, such as nuclear, where appropriate and considered necessary to bridge the transition to a substantially higher share of renewable energy.
• Develop and scale advanced and cleaner fossil-fuel technology.
• Collaborate with industrial manufacturers to substantially increase the capacity and efficiency of power storage systems.
• Empower consumers to make informed choices on the source of their energy.
• Develop improved methods of carbon capture and storage, including terrestrial carbon sinks such as forests together with other secure storage systems such as saline aquifers.
• Research and develop scalable carbon capture and usage solutions including innovations around production of cement, algae-based fuel and carbon fibre.
• Support carbon trading schemes and purchase carbon credits to offset emissions.
• Minimise new investments which could lock in high-carbon energy infrastructure.

Furthermore, the public and private sectors can come together to develop and share scaleable systems to improve the resource efficiency and sustainability of production across the value chain, in order to reduce the environmental footprint of operations, while reducing cost.
Collaborations can help reduce and then eliminate routine flaring in oil production as well as reduce methane emissions along the gas value chain.
Public private paetnerships can also help develop and implement improved processes to reduce inputs, that is, raw materials, water and nonrenewable minerals; source materials and raw inputs with lower embedded energy; and minimise waste and effluent resulting from production and improve recycling and reuse of outputs.
CONCLUSION
In order to effectively execute the sustainable growth agenda, it is essential to revitalise partnerships between key stakeholders. And while the government has a key role in developing policies, it must collaborate with the private sector, including businesses and civil society, for a productive and positive impact and accelerating action towards the SDGs.