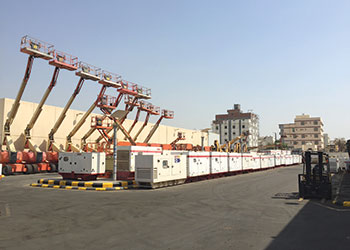 The versatility of Ejar's fleet makes it possible to cater to several projects, simultaneously
The company's success is built on long-standing partnerships, associated with globally renowned brands and its adherence to the highest levels of professionalism and operating standards
Machinery Rental Alternatives (Ejar), a fully owned subsidiary of Saudi Arabia-based Zahid Group, provides equipment rental solutions to a wide range of sectors, including oil and gas, mining, construction, Industrial, food and beverage and event.
Originally established as a division of Zahid Tractor's Construction Machinery Division, Ejar was spun off as an independent entity in 2015. Since then, the company has positioned itself as a one-stop-shop for the rental and sales (new and used) of power and light machinery in Saudi Arabia.
Ejar, The Cat Rental Store in Saudi Arabia, offers choice for every application and budget, available for short-term and long-term rental through six branches and many satellite branches.
Ejar offers choices for every application and budget
Holding a fleet of over 3,000 machines – a diverse inventory of earthmoving, material handling equipment, compaction, generators (20 kVA to 1,250 kVA), aerial platforms (8 ft–56 ft), forklifts (1.5 tonnes to 52 tonnes) , porta toilets, light towers , golf carts, compressors (185 CFM to 1,600 CFM), welding machines (20 amp to 590 amp), skid-steer loaders, warehousing equipment, telehandlers, wheel loaders, backhoe loaders, mini excavators, Bauer BG 26 and BG 33 rotary drilling rigs.
The company represents leading international brands such as Caterpillar, JLG, Allmand, Miller, Konecranes, Brendon Power washers, Thwaites, Comet, Paclite, BeachTech, Bauer, and BSP Tex.
The versatility of Ejar's fleet makes it possible to cater to several projects, simultaneously. Its Rental Used New (RUN) business model enables the company to operate both as an equipment distributor and rental solution provider as per the requirement of its customers.
Commenting on the company's unique selling proposition, Khaled Kamal, General Manager, tells OGN energy magazine: "Ejar banks on its own reputation and that of the Zahid Group in sourcing equipment, technical support, training, and availability of parts. Ejar is able to provide the right mix of rental, new or used equipment with the promise of on-time delivery, high efficiency, ongoing support and low operating costs."

TAPPING UNCONVENTIONAL GROWTH SECTORS
Ejar is expanding its presence in the rapidly booming entertainment and events industries. A 2021 study from the US-based Research and Markets said Saudi Arabia's entertainment industry was expected to grow from its current size ($23.77 million in 2020) to $1.17 billion by the end of 2030, at an annual growth rate of 47.65 per cent. During 2022, Ejar supplied a variety of equipment for all of the Kingdom's most prominent events.

ROBUST CUSTOMER SERVICE
Ejar's fleet replacement programme is structured to retain only the best functioning equipment. To ensure the maximum uptime, Ejar maintains a young fleet that has an average age of three years.
Meanwhile the company continues to invest in new equipment and maintain a dedicated team of engineers, technicians, and sales staff to ensure fast response and offer customised solutions.
This is paying off especially as contractors and end users shift from a capex to opex model, driving growth in the rental industry.
The upkeep of the machines is reinforced by round-the-clock customer service and the availability of 90 technicians and 60 service trucks.
Ejar has received several accolades in recognition of its rental service excellence. It got a Gold certificate within the Rental Services Excellence Program for the fourth consecutive year from Caterpillar. Best Sales Performance Achiever in Africa, Middle East and India in 2021 for JLG distributors. It also featured as a rental market leader in the PMV Rental Power List 2022.