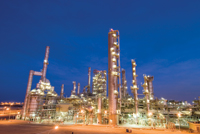 Sabic is lining up mergers and acquisitions
SAUDI Arabia is committed to produce 10 per cent of the world's petrochemicals by 2015. The industry benefits from a gas feedstock price of $0.75/mmBTUs (million British thermal units) which, however, could be raised to $1.50/mmBTUs in the near term – with the world's market level averaging over $7/mmBTUs. But several petrochemical plants in Saudi Arabia are not receiving full feedstock supplies because of ethane/methane shortages.
The $20 billion Sadara Chemical Co, a JV of state-owned Saudi Aramco and Dow Chemical of the US, is based on a medium-term increase in gas feedstock pricing. But this is unlikely to exceed $2/mmBTUs.
The Saudi Arabian Basic Industries Corporation (Sabic), owned 70 per cent by the state and 30 per cent by Saudi and other GCC investors, is the world's largest petrochemical company by market value. Before it bought the Dutch firm DSM Petrochemicals in 2002, it was the world's No 22.
The acquisition raised its ethylene output capacity by 1.2 million tonnes per year (mtpy) to 6.9 mtpy and gave it a key to the EU. In 2007, it grew further with an $11.6 billion acquisition of GE Plastics of the US. In September 2011, Sabic's automotive unit Innovative Plastics bought a stake in Inpro, a German JV which develops innovation in automotive production. Sabic thus joined Daimler, Siemens, ThyssenKrupp and Volkswagen and the German state as equity owners in the group.
Innovative Plastics VP Gregory Adams then said: "Through Inpro, Sabic can participate and add value in the early stages of innovation with world-class companies, who continue to develop and create new vehicles and processes that meet the interests of automakers and consumers around the world". Inpro's R&D focus includes development of new production technologies for future electric and hybrid vehicles.
Sabic has since early 2012 been on the look-out for further acquisitions abroad. It still lacks the technology to dominate the market. Acquiring established firms would reverse this situation. Sabic is still a new company, formed just 37 years ago compared with the 147 and 210 years of heritage of its two rivals BASF of Germany and Dupont of the US. This means Sabic is at a disadvantage when it comes to R&D of its own technology against firms with long-established innovation units.
Acquisition of companies with in-house technology, especially in the specialty plastics sector, makes a lot of sense for the chemicals giant. And Sabic has to cope with the new reality of the US petrochemical business is enjoying low feedstock prices thanks to the big rise of shale gas output.
There are proposals for Sabic to acquire some of the US-based petrochemical firms in order to improve its position as a global player in this business.
Sabic can produce intermediate chemicals quite cheaply but, until now, the kingdom's under-developed conversion industries sector means most of the value chain is lost to exports. Using in-house technology to manufacture products will ensure profits from lengthening the chemicals value chain stay in Saudi Arabia.
In its quest to become the leading chemicals company, Sabic has one weak link and that is technology. An acquisition to fix that problem makes a lot of sense.
Sabic has been one of the Middle East's major success stories since it was formed in 1976.