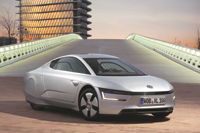 Volkswagen's XL1 diesel plug-in hybrid
SABIC showcased examples of the innovation it can deliver to help the automotive industry achieve greater fuel efficiency, enhanced safety, improved durability and better overall performance at K 2013, the triennial plastics fair that took place in Düsseldorf, Germany.
These examples range from the advanced polycarbonate (PC) side windows of Volkswagen's XL1 diesel plug-in hybrid to an all-thermoplastic tailgate concept, both aimed at enabling lighter weight and energy efficiency.
Sabic also highlighted an innovative application for tyres based on a synthetic rubber material technology that can deliver greater traction and longer wear life, in addition to a plastic solution addressing the corrosion issues that come with metal fuel caps.
These materials-based application solutions, among others, demonstrate Sabic's continued focus on delivering the materials and development support required by the automotive industry to produce energy-efficient, high quality vehicles.
"The featured applications at this year's K Show reflect how we at Sabic continually seek to apply our deep understanding of the automotive industry in a way that enables our customers to achieve breakthrough performance," says Scott Fallon, general manager, Automotive, for Sabic's Innovative Plastics business.
"Each of the applications provided a glimpse into what is possible when you embrace the problem-solving power of innovative materials. We care deeply about the way in which our material solutions help customers accomplish what matters most, whether it is regulatory compliance, cost savings, styling differentiation or light-weighting. The K was another way for us to demonstrate our commitment to helping our customers meet these objectives."
One of Sabic's flagship applications at K 2013 was the production version of Volkswagen's XL1 diesel plug-in hybrid vehicle, the world's most fuel-efficient serial car with a combined fuel consumption rating of 0.9 l/100 km, according to the New European Driving Cycle (NEDC).
To achieve this high level of performance, Volkswagen optimised the XL1 for efficiency in all areas of its design and technology. To help lighten the vehicle, enhance aerodynamic performance and reduce energy consumption, Volkswagen became the first OEM to adopt a two-component injection-moulded solution for the side windows of a passenger vehicle, using Sabic's proprietary Exatec plasma coating technology on Lexan PC resin and Cycoloy PC/ABS (acrylonitrile-butadiene-styrene) resin.
The all thermoplastic tailgate created by
Sabic
These advanced Sabic materials reduce the weight of the side windows by 33 per cent vs. conventional glass solutions, while delivering a high quality optical appearance and scratch-resistant surface. Sabic provided full application development support to Volkswagen in the design, engineering and production of the side windows.
Sabic also showcased its all-thermoplastic tailgate concept. Automakers have long sought a viable, lightweight alternative to steel for this part of the vehicle. Previous concepts shared with the industry have simply sought to replace tailgate parts made out of conventional materials with plastic.
Sabic's tailgate concept is optimised for an all-plastic solution from the earliest stage of the design process to deliver the desired stiffness and strength in addition to weight savings of up to 30 per cent or 12.5 kg compared to tailgates of a similar size using conventional materials.
The design also provides unique levels of function integration and significant freedom to create vehicles with striking designs. Based on extensive computer-aided engineering simulations and additional testing, Sabic compared its tailgate concept to those using alternative materials like steel, aluminium and various hybrid offerings.
The results show Sabic's all-thermoplastic tailgate is the most favourable system solution when it comes to weight, total cost, quality, ease of production and design freedom.
Sabic draws from its wide selection of thermoplastic materials – in addition to its design, engineering, test and technical support capabilities – to provide a one-stop source for tailgate design and construction. For online painting, the outer skin panel of the tailgate can be made out of Noryl GTX resin; for offline painting, Xenoy resin, Cycoloy HMD resin technology or Sabic PP compound.
For the inner structural part of an offline module, Stamax long glass fibre filled PP resin or Verton long glass fibre filled PBT resin can be used; for online painting, Verton long glass fibre filled PA resin. Using Sabic's Lexan resin and Exatec coating technology further enhances the design freedom, function integration and weight savings made possible through this optimised tailgate design. A second shot of black out material on the glazing panel using Cycoloy XCM resin expands the possibilities for integrated functionality, such as fixing for rear lighting, antennas, and cameras.
Sabic also featured additional applications at the K which reflected the company's growing portfolio of material solutions for the automotive industry. Among them is a synthetic material known as polybutadiene rubber (BR), an homo-polymerised 1,3 butadiene, which Sabic was highlighting for use to develop tyres that are safer, more fuel efficient and longer lasting.
Tyres produced from Sabic's BR material allows for greater wet grip, abrasion resistance and lower rolling resistance, which are the key performance attributes in tire technology. The challenge with tire design is that often, improving one attribute will compromise another.