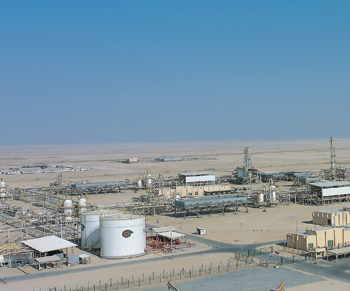 PDO ... operating at its best
THE Sultanate of Oman's majority government-owned, oil and gas exploration and production flagship, Petroleum Development Oman (PDO), intends to invest more than $11 billion in a line of new oil projects over the next 10 years.
Managing director Raoul Restucci, says the investments, will help the company develop more than one billion barrels of oil, part of PDO's strategy to sustain hydrocarbon production over the long term.
Restucci says: "Between now and 2022, there will also be 16 significant new projects comprising over $11 billion of investment and targeted at developing over a billion barrels of oil."
Reviewing PDO's performance for 2013, he says: The year saw a number of record-breaking achievements and historic firsts which underline PDO's determination to help strengthen and enrich the economic and social fabric of the sultanate.'
He adds: "Despite a challenging year, we surpassed expectations in our core business of oil, gas and condensate production due a tremendous team effort across our operation. Total production of hydrocarbons in 2012 was the highest in our history at 1.24 million barrels of oil equivalent per day (boepd). This exceeded the previous best of 1.21 million boepd in 2001.'
PDO recorded an average production of 1.25 million barrels of oil equivalent per day in 2013 and added 317 million barrels of oil reserves. Also, the total natural gas-developed reserves increased by 1.3 trillion cubic feet last year, the company says.
PDO is also executing 16 enhanced oil recovery (EOR) field developments and trials. "As easy oil supplies dwindle, EOR is going to account for an increasing part of our production portfolio. The PDO is already a world leader in this area, but we are now redoubling out efforts to ensure we maximise production from our fields," Restucci says. In 2013, PDO production came from four major EOR developments at Marmul, Qarn Alam, Harweel (2AB) and Amal West, which is at an advanced stage of commissioning. The polymer project in Marmul has reached the milestone of 1 million cubic metres (6.3 million barrels) of incremental oil recovery in December.
Restucci ... overcoming challenges
The Qarn Alam steam project, which employs the mechanism of thermally assisted gas oil gravity drainage recovery – the first time this has been attempted in a carbonate field anywhere in the world – is running fully as per expectations and is producing some 25,000 barrels per day (bpd).
In addition, the Harweel miscible gas project showed sustained production levels rising to 30,000 bpd.
Another breakthrough for PDO came in the form of the new pioneering chemical injection trial at Habhab, a large tight oil reservoir with heavy oil, and there has also been a successful steam trial at the installation. In addition, the company has EOR pilots at Fahud, Lekhwair, Nimr, Al Noor, Marmul, Amin and Ghubar.
The company has also made good progress on its three oil and gas "mega projects" at Rabab Harweel, Budour and Yibal Khuff. As for exploration, there were very active efforts on the conventional oil exploration front with 12 wells completed and 12 tested.
At the same time, the company attained the best-ever safety record in its history in 2013, despite the fact that staff and contractors worked over 170 million man-hours, an increase of six per cent, compared to 2012.
Last year, the company created 5,700 In-Country Value (ICV) jobs and training opportunities for Omanis. It also awarded contracts worth more than $3.1 billion to locally registered firms and broadened its support of domestic businesses.
Meanwhile, there was an intensification of the PDO's social investment activity in 2013 with the completion of 13 projects, including the construction of the Ghabah Health Centre and the signing of eight agreements to invest around $9 million on vital community facilities. "The year 2013 was a banner year for PDO with excellent achievements across the full spectrum of our operations, but we must not take our foot off the gas. We still face significant challenges, such as the increasingly complex and costly nature of our business, an ageing asset base, local employment imperatives and the regional gas shortfall," Restucci says.
Oman's hydrocarbon sector has the potential to generate 50,000 new jobs for young Omanis over the next six years, says Restucci. He says employment generation from this mainstay sector will be fuelled by, among other things, the estimated investment of over $100 billion planned by the country's oil and gas industry during this period.
"If you look at the operators' budgets in terms of the projects they have to execute, the industry would be spending more than $100 billion between now and 2020. So even if there wasn't additional generation of opportunities, that portfolio is huge," Restucci says.
Confidence in the industry's potential to spawn tens of thousands of jobs for young Omanis, he notes, stems from PDO s own stellar success in driving employment across the sector.
"Let's look at what we've done over the last two and half years. Some 10,000 jobs not just at the graduate level, but also at the school leaver level, whom we upskilled, helped train and found employment across the whole oil and gas value chain. With a view to ramping up this trend, PDO is working with the Ministry of Manpower to align vocational training programmes, while also collaborating with various contractors to explore different job opportunities," Restucci says.
"We are working increasingly with the other operators, Oxy, BP and other companies through Opal (Oman Society for Petroleum Services) to align standards, enhance training and just map out these opportunities. I'm confident that between now and 2020 the oil and gas can develop 50,000 Omani jobs. Importantly, jobs will also be generated as the In-Country Value (ICV) initiative, being driven by the Ministry of Oil and Gas together with PDO, starts to take hold across the industry, he says, adding that a second wave of manufacturing and service projects will be unveiled when the next national ICV forum is shortly convened.
"We want to secure long term sustainable local supply chains. So whether you're a domestic investor or entrepreneur, or an international player who wants to set up shop in Oman, we will help to provide those opportunities.
Harweel ... EOR at work
"I'm confident that people will be looking more and more at the SME development programme, the one-stop shop on setting up businesses, and the super LCCs (local community contractors) that are going from strength to strength, performing well and even looking at international opportunities now," Restucci adds.
Since the first oil concession licence was granted to Darcy Exploration Company in 1925, the Sultanate of Oman has come a long way to becoming one of the world's most successful oil and gas producing countries, and the largest oil and gas producing non-Opec member in the Middle East.
Initial reports on oil reserves conducted almost 100 years ago initially proved to be inconclusive. In addition, the first oil exploration well turned out to be dry; however this did not deter the Omani people.
Since its very first discovery, oil and gas production in the sultanate has steadily risen, year-on-year, reaching 340 million barrels in 2013. This figure represents a 2.3 per cent increase in production compared to 2012 and is set to rise still further in 2014.
In 2013, the Ministry of Oil and Gas for Oman tendered out five new blocks, two of which have been awarded to international firms for exploration to start this year. These blocks are located in southern Oman, where the majority of oil and gas production within the country takes place.
This trend is set to continue, with the Ministry of Oil and Gas recently announcing at the "International Unconventional Gas Conference and Exhibition" that Oman will "continuously offer open blocks to the market".
This announcement was made following the completion of negotiations for several other oil blocks, including two production sharing agreements which the government of Oman signed in December last year: one with Total to develop an offshore block off the northern coast with an estimated investment of $133 million; and a second agreement with Petrogas Kahil to develop an onshore block in the Al Wusta (central) region with an estimated investment of $45 million.
Oman remains focused on inward investment, with a large proportion of the revenue generated from the oil and gas sector being reinvested into the Omani people and infrastructure.
In a recent speech made by Nasser bin Khamis Al Jashmi (the under-secretary of the Ministry of Oil and Gas) during a seminar held by Oman's In-Country Value (ICV) Committee, it was estimated that Oman's oil and gas sector would provide approximately $64 billion in additional "ICV" over the period 2013 to 2020.
Further details of how this money will be divided out came in an additional statement made at the same seminar by Irshad al Lawati (CEO of the Oman Society of Petroleum Services), where it was intimated that approximately 80 per cent of the inward investment would go to local suppliers and the remaining 20 per cent being directed towards the employment of Omanis.
This statement of intent aligns well with Opal's altruistic raison d'être, as an entity that was created to promote "industry standards" and a "level playing field".
As a direct result of Oman's relatively favourable exploration and production opportunities (including more preferential contractual terms compared to its regional counterparts), many of the major international players have a presence in the country, including Shell, Partex, KoGas, Occidental and BP.
Last year, the Omani government and BP signed a gas sales agreement and an amended production sharing agreement (PSA) for the development of the Khazzan field which will involve some 300 wells. Once completed, it is expected that this field will produce about 28.3million cu m of gas per day.
This amount of gas would meet one third of Oman's daily domestic gas requirements. The total investment in this tight gas project is estimated to be around $6 billion.
Currently there are 22 international oil and gas exploration and production companies operating within the sultanate. Each works under a PSA and collectively contributes to some 30 per cent of the country's total crude oil production.
Meanwhile, Oman will shortly allocate a front-end engineering design (Feed) contract for a 280-km pipeline connecting Sohar and Muscat refineries, according to Omani Minister of Oil and Gas Mohammed bin Hamad Al Rumhy.
"We are on the verge of awarding the Feed to a contractor. The project is on track and everything is going very well," Al Rumhy says.
The project, which is being developed by the state-owned Oman Refineries and Petroleum Industries Company (Orpic), comprises two phases – the first one will link Mina Al Fahal refinery in Muscat with the international airport and the second phase is for building a new terminal and a pipeline connecting the terminal with Sohar Refinery.
The project will increase the storage capacity for diesel and petrol and will connect the current storage facilities in Sohar and Mina Al Fahal refineries so that they can cope with ever growing demands for petroleum products.
Turning to renewables, at first glance it may not seem particularly surprising that the Sultanate of Oman is becoming a focus of international attention in the renewable energy sector.
After all, Oman receives a rough average of 3,500 hours of sunshine per year and, like most arid countries, has a high demand for water and power.
However, the rate at which renewable energy projects within the region are gaining traction warrants some further consideration.
From a scientific perspective, Oman appears to have the precise geographical positioning to capture optimal solar radiation. From a commercial and legal perspective, Oman has a framework that encourages international investment and fosters innovation.
Additionally, the country has the ability to locate solar generation plants close to ultimate end users, making the Sultanate an attractive proposition by virtue of its ability to reduce transmission infrastructure capex.
In 2013, Al Mazyunah desalination was the first step in a series of planned renewable energy projects.
Since that first step, it has been reported that Raeco is planning four solar plant projects and two windfarms as part of a five-year renewable energy plan running from 2013 to 2017.
It is expected that the solar power plants will be constructed in different regions of the sultanate, including the Al Wusta (central) region and Musandam, the geographically separate peninsula that juts out into the Straits of Hormuz.
The windfarms will most likely be constructed in the Dhofar region, however, Raeco is yet to confirm the precise details of these projects.
Oman's power and water needs are increasing at a significant rate, and demand will have to be met with substantially increased generation capacity over the next seven years.
Therefore, we are likely to see increasing energy activity in this corner of the Middle East.